Thinkwell Group, the global experience design and production company, will be bringing a new immersive culture park to life in China. The Chile Experience will bring a taste of Chilean culture to China and strengthen the friendship between the two countries.
Chilean President Sebastian Piñera announced the plans at the Beijing Media Conference. The project is a partnership between Wines of Chile and Lam International, who have turned to the guest experience and theme park development specialists Thinkwell Group to bring their vision to life. The culture park will bring together Chilean culture, products and investment opportunities as part of a fun and educational experience.
A taste of Chile
Wines of Chile represent Chile's wine producers and the trade unions of the industry. The company champions the quality of Chilean wine and spreads awareness of the product to international markets. "The Chile Experience will bring a taste of Chile to our Chinese friends by not only showcasing Chilean wines, food, and other authentic products from Chile, but it will also feature immersive high-tech attractions that will connect our guests with the culture of Chile," said company representative Julio Alonso.
Lam International Limited Company works investment banking, global online platforms and international trade & investment. Lam Yau Sun of Lam International noted "The Chile Experience truly demonstrates the spirit of One Belt One Road, as she promotes understanding, trade and investments between the peoples of China and Chile through engagements (food, shopping, entertainment, cultural events) that are fun, learning, experiential, and memorable. This is Chile's home away from home and we hope our project will incentivize more Chinese to visit Chile and vice versa for generations to come."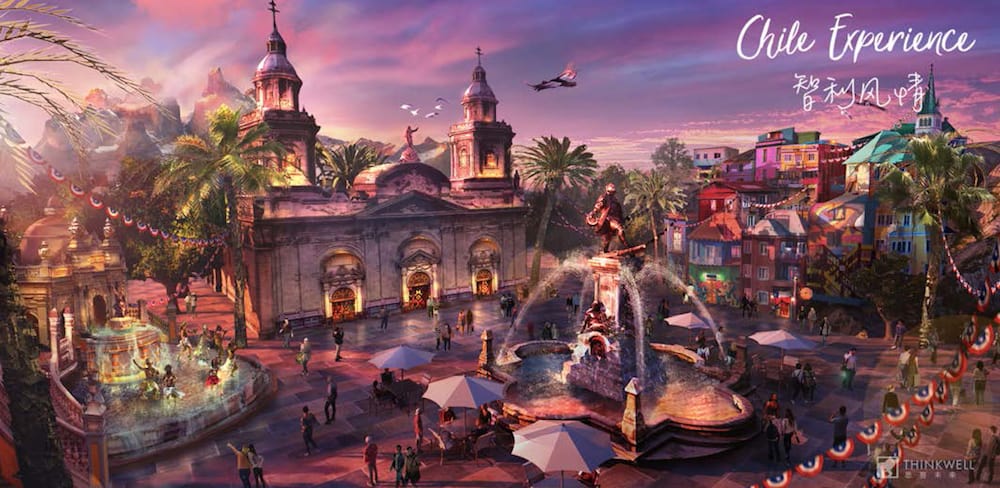 An immersive cultural experience from Thinkwell
Thinkwell Group is proud to be a part of this new project and plans to create a high-quality immersive experience that creates a real feel of Chile. "We are elated to be a part of this team," said Kelly Ryner, President of Thinkwell Asia. "The Chilean culture and country has so much to choose from that this is going to be a wonderful place to visit for the whole family." This award-winning company continues to grow, with their recent acquisition of Réalisations-Montréal.
The Chile Experience will communicate the different elements of this diverse country through four themed zones. Each will include a key attraction and also a wine and food experience.
Visitors will journey through zone one, taking in the 19th Century European architecture of Santigo and Valparaiso, taking in dance, music and vibrant colours. An innovative VR installation will place guests inside the famous downhill mountain bike course through the bright Valparaiso streets. After this, zone two will capture the majesty of the Atacama Desert and its wide open skies. A flying theatre experience will allow visitors to swoop over the Chilean landscape.
The journey continues into Chilean Polynesia with zone three's Easter Island and Robinson Crusoe Island theme. Adventurers of all ages will enjoy a walk-through aquarium and dry-for-wet kids play zone. Finally, the contrasting climate of Chile is showcased in zone four, where guests will encounter the wilds of Patagonia and Antarctica. This zone will feature a thrill coaster and a boating experience. Guest may even enjoy some snow play.
The opening date and final location of the park is still under discussion.
Thinkwell Group is also working on the new Lionsgate Entertainment World China, Asia's first movie-themed indoor experience centre.