The magic of the movies combined with the entertainment of an interactive dark ride is coming soon to Walibi Belgium as the theme park near Brussels prepares to launch Popcorn Revenge.
The new attraction is the world's first Erratic Ride. Developed by Belgian interactive attractions specialist Alterface with ETF Ride Systems, the ride features Alterface's proprietary IP. Occupying an area of just 400 square-metres, it has been constructed within the new Karma World area of the park. Here Walibi guests can celebrate the spirit of the Bollywood movie industry amid stylish décor.
Like many existing dark rides produced by Alterface, Popcorn Revenge features a wide range of technology including projection mapping, 3D shooting and special effects. The transitions between scenes have been made into fun experiences, rather than the more cumbersome and disruptive sequences found in some rides.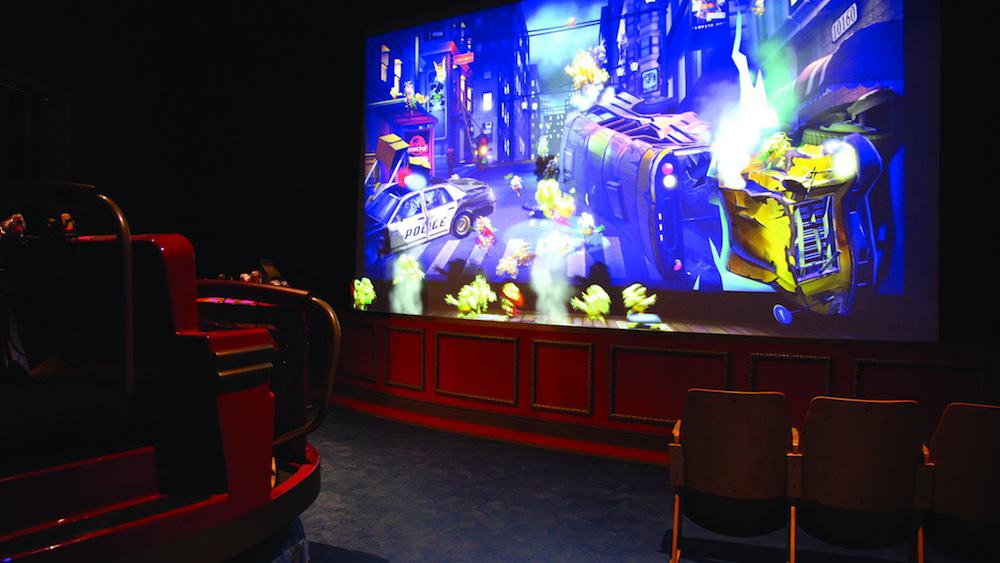 Alterface founder and CEO, Benoit Cornet says that with the Erratic Ride, his company was keen to design a higher capacity yet compact ride. "We were disappointed with existing platform-based solutions," he elaborates. "The traditional 'turntable' system was weak on gameplay with problematic transitions and movements. So we combined our powerful Salto show control engine with interactive technology and trackless vehicles, resulting in a totally new concept."
In addition to the compact version installed at Walibi Belgium, an XXL version of the Erratic Ride is available for those parks requiring a even higher throughput. The concept can also be applied to duelling rides or other interactive attractions.
Interactive fun for all ages
The new attraction is the second interactive dark ride at Walibi Belgium, after Challenge of Tutankhamon. The park chose the Popcorn Revenge IP for several reasons. Not only can old and young have fun together, they need no training to master the shooting/gameplay. The ride is also expected to have particular appeal on wet, windy or cold days – of which Belgium has its fair share.
"Our request to Alterface was to create an exciting cinema world with an innovative touch in terms of ride experience," explains Walibi Belgium managing director, Jean-Christophe Parent. "They have met and even exceeded these expectations. The popcorn expressions and gags are universal and appeal to all ages, with unsurpassed image rendering and projection quality!"
A flexible IP
The Popcorn Revenge IP is fully-owned and patented by Alterface. The characters have been designed to fit any movie theme, whether it be superhero, pirate, space, horror or magic.
However, the intention is that the content will evolve so that, besides cinemas, movie parks and theme parks, it can be adapted to suit museums, restaurants, shopping malls and many more venues. And it won't just be restricted to dark rides or interactive attractions. Shooting game stations, mobile games, merchandising, even emoji, memes and gifs could be created using the IP.
More to come at Walibi Belgium
Located in Wavre, south of Brussels, Walibi Belgium began its 2019 season on Saturday, April 6 – and Popcorn Revenge was ready on opening day. The park is currently in the midst of a €100 million transformation under the ownership of Compagnie des Alpes.
Last season it opened a new area called Exotic World, featuring a Gerstlauer rollercoaster. Two more coasters are on the way, including an Intamin mega coaster planned for 2021. An upgrade to the Aqualibi indoor waterpark and other park-wide improvements are planned.
By the end of the five-year programme of investment, as much as 75 per cent of the site will have been renewed.