Interspectral, the Swedish visualisation company, has announced that its innovative Inside Explorer software is being used in a new visitor experience at Kew Gardens. The company has also been awarded an agreement with the Swedish National Heritage Board. Both of these projects support cultural heritage organisations in improving their digital capabilities.
Kew Gardens, at Wakehurst Place in the UK, is home to the Millennium Seed Bank. A new exhibition, called "Surviving or Thriving" uses Interspectral's Inside Explorer software to bring scientific data from the seed bank to life in a new interactive display.
The life of plants
The exhibition explores some of the issues that the plant world is facing as part of modern life, from climate change to deforestation. It uses research from Kew Science's 'State of the World's' reports. The display highlights the value of plants and fungi to everyday life and examines some of the wide range of uses for them, from medicines to plastics. The Millennium Seed Bank is a hugely important facility, with an extensive, biodiverse collection. Seeds are dried and frozen to provide a back-up of a large variety of plants. They are also regularly tested, grown and restocked.
Kew Gardens worked with Interspectral on this new exhibition, using the newly released Inside Explorer PRO. This product allowed them to upload scanned items from their collection, and then examine them in intricate detail. The exhibition also uses the software as part of a public display, with a new interactive touch table. This allows visitors to explore 3D models and discover more about them. The display shows scans of a domestic banana alongside a wild, pink banana which can be viewed inside and out. Users can literally peel away the layers to explore them.
Louise Lennersten is the CEO of Interspectral. She says, "This is an option we have been keen on testing with current customers. It is a natural development of Inside Explorer and allows our customers to work with Inside Explorer in a new way."
Richard Deverell, Director of the Royal Botanic Gardens, Kew, wrote about the new display in a blog post, "Further in the exhibition, the visitor will reach the interactive touch table which displays a 3D digitally scanned domestic banana and a wild banana.  This nifty bit of kit allows you to digitally peel away and dissect the structure of each revealing just how much has changed as the plant was domesticated.  I also – finally! – learned what those little threads are that sit between the peel and flesh of a banana."
Interspectral helps cultural organisations to digitise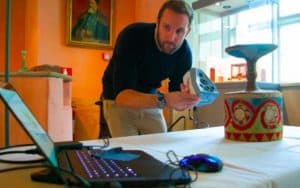 Interspectral has been awarded a frame agreement, alongside RISE Research Institutes of Sweden, by the Swedish National Heritage Board. The company will provide their knowledge and experience in the digitisation field, supporting Swedish museums and other cultural heritage organisations. During the two year contract, Interspectral will work on 3D capture, documentation, and manufacturing of heritage collections.
"This agreement comes with great opportunities to further establish and develop 3D visualization and documentation of cultural heritage. It is a win-win situation for both us and the Swedish cultural heritage in matters of increasing knowledge, stimulating curiosity and need for exploration"  says Lennersten.
Interspectral has also worked with Sweden's Nobel Museum. The museum brought a display on medicine to Dubai, which used Inside Explorer to allow visitors to view and interact with digital autopsies.