Alton Towers is in the throes of its annual Halloween event, and there's not a better place for Scarefest 2019. Overlooked by its gothic namesake, surrounded by woods, and brimming with horror-themed rides and attractions, the Halloween layover is in good company.
Scarefest 2019 is running until November 3 with more terrors than ever before. These include award-winning and new scare mazes, the Alton Towers Dungeon, and creepy rides including Hex, Wicker Man and Thirteen (listen to the whispers as you queue).
A new addition to this year's Halloween line-up, the Alton Towers Dungeon opened its doors in March. If you've been to one of its sister attractions, aka The Dungeons, you'll know some of what's in store – but with even more scares for Halloween.
Alton Towers Dungeon and scare mazes new for Scarefest 2019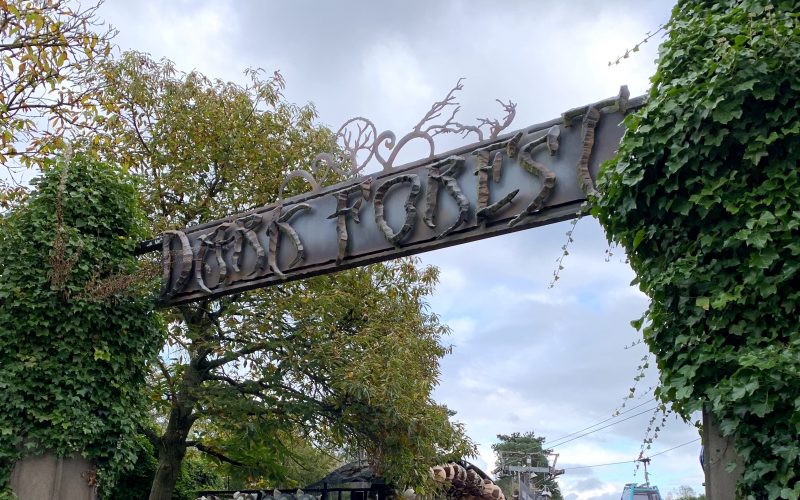 As guests take a 'hilariously hideous' journey through Staffordshire's darkest history, they'll encounter the Bishop of Stafford, and – if you're lucky – survive a visit to the Plague Doctor. They'll also be condemned to a traitors boat ride down the Black River, and might escape from the Witch of Burslem's Cottage.
Also new this year is The Attic: Terror of the Towers, a live-action scare maze where guests will discover the ghost of 'the governess'. According to local legend, she's after avenging the death of the children in her care. She does this, naturally, by taking the spirits of the living. Enter the maze and you'll most likely wind up her next victim.
Darkest Depths is another new maze, which invites guests to board The Mutiny, an infamous ghost ship. Visitors journey into the darkest depths of the ocean. As they do so sirens attempt to lure them and ghost pirates attack. They'll also come face-to-face with the Kraken, a legendary sea monster.
Spooky rides include Hex, Wicker Man and Thirteen
As for the other scare mazes, all live-action, Alton Towers has created Project 42, Sub-Species: The End Games, and Altonville Mine Tours.
Project 42 tasks guests (aka volunteers) with finding a vaccination to cure those infected by a particularly nasty virus. Hwever, they've got to get out before contracting the infection. Not hopeful?
Sub-Species: The End Games is set in a post-apocalyptic sewer system. The creatures within will touch guests as they descend underground. Unlike the other mazes, this one splits groups up as guests choose their own route out. You may or may not encounter a chainsaw-wielding maniac.
Family-friendly events and attractions at Halloween
If you're really protective of your skin, mind, you'll want to avoid the Altonville Mine Tours, a recently reopened mine (aka live-action maze) that was once home to a family of outcasts. They're nicknamed 'Skin Snatchers' because they want your skin. Nice.
Alton Towers is also well aware that children won't ever sleep again if they're in fear of losing their skins.
Ergo, the attraction has, of course, put on family-friendly events for Scarefest 2019.
For children, there's a colourful Halloween play land, as well as Patch's Halloween Party and the CBeebies Monster Ball. The Alton Ancestors have also risen from the grave -again. They can be found flash-mobbing Towers Street in the mornings before retiring to Gloomy Wood and The Towers.
Disney and Universal are also getting in the (evil) spirit – check out our guide to Halloween Horror Nights and Disney's autumn offerings.