Read the news in 5 minutes…
Blooloop virtual run, SEA LIFE Trust, Trapped from HallowheelsLV, Uffizi Gallery, TikTok, V&A Dundee, Nomadic, ILMxLAB, Vader Immortal – Lightsaber Dojo, reopening California, Universal Orlando Resort, Jurassic World VelociCoaster, Disney layoffs, Magic Kingdom, Bob Iger, UAE tourism, British Museum, V&A, Centre Pompidou, Smithsonian, Kevin Young, National Museum of African American History and Culture, Everland, Bear Grylls Explorers Camp, American Dream, SEA LIFE Aquarium, Legoland Discovery Center, Expo 2020 Dubai.
V-Expo and SEA LIFE Trust
We are pleased to announce that Blooloop is holding a virtual run to support the SEA LIFE Trust as part of V-Expo, the virtual conference and exhibition for the global visitor attractions industry.
The SEA LIFE Trust has announced that Little Grey and Little White have taken their first swim in the world's first open water sanctuary for belugas, located off the island of Heimaey in Iceland.
Technology
Drive-through or drive-in experiences are officially all the rage, with another set to take place for Halloween. Opening on October 8, Trapped takes place at The Industrial Event Space in Las Vegas.
The Uffizi Gallery in Florence, which recently launched its own TikTok account, has revealed that the social media platform has doubled its number of young visitors, making it a powerful tool for attracting younger guests.
V&A Dundee has compiled a cultural care package for students in Dundee and across Scotland, as the number of confirmed COVID-19 cases at two student halls in Dundee reached 98.
Lucasfilm's immersive entertainment studio ILMxLAB unveiled its collaboration with LBE VR company Nomadic on a new arcade-style VR experience, 'Vader Immortal – Lightsaber Dojo'.
Theme parks
Florida Governor Ron DeSantis confirmed that the state would begin Phase 3 of its reopening plan from September 25, with theme parks allowed to "return to normal operations with limited social distancing protocols".
Universal Orlando Resort has finally unveiled the Jurassic World VelociCoaster, heading to Islands of Adventure in 2021. It will be the fastest and tallest launch coaster in Florida.
Josh D'Amaro, chairman of Disney Parks, Experiences and Products, revealed in an update that Disney will be laying off approximately 28,000 employees due to the prolonged impact of COVID-19.
Uswitch revealed that Magic Kingdom at Walt Disney World is the world's most eco-friendly tourist attraction, after scoring the world's most popular attractions on their commitment to sustainability.
The Walt Disney Co's executive chairman Bob Iger has resigned from Governor Gavin Newsom's economic task force amid growing tensions around reopening theme parks in California.
Museums
The domestic tourism sector in the UAE and Sharjah is picking up as more UAE residents look to visit destinations that are closer to home amid the coronavirus pandemic, according to the Sharjah Museums Authority.
The British Museum says it has "no intention of removing controversial objects" from display after getting a warning letter from the government over the issue. Recipients of the letter include the Tate, Science Museum, and V&A.
The V&A plans to make 103 retail and visitor experience staff redundant, which amounts to approximately 10 percent of its overall workforce. It attributes this to "the ongoing impact of COVID-19".
The Centre Pompidou in Paris could fully close for three years or partially close for seven years for a multi-million euro refurbishment to be carried out on the 1970s building, starting in 2023.
The Smithsonian has made Kevin Young the director of the National Museum of African American History and Culture (NMAAHC), effective from January 2021. He succeeds founding director Lonnie G Bunch III.
Outdoors
Everland, an eco-retreat and outdoor immersive art park, is coming to Denver in summer 2021. Everland is a fusion of experiential art installations, eco-retreats, glamping, and nature therapy in Colorado.
RAK Leisure announced that the world's first Bear Grylls Explorers Camp is set to open this month. It is located close to the via ferrata on the UAE's highest mountain, Jebel Jais.
Major attractions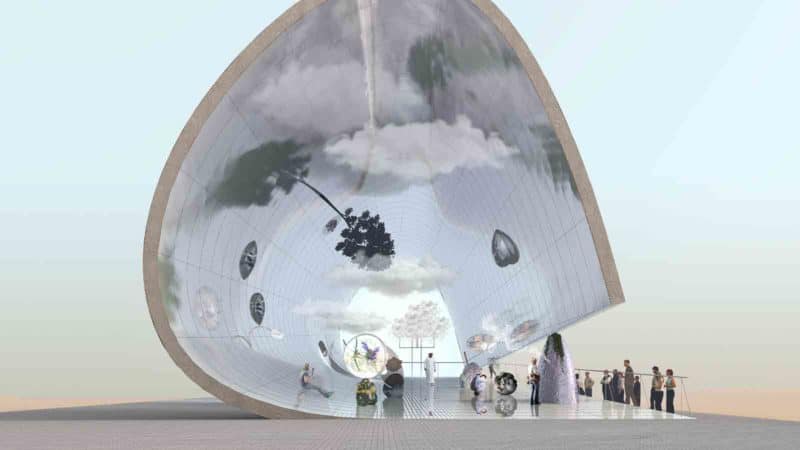 American Dream reopened in New Jersey on October 1. However, the mall has delayed the opening of Legoland Discovery Center and SEA LIFE Aquarium, which won't launch until spring 2021.
Expo 2020 Dubai is sending a message of hope and resilience as the one-year countdown begins, and has confirmed that the country pavilions are set for completion in 2020.
blooloop V-Expo Agenda revealed
Checkout the agenda for the first ever blooloop V-Expo. 3 days of fantastic speakers, networking and the most innovative companies in the business.