The walls have been taken down at Disneyland. After years of careful preparation and planning, fans can finally experience the world of Star Wars. Despite the hype, there are certain factors that reveal the dark side of Star Wars: Galaxy's Edge.
By Lance Hart, Screamscape
That is if guests were lucky enough to grab a reservation for a 4-hour window of visitation online last month before they quickly vanished, or had a hotel reservation. Either way, this is all part of Disney's plan to carefully limit how many Earthlings invade the Black Spire Outpost at any one time over the first month of operation. The limitations are necessary because of the rabid Star Wars fanbase who can't wait to take a selfie with the Millennium Falcon. However, it is also because one of the new land's major attractions, Star Wars: Rise of the Resistance, won't be ready to open until later this year.
See also: Star Wars: Galaxy's Edge – 51 photos from inside Disney's new themed land.
Legendary rumours
While both of the area attractions, Millennium Falcon: Smuggler's Run and Star Wars: Rise of the Resistance are, in Disney-speak, clearly going to be E-Ticket level attractions, it is the latter of the two which is said to possibly go beyond that level of quality. Few things are known for sure about what will happen once you enter Rise of the Resistance. But the rumours so far have reached legendary status. Some even claiming that the experience inside will be beyond anything you might expect from a theme park dark ride.
For now, the gates to Rise of the Resistance sit closed. This then puts the brunt of the pressure to perform on Smuggler's Run and the rest of the new land's assortment of shops and experiences. For every smiling guest selfie shown holding a brand new lightsaber they created, there is also a bit of criticism to be found about various aspects of the land. And today, I'm going to dig a little bit into this dark side of Star Wars: Galaxy's Edge.
In full disclosure, keep in mind that I have not visited Star Wars: Galaxy's Edge myself. My comments are based on the various videos I've watched, as well as comments from people who have visited. Furthermore, it is mixed with my own opinions from working in and reporting on the attraction's industry over the years.
A starship unlike any other
Let's start with Smuggler's Run, which has been described as a very next-gen interactive attraction experience that lets the guests actually see what it is like to fly the Millennium Falcon. This isn't a passive simulator experience with a pre-rendered "ride-film" on a projection screen. What this really seems to be is the world's biggest video-game experience. It is an experience where everything is rendered in real-time in 4K onto a giant screen outside the six-passenger cockpit.
It sounded fantastic! It sounded wonderful! Until I remembered that unlike a video game experience where you are in control of your craft, you are going to be fighting for control of the Falcon with five other theme park guests. These guests are of various ages, abilities, and quite possibly unable to even communicate with due to language barriers. It was at this point that I became a little less than excited over this idea. Did I mention I was a Star Wars fan? I know how the Falcon is supposed to fly. It is with Captain Solo at the controls and Chewie in the co-pilot seat assisting where needed; angling the shields and hitting the hyperdrive just in the nick of time.
The pilot controls Disney built in here mean that the left seat (Pilot) controls the left/right movement of the Falcon. Whereas the right seat (Co-Pilot), controls the up/down movement. This simply makes no sense. It is a recipe for disaster and bad times for those who were hoping to live out their own dreams of being the best starship Pilot in the galaxy. Seriously? Who designs starship controls like that?
Too many cooks spoil the soup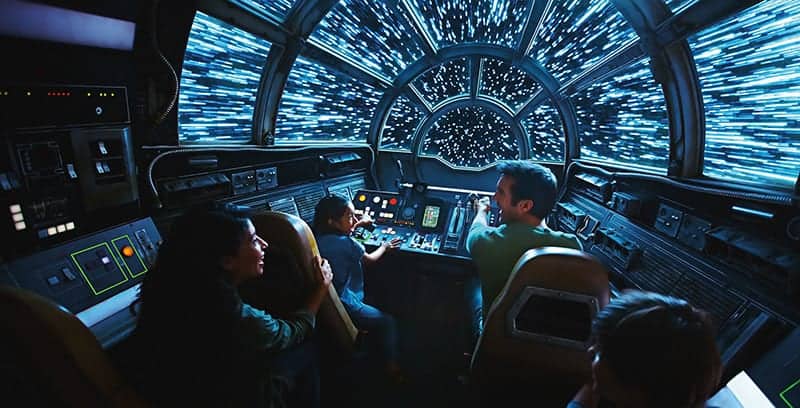 I'd rather give all the directional controls to one pilot to truly let them live out their dream of being Han Solo, and give the co-pilot other important things to do. For example, shield control, hyperdrive, fight with the navigation computer and other things that could be difficult to do while being tossed around from the various impacts. Beyond that, the rest of the riders should just mostly be along for the ride as they are sitting in the back seats anyway. They can be given a few random jobs to do instead of being distracted by looking for a flashing light to push off to their side.
Instead, we have Gunners in the cockpit. And sorry again, but everyone knows the Falcon has top and bottom gun turrets to be put to use. These were ignored entirely on Smuggler's Run. I'd have loved to see Disney create two little turret pods to stick the gunners into instead of the cockpit. That would have been a fun ride experience for sure. Unfortunately, based on what I'm told, the gunners in the cockpit don't even get joysticks or have to aim. They just push a light-up button when told to do so.
Playing the world's largest video game
I'm curious how I'll feel when I finally do get to ride Smuggler's Run for myself. This is just because I know up-front what to expect now of what seems to be the world's largest video game. But from that gaming point of view, I do want a better control system. Perhaps even a chance to fly a series of different missions that will get harder the next time, if I pass the previous mission with flying colours as a pilot. The bottom line on Smuggler's Run though is that I've heard a lot of other very similar comments from those who have ridden it. And while it is still a fun attraction, it just isn't what some people were expecting. Or rather, not quite what they were really wanting in order to live out their own personal Star Wars fantasy.
The dark side of Star Wars: Galaxy's Edge – Merchandise for adults
The other dark side of Star Wars: Galaxy's Edge seems to be the prices for everything. Disney knows that the classic Star Wars fanbase who are frothing at the bit to get into Black Spire Outpost are now adults (many with children) who grew up with the franchise as kids from when it hit the theatres back in 1977. As such, most of the merchandise choices seems to be aimed at adult level budgets. Galaxy's Edge has a very detailed and themed build-a-lightsaber experience. This is aimed towards these adults and will cost $200. It is different from the Hasbro style build your own lightsaber toy-shop experience we've seen Disney do for kids.
Paying the price for Galaxy's Edge
Want to build your own mini droid buddy to take home with you? A build-a-droid experience, complete with a fun little "activation" experience will cost you $100. Of course there are extra accessories you can buy for each experience as well. For an additional charge you can buy some add-on accessories for your droid, or even different personality chips.
Want to change the colour of your lightsaber? You can buy a new Kyber Crystal to put into your saber-hilt. This will change its colour and sounds, and costs $12.99 each. There are six official colours to choose from: Red, Green, Blue, Purple, White and Yellow. Furthermore, there is also a secret Black Kyber Crystal. This can be found randomly inside some of the Red Crystal containers.  (Hint: use the light on your phone to illuminate the back of the package. If you see a dark lump inside instead of a red one, you've found a very rare Black Kyber Crystal.) The Crystals can also be used with a Jedi or Sith Holocron device that costs $50 each. They will light up as well as make sounds. They will also speak quotes of different Jedi and Sith wisdom. This will change with each different crystal you put into it.
Overcoming the dark side of Star Wars: Galaxy's Edge, or not…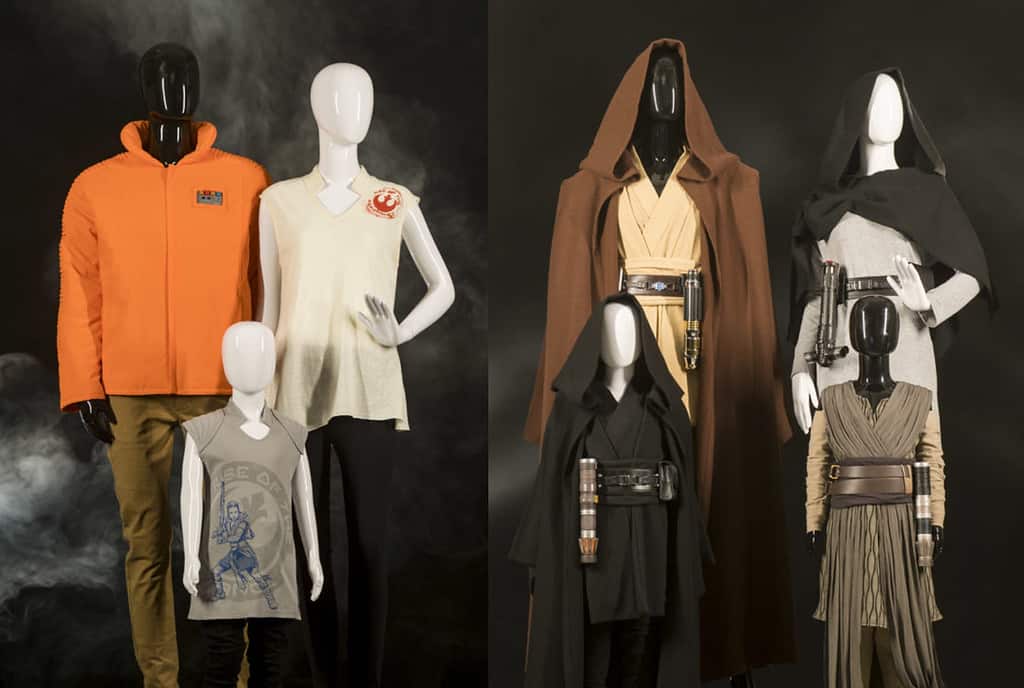 So on top of your admission into the park, it is easy to spend another $300 – $500 dollars on rare items exclusively at Galaxy's Edge. I didn't even mention the full collection of Star Wars clothing items you can buy. This including official adult-sized Jedi robes and more. However, on the topic of the dark side of Star Wars: Galaxy's Edge – just don't try to wear any of this into the park after you buy it. This is because Disney doesn't allow anyone over the age of 14 to wear anything considered to be a "costume" into the park.
This particular rule has rubbed a lot of fans the wrong way already when it comes to simple Star Wars robes and outfits purchased. For the reason being, it runs directly in contrast to how nearby Universal permits fans to arrive in or purchase Harry Potter themed school robes and items into the park along with magic wands and other accessories.
No love for Blue Milk
Speaking of the dark side of Star Wars: Galaxy's Edge, I'll briefly mention the various food items for sale here as well, which are plentiful in number. Right off the bat, the biggest conflict seems to be that most of the reviews of the Blue and Green Milk being sold for about $8 a glass simply don't like them at all. I think that perhaps Disney was hoping they were about to create their own version of Butterbeer.
However, unlike Universal's Harry Potter beverage which is almost universally loved, the Blue/Green Milks seem to be mostly disliked, in many cases so much that they couldn't bring themselves to even finish them. The good news is that there are plenty of other themed drink options to choose from in the land. Both regular and adult beverages are available. So it does make me wonder how long these non-dairy Blue/Green Milks will last.
Food fit for the Galaxy
Then there is the food, which I've only seen a small sampling of because, as I said before, I've not visited myself. Most of it looks good and tasty, especially a lot of the yummy meat-based items for sale at Ronto Roasters, which seems to fit right into the theme of the Black Spire Outpost environment. What I found myself questioning, however, were some of the other menu items.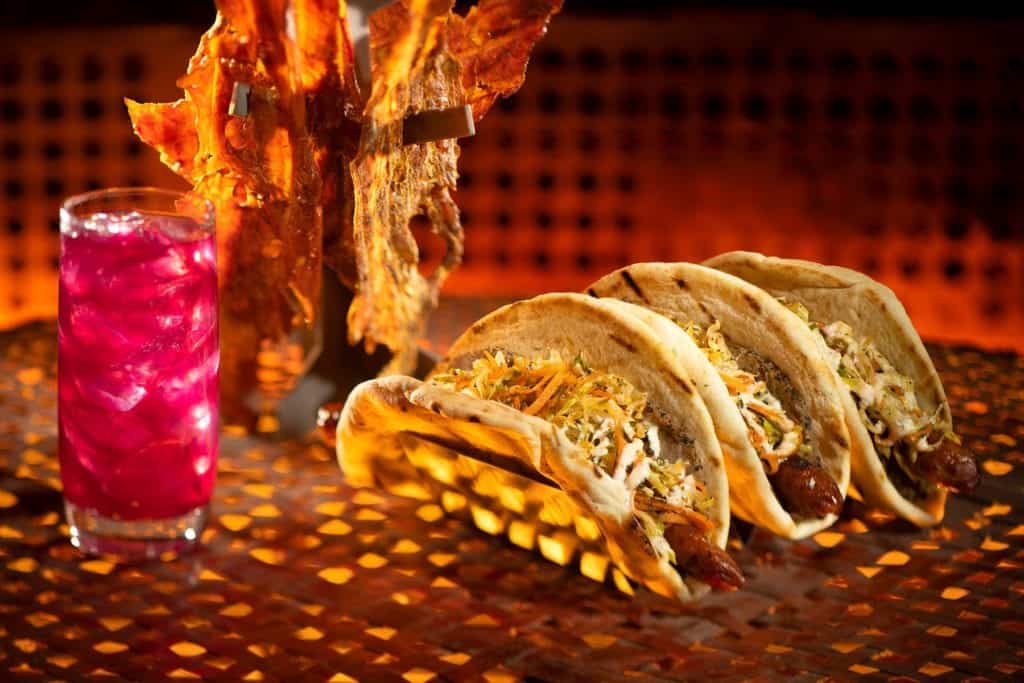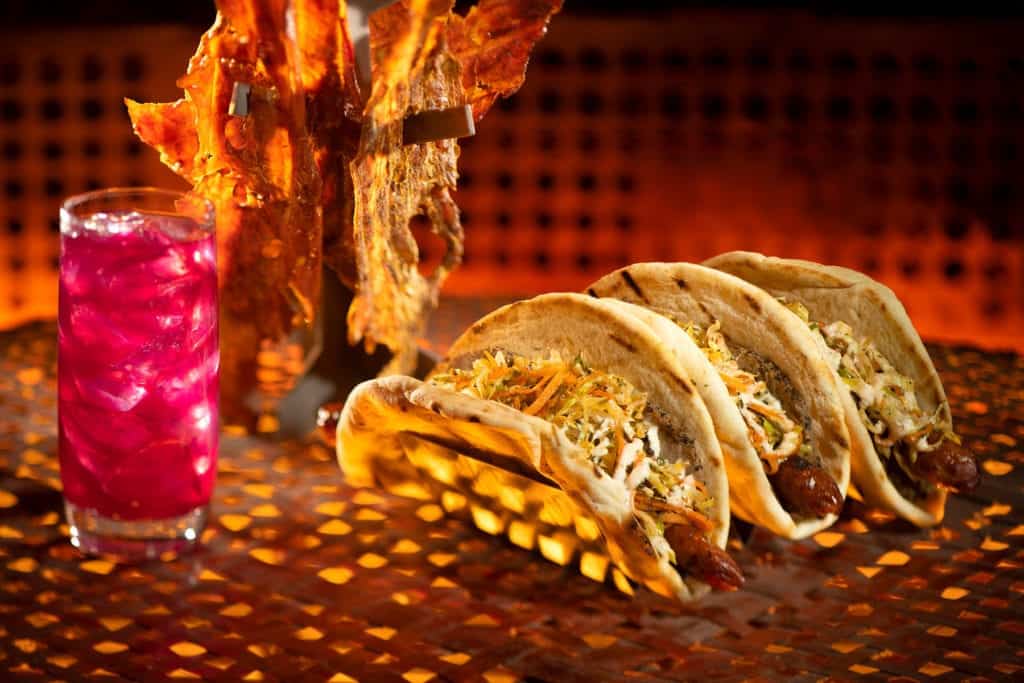 There seemed to be quite a few meals and drinks that are very 'fruity". It was almost as if they were rejected items. Items that were once considered during the creation of Disney's "Pandora – The World of Avatar" that opened two years ago at Walt Disney World. Given the very high-desert looking environment of the Black Spire Outpost, the colourful fruit-based menu items just appeared to contrast with the meat and BBQ based items which actually fit right in quite well.
It should be interesting to see what lessons are learned here at Disneyland, taking into account the dark side of Star Wars: Galaxy's Edge. And likewise, if any changes are put into effect in time for the opening of Galaxy's Edge in Florida at the end of August.
Images courtesy of Brady MacDonald and Disney.