Witches Brooms, Yukon Wings, A Triple Decker Couch and 20 Million Butterbeers Served… make up just another week in the theme park biz.
By Lance Hart, Screamscape
1) Legoland Florida announced plans for three new rides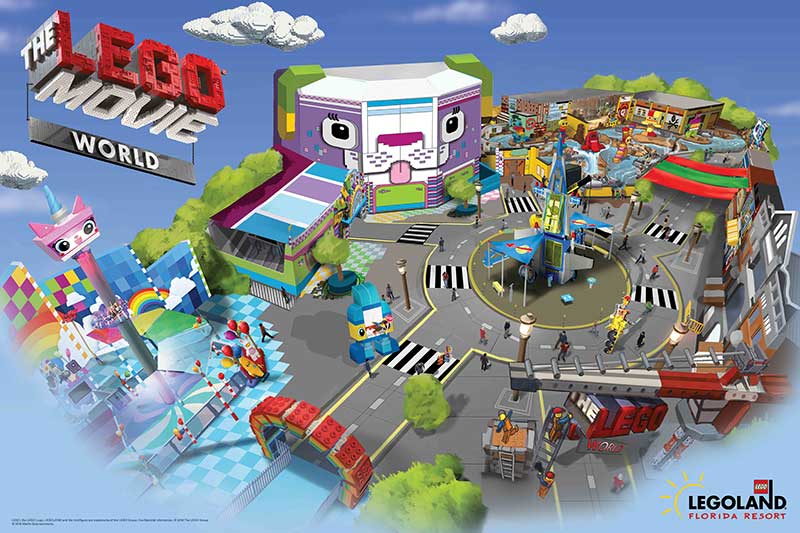 Legoland Florida unveiled their plans for the previously announced 'The Lego Movie World' expansion. The area is themed around the world of 'The Lego Movie' film and the upcoming sequel. It features two brand new attractions and one previous attraction with a new theme. One is the first Flying Theater attraction in a LEGO park called 'The Lego Movie Masters of Flight'; where guests take a ride over the movie themed world on a flying Triple Decker Couch, with the ride hardware from Brogent Technologies Inc.
The other new rides will be Unikitty's Disco Drop, a family friendly tower ride, and 'Battle for Bricksburg'; which was a splash battle style attraction added to the park in 2013 with a World of Chima theme. In addition to the three rides, the land will also feature 'Benny's PLAYSHIP!' and a Lego character meet & greet area themed as 'Emmet's Super Suite' apartment.
2) World's longest, fastest, and tallest dive coaster topped out
Construction crews at Canada's Wonderland topped out the new Yukon Striker roller coaster (B&M Dive Machine) on Friday. The peak of the lift hill was moved into place and was connected to the completed 75 m (246 ft) first drop.
3) Disney files new coaster patent
While The Walt Disney Company is known for frequently filing new technology patents, often for possible attraction ideas that may never see the light of day, Disney's latest filing may be for a project already under construction. This particular patent is for a 'Roller Coaster with Passenger Compartment Motion Powered Through Stored Onboard Energy'.
It appears to show a roller coaster car mounted to a powered spinning base unit. This would allow the riders to be turned to face in any desired direction during the course of the ride. While nothing was confirmed in the patent, this system appears to closely resemble a prototype unit spotted undergoing testing at a Vekoma test site in March 2018; which was rumored to be for the Guardians of the Galaxy roller coaster attraction now under construction in Epcot at Walt Disney World.
4) Small Texas amusement park owners call it quits
Located just north of Dallas, Texas, Sandy Lake Amusement Park; a classic family amusement facility that has been running for almost 50 years; announced this week that the family owners have opted to sell the property and close the park forever. While often overshadowed by Six Flags over Texas, the small family park was frequently rented for numerous corporate picnic events and used as the location for a number of local festival and events.
5) Room on the Broom attraction coming to Chessington
Chessington confirmed this week that they would be adding a brand new family attraction to the park called "Room on the Broom – A Magical Adventure". The project is actually the second attraction in the park themed to a children's book from author Julia Donaldson; following the opening of the Gruffalo River Ride Adventure in 2017. It is speculated that Room on the Broom will replace the park's Hocus Pocus Hall attraction.
6) Yukon Wings coming to Le Pal in 2019
Parc Le Pal in France will add another new attraction to the Yukon Territory themed area of the park in 2019 with the addition of Yukon Wings; a highly themed Zamperla WindstarZ ride.
7) New coaster for Kentucky Kingdom blocked and then approved
This was quite the week for Kentucky Kingdom. The park was having complications over their right to use land; land issued to them in their lease from the Kentucky State Fair Board for park expansion projects. Shortly after construction had just begun for their new Kentucky Flyer wooden coaster project (The Gravity Group), they were told to stop the project. They then came forward with a public press announcement about the troubles they were having at the start of the week. Fortunately the right people were listening. They stepped in to cut through all the red tape and clear the project to move forward once again thankfully before the week was through.
8) The Year of Shows & Festivals coming to Silver Dollar City
Silver Dollar City announced that the follow up to opening this year's unique Time Traveler coaster would be to make 2019 'The Year of Shows & Festivals'. New productions will be coming to the park next season. They include 'Reuben's Swashbuckling Adventure', acrobats, a magic show, lumberjacks, and a new Pumpkin Nights festival in the fall. Furthermore, numerous new holiday and musical festivals will also be added; such as 'Bluegrass Nights, 'Star-Spangled Summer', 'The Festival of Wonder', and more.
9) Walt Disney World announced new resort coming in 2022
Walt Disney World has announced the plans for their next resort project this week. It will be a 'mixed-use' resort with a 'nature' theme that will open along the shore of Bay Lake in 2022 between Disney's Wilderness Lodge resort and Disney's Fort Wilderness Resort & Campground.
10) Over 20 million Butterbeers served
Universal Orlando Resort celebrated a unique milestone this past week with the announcement that they have sold 20 million Butterbeer beverages since The Wizarding World of Harry Potter first opened back in 2010. This particular achievement is even more special when you remember that Butterbeer itself was an entirely fictional beverage dreamed up by author JK Rowling for her Harry Potter book series.
The task of bringing the iconic Butterbeer off the page and into the real world fell on Universal Orlando's Corporate Executive Chef, Steve Jayson. Now his beverage has become more than just a unique drink, but a right of passage that virtually every guest to Universal's Wizarding World simply must try.