Cloward H2O, an expert in aquatic design, has announced that two of its recent projects have been named in this year's Dream Designs awards by Aquatics International.
The company was the aquatic designer/consultant for Tidal Cove Waterpark in Aventura, Florida, and the architect & aquatic designer/consultant for HyTides Waterpark at the Hyatt Regency Indian Wells Resort & Spa, in Indian Wells, California.
Tidal Cove
The five acres Tidal Cove boasts the most slides and activities in Miami Dade County. It is home to a 60-foot tower with seven slides, a lazy river and a three-rider surf simulator. There is also a kids waterplay tower, an entry pool and an oasis pool. It has been voted as one of the top 10 new attractions in the country, according to USA Today's 10 Best Readers' Choice 2020 Travel Awards.
Highlights include two steep drop slides, a family-style raft boomerango slide, a multi-lane Whizzard High-speed enclosed tube slide for racing and the world's first double tube master blaster water coaster, as well as a double tube Constrictor ride. Rides were provided by WhiteWater.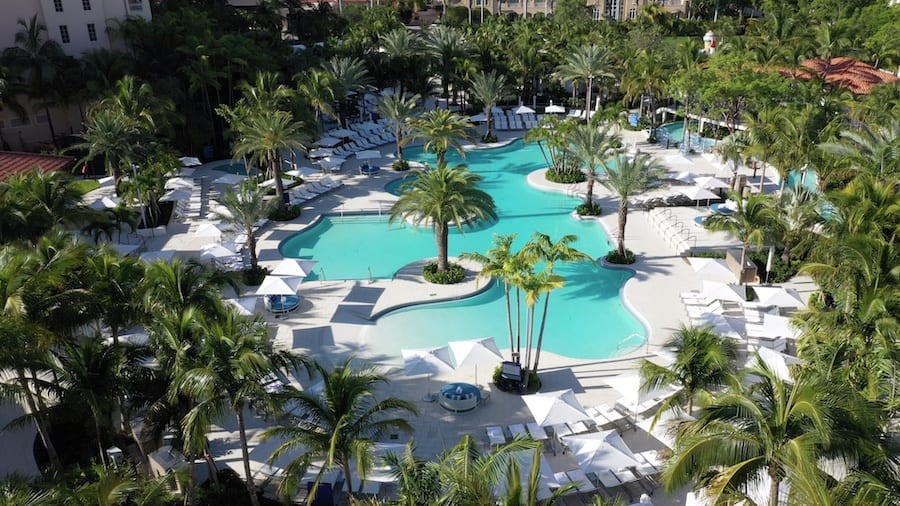 The landscaping of the resort is modern and simple, with many palm trees included to make it feel like a tropical getaway. One challenge that the Cloward H2O team faced was the fact that the pools and structures had to be built on piles because of the high groundwater and the swamp-like land area. Engineering design accounted for this, so no significant settling or future water rises will affect the structural integrity.
Speaking about some of the design decisions, a spokesperson from the company says:
"The different pools were designed to create separate spaces in the landscape within the overall pool amenity area. This allows for a more intimate feel to each space while still providing the full variety of features.
Meanwhile: "The Kids Cove was meant to be a fun, whimsical area within the overall amenity. The landscaping sets this area apart from the other pools and creates a unique experience for the kids. Rather than creating a mythical or fantasy type theme that might feel contrived, the design team chose to go play with summertime staple – the ice cream and candy shop."
HyTides Waterpark
HyTides Waterpark at the Hyatt Regency has a large 4230-square-foot pool with an iconic water tower and two tube slides. There is also a 2073 square-foot kids pool and a 912-square-foot splash pad, as well as a 547-foot river pool. Prior to this project, existing amenities include a desert pipewave slide, food and beverage options, a turf lawn, cabanas and a wood deck.
The expansion has allowed the resort to cater to more guests and add more entertainment options while keeping its classic feel. The resort is located in an area where water is a valuable resource. Using cutting-edge technology and detailed calculations, Cloward H2O was able to significantly reduce water usage and power necessary for such an amenity.
"Many challenges were overcome in the renovation of under-utilized space on the grounds to create HyTides Waterpark at Hyatt Regency Indian Wells Resort & Spa including opening in the midst of pandemic conditions," says the company.
"Successful projects always involve close collaboration and partnership between the owner, design, and construction team. It was a great pleasure to work with EDSA, Inc., TERRA Engineering, Ltd., Pinnacle Design, WhiteWater, Hamel Group of Companies, CalCom Pools, and Hyatt on this beautiful resort renovation project."
The expansion included the addition of a unique water tower, designed to fit within the resort setting instead of the typical steel towers often seen in waterparks, as well as providing a memorable view.
"Hyatt was a challenging renovation project," says Allen Clawson, Principal. "The desert environment added many constraints along with infrastructure, including part of a feature lake existing in an underutilized portion of the property. Facilitating water use was a key priority for our team.
"We wanted to bring new life to this much-loved resort but also make it environmentally and economically friendly. Our team was up to the task and guests now have an inviting new experience awaiting them at their stay."
The company has recently been taking a look back at some of its key built-to-last projects, such as Sandy Lane Resort & Spa. This luxury Caribbean resort features multi-level pools and spas, as well as five hydrotherapy pools, a penthouse swimming pool and numerous koi ponds, fountains and wading areas.