Therme Group, a global wellbeing organisation, has revealed that the £250m Therme Manchester project will have 35 water slides, 25 pools and 30 saunas and steam rooms.
Therme Manchester at the Trafford Centre will be the UK's first city-based wellbeing resort, with offerings including a spa, wellness centre and water park across 28 acres.
The attraction will boast 25 indoor and outdoor pools, more than 35 water slides, 30 saunas and steam rooms, and more than 1,500 palm trees, reports Manchester Evening News.
The Therme Group development, which is still on track to open in 2023, will feature rooftop beehives and a rose-shaped botanical garden that covers 10,000 square metres.
Therme Manchester opens in 2023
Therme Manchester's family area, known as 'Galaxy', will house water slides, indoor and outdoor pools, steam rooms, relaxation areas and a wave pool.
There will also be an area for adults called 'Palm' with warm water lagoons, botanical gardens, swim-up bars, therapeutic mineral pools and luxury steam rooms and saunas.
Therme Manchester will merge water-based activities with wellbeing treatments, also fusing art, nature and technology for a unique visitor experience.
"Therme Group is based on a belief that wellbeing should be accessible for all," Richard Land, chief development officer of Therme Group UK, said last year.
"The events of 2020 have shone a light on the necessity of this mission, especially for those in cities," he added.
28 acres of wellness in Manchester, UK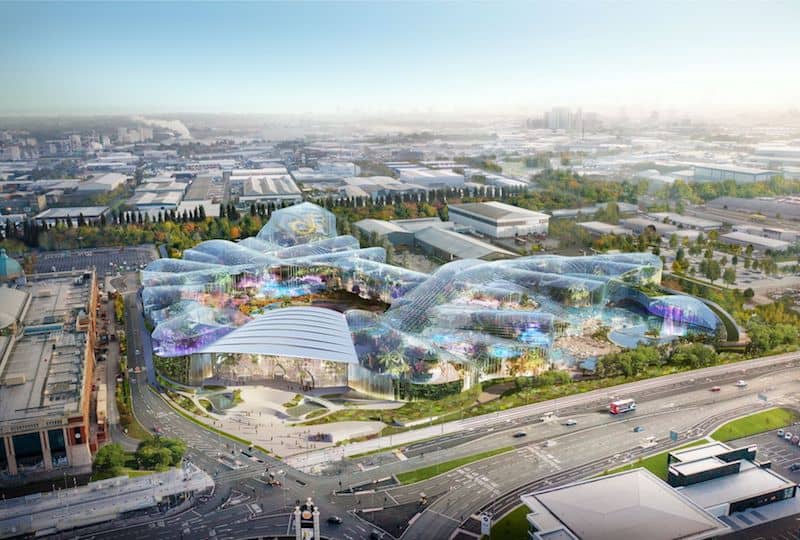 "Therme Manchester will redefine city wellbeing, enhancing mental and physical health through an experience based in water and nature. Therme Manchester will offer a unique holiday at home, that acts as a catalyst for healthy lifestyles."
Therme Group is also developing a C$350m wellbeing resort in Toronto called Therme Canada | Ontario Place, as well as Germany's largest wellbeing resort in Frankfurt. 
After receiving planning approval to build Therme Manchester, Therme Group announced plans to develop the concept in other cities in the UK, including London, Scotland and Wales.
"We are delighted that planning has been approved so we can bring the UK's first Therme Group city wellbeing resort to Manchester," said Stelian Iacob, CEO of Therme Group UK.
"This will transform life for city residents and people further afield, creating a fun and accessible experience with profound health and wellbeing benefits for all."
Images: Therme Group