Longwood Gardens in Pennsylvania is embarking on its most ambitious project in a century: a $250 million transformation of 17 acres of gardens, with a 'Crystal Palace' conservatory rising from a pool at its heart.
Paul B Redman, an award-winning leader of public gardens, is President & Chief Executive Officer at the attraction. He spoke to blooloop about his early attraction to horticulture, the factors that make Longwood unique, and the upcoming transformation, Longwood: Reimagined.
A passion for horticulture
"I grew up on a horse and cattle ranch in Southwestern Oklahoma," he begins. "I was always outside, and one of the things that I had as a young boy growing up at our ranch was a vegetable garden. It was my grandmother, herself an avid horticulturalist, that really introduced me to the world of plants and gardening."
He went to college, then on to Oklahoma State University in 1984, where he started out studying business:
"I wasn't very happy, so I approached the university's career counselling service and did a career interest test. The computer shot out 100 or 200 careers. At the very top of the list was 'horticulture and landscape architecture'. I asked the counsellor, 'What's that?' He explained it to me, and introduced me to the faculty and the horticulture program at Oklahoma State University.
"I didn't even know, until then, that you could pursue a career in horticulture. I said, 'This is what I want to do.'"
Paul Redman and Longwood Gardens
Redman has been at Longwood Gardens for almost 15 years:
"It will be 15 years in July," he says. "Previously, I was in Columbus, Ohio where I was Executive Director of the Franklin Park Conservatory and Botanical Gardens, which is in an inner-city garden."
"We were in the midst of a significant capital campaign. It was a very different story from Longwood Gardens because we were kind of the Little Engine that Could; it was a phoenix-rising-from-the-ashes rebirth story.
"When all the dreams were finally happening, the executive search consultant from Longwood Gardens knocked on my door. I realized what a wonderful opportunity it would be to go to Longwood and be at the helm of such a prestigious institution."
A rich history
"Longwood is most known for its association with our founders, Pierre and Alice DuPont," says Redman, outlining the history of the Gardens. "Especially Pierre DuPont, who was a great industrialist and philanthropist of the early 20th Century.
"But, in fact, Longwood actually predates him. There was a Quaker family by the name of Peirce. The Peirce family purchased 402 acres of land from William Penn, and it was the Peirce family, in the 1700s, that began creating what would become a public arboretum."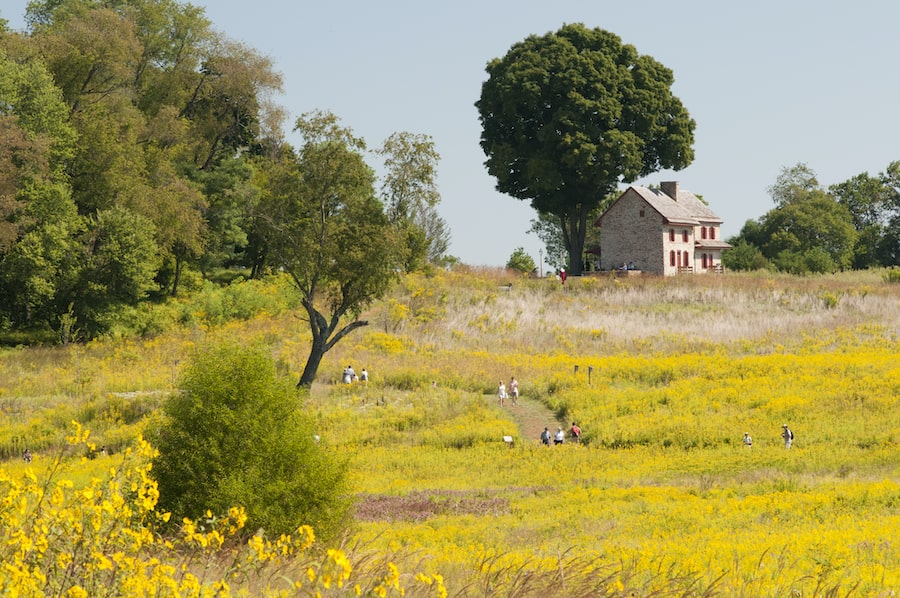 The land remained in the Peirce family's possession throughout the 18th and 19th centuries. The arboretum they had established became famous for one of the finest collections of trees in the country:
"Go forward to 1906, and Pierre DuPont, who was well into building the DuPont company, was living in Wilmington, Delaware, 12 miles away.
"The historical trees had become a public gathering place. Pierre learned that the property was going to be sold, and the trees were going to be cut down for timber. He was a great fan of trees, and actually wrote one of the earliest protected tree ordinances in America for Wilmington, Delaware.
"When he heard the stand of trees was about to be cut down, he purchased this tract of land to save the trees. From then on, he set about creating what would become Longwood Gardens, which was his country estate."
Gardens for the public
DuPont was an early conservationist:
"He purchased property like that throughout South-eastern Pennsylvania. Or helped to fund the purchase of property to save or conserve the land. So it was within his set of values to do something like this."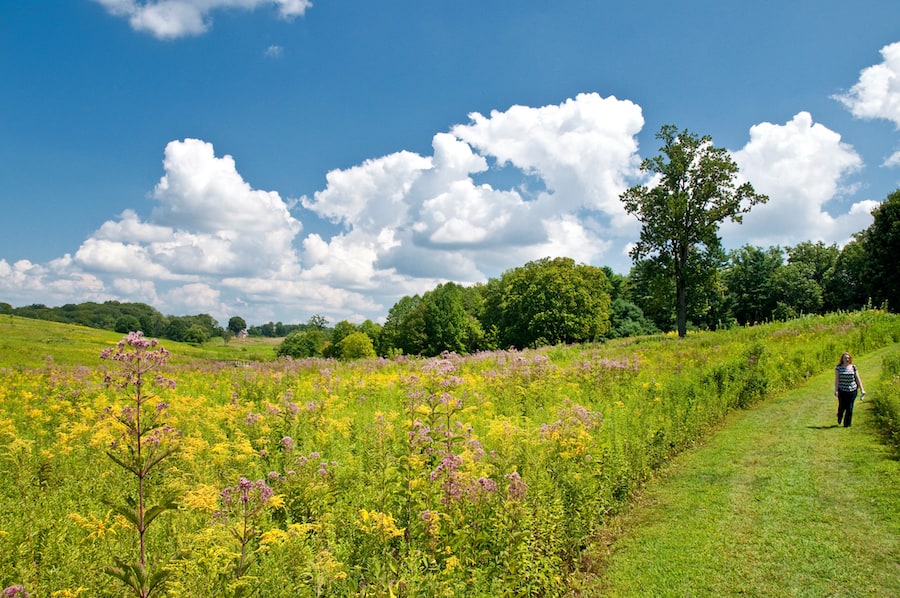 A story from DuPont's childhood foreshadows the creation of Longwood Gardens:
"There was a period of time, when he was young, that he lived with his family in Center City, Philadelphia. He would pass a stately home with a beautiful glasshouse and conservatory that was behind a brick wall. But he could only see the beautiful plants over the brick wall or through the bars of the gate. He wrote that it was at that time that he vowed that someday he would have a garden that would be freely shared with the public."
Evolving Longwood Gardens
Since Redman arrived at Longwood Gardens, he has implemented initiatives that have positioned the Gardens as a premier horticultural, cultural, and educational institution. Under his leadership, attendance has doubled (pre-COVID) to almost 1.54 million visitors per year. Membership support has also increased from 17,000 to 73,000 households and earned income has almost tripled.
"We've been on quite the ride. One of the exciting things for me as a leader in coming here was how to take the helm of an institution like Longwood with a world-class reputation. By all surface appearances, it was successful. How do you take the helm of a successful institution, and continue to evolve it, and even make it better?
"That was the great leadership challenge for me. Something that became clear to me very early on was that, at some point, while Longwood remained popular, and people were coming to visit, we had begun losing our relevance. We weren't remaining as current as we could, so modern-day audiences would continue to visit."
Bringing in new audiences
Redman wanted future generations of guests to also be a part of Longwood:
"It was essentially about, and I hate to use the word, modernisation at Longwood; bringing new approaches to strategic planning, and to long-range, visionary planning.
"Many of the things we're doing today with Longwood Reimagined, the new garden experience, and, prior to that, the revitalisation of our iconic Fountain Garden, all of those ideas of what role those current gardens or future gardens and facilities play, came about through those early planning processes in my early days."
Programming, too, is key, he explains:
"Programming to continue diversifying our audience, and to continue introducing new people. We have this beautiful treehouse. We invited this great tree-house designer, Peter Nelson of TreeHouse Workshop, Inc in Seattle, WA to come to Longwood. Peter usually designs tree-houses in giant redwoods and sequoias, with kitchens and fireplaces.
"He came to Longwood and designed a beautiful tree-house, The Canopy Cathedral inspired by Norwegian stave churches. It's stunning, nestled in our old trees on the East side of our property."
Further tree houses, The Birdhouse and Lookout Loft were designed by Forever Young Treehouses of Burlington, Vermont.
New events at Longwood Gardens
"At the same time," Redman says, "We debuted our new indoor children's garden. That was a strategic and deliberate effort to appeal to families and to children.
"We also started holding concerts, music, and culinary experiences on a par with the quality of our gardens and inspired by our gardens. It was then about just bringing new life into Longwood."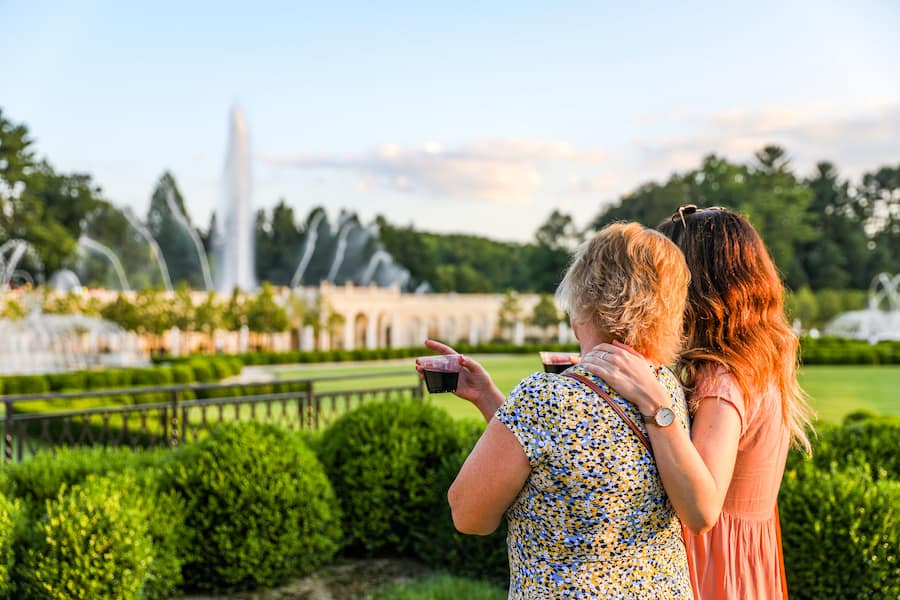 "We expanded the Meadow Garden. One of the targets that we inherited was moving a highway. When we moved this highway, that enabled us to unite two pieces of our property that had been historically disconnected. Because of that, we were able to double the size of our Meadow Garden.
"From that, we were able to share another part of our mission that most of our guests didn't know about. And that is the fact that we are involved in conservation practices around the world, as well as in here in our state, where we're utilising and leveraging our horticultural expertise. Things like that have really resonated with the community."
Conservation work
Longwood has partnerships around the world, and at home in Pennsylvania:
"We have a team of PhD horticulturalists that I like to refer to as the Indiana Jones of the plant world. Prior to the pandemic, they would go to Vietnam, Uzbekistan, Japan and China looking for new plants that aren't common to America, and also looking for plants that are rare, threatened and endangered.
"We usually partner with organisations like the Royal Botanical Gardens in Edinburgh or Atlanta Botanical Gardens. Or there's a consortium of public gardens in the United States that jointly support and collect plants for conservation efforts in China."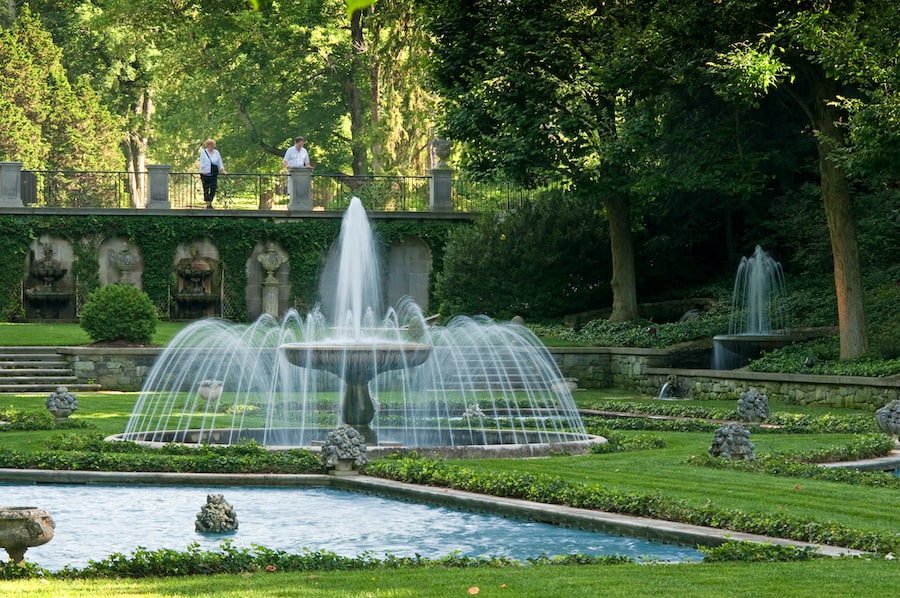 "We're bringing the missing piece to the table in plant conservation, and that's horticulture. Because people know how to find the plants, and how to identify them. But how do you grow them, and how do you cultivate them? That's the piece that we're bringing to the table.
"Here in Pennsylvania, one of the plant groups that interests us is our native orchids and their conservation. We're doing some cutting-edge research in helping to identify the specific symbiotic mycorrhizal fungi that they need to reproduce.
"It's a group of orchids called fringed orchids or Platanthera. They are beautiful and easily hybridise in nature. They also happen to grow in areas where there is development or utility corridors. So, they can tend to be subjected to abuse. We can go in with state partners and other conservation partners and help save those native populations."
Longwood Reimagined
Longwood Gardens is currently undergoing a $250m expansion and transformation of its conservatory gardens as part of Longwood: Reimagined. The centrepiece of the project is a new 32,000-square-foot glasshouse, the West Conservatory, designed by Weiss/Manfredi. Gardens and pools within the glasshouse are designed by Reed Hilderbrand.
Redman describes how the project has evolved.
"We developed what we call a visionary masterplan back in 2010."
This masterplan was a roadmap that started to address deferred maintenance issues:
"Parts of our facility, the historic conservatories, the main Fountain Garden, were beginning to deteriorate.
"It was also about how we could begin to create new experiences that are on the grand scale of what our founders envisioned. One of the things that Pierre DuPont established throughout his lifetime is that Longwood was never fixed in time; it was always evolving and changing.
"Longwood: Reimagined, our new garden experience, is part of the master plan that we've been working. This phase of it is about creating 17 acres of new garden experience in a part of our garden core that was not fully accessible by our guests."
Crystal Palace
"When we are done with this project, our guests will have 17 acres of gardens that they never had before. This will include the new, grand, beautiful Crystal Palace designed by Weiss/Manfredi, architects out of New York. Plus the gardens designed by Reed Hilderbrand out of Boston.
"This beautiful new Crystal Palace is actually part of a Longwood strategy of establishing a new front door for Longwood."
The new 32,000 sq ft West Conservatory is the centrepiece of the project. Imagined in the tradition of the great 19th century glasshouses, and fortified with new, sustainable technologies, the building will appear to float on a pool of water. Inside, Mediterranean-inspired gardens will be islands among canals, fountains and pools.
He says:
"We are really excited about it. It is beautiful and audacious. The fact that we are envisioning a new conservatory adjacent to and complementary to the historic and iconic conservatories that our founder designed, is something we're in love with. And the fact that it's gently floating on this beautiful body of water, and at night the Crystal Palace will be reflected in the water, is going to be great."
Staying true to the ethos of Longwood Gardnes
A garden, Redman feels, should grow and develop, rather than remaining frozen in time.
"I think that's where people go wrong, especially when it comes to historic gardens. They feel they need to be preserved and to stay that way forever. And true: there are some gardens that perhaps should be preserved as they are."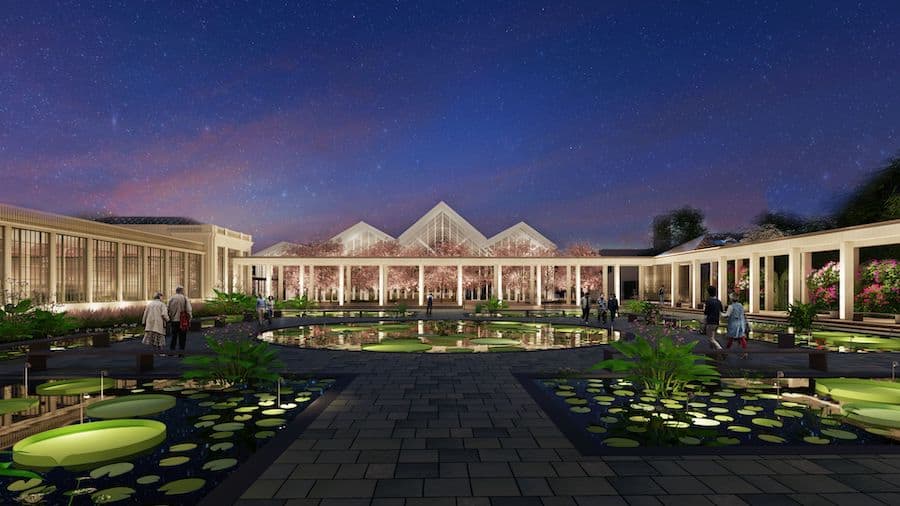 "But a garden is always changing and evolving. Plants die. They're ephemeral. The most important thing, at least for us at Longwood, was the true idea behind the garden.
"For us, Pierre left us with this roadmap that is about creating a beautiful and inspirational experience, and to also make it fun; to incorporate some aspect of entertainment to it, because that is how we use Longwood."
The impact of the pandemic
The COVID pandemic and lockdowns hit Longwood hard.
"It was absolutely devastating. We did not open from March 13th until the end of June 2020. So, there was absolutely no one visiting during that period of time. Since then we've been operating at a reduced capacity, initially of 35%. We've just moved up to 50% capacity. We have been tracking about 27% below our previous pre-pandemic income level.
"I feel really fortunate now that we're at that level. At one point we were 35% below the previous year."
He adds:
"My heart breaks for my friends who lead culture institutions that have four walls and a roof; performing arts centres, galleries, museums.
"What is interesting about the pandemic for public gardens is that, because they are outdoors, and have been able to open earlier, they have become this gathering place now. People are seeking public gardens, green spaces, national parks. They are somewhere people can be outside, safe and healthy. They can gather with their family and bathe in nature. And that is what we need right now.
"Gardening has never been more popular. Plants have been selling out by mail order. Everybody wants to garden and be outside."
The future of Longwood Gardens
Once the final stages of Longwood: Reimagined are complete, it will be time to plan for the next century at Longwood:
"We are getting ready to embark upon a new, comprehensive planning effort which we're calling the Masterplan Reboot."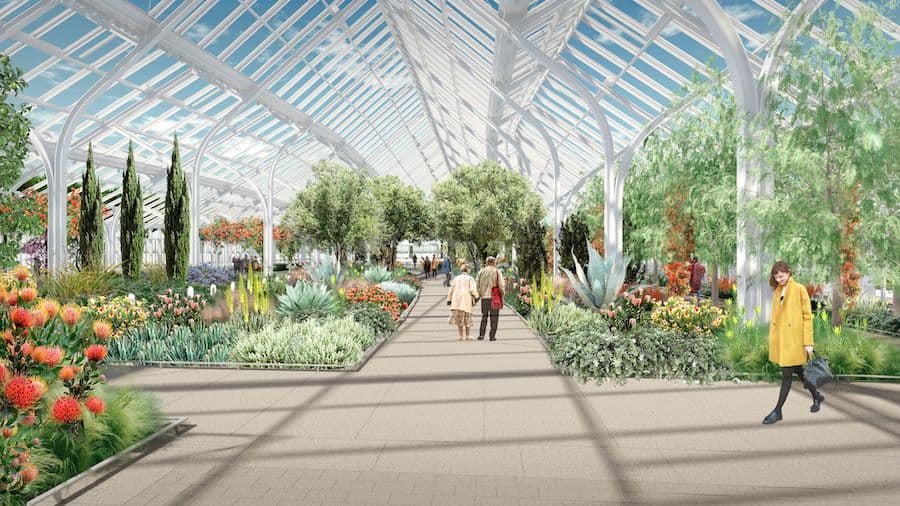 "The last plan is over 10 years old now. A lot has changed socially, economically, and politically, especially in the last year. We've been very busy; we've done a lot. It's time to take a moment to look at what we've done, revisit the previous plan, recalibrate, and look at the next 100 years. We need to reimagine what we may do on our 1100 acres, and how we may use it.
"Conservation and stewardship of our natural lands, the areas outside of the formal gardens, is a priority. And giving our guests access to those is important to us."
Images kind courtesy of Longwood Gardens