Abu Dhabi's 9,000 square metre National Aquarium is nearing completion at Al Qana. Paul Hamilton, the attraction's general manager, is a marine biologist and keen surfer who grew up in New Zealand. He previously spoke to blooloop in 2016, when he was in a similar role at Dubai Aquarium. Now, he offers an insight into The National Aquarium project he is overseeing.
The facility will include freshwater and marine life, reptiles and amphibians, birds and mammals, and will feature 60 exhibits across 10 themed zones.
Starting with sand
"I moved across to this project in 2018 when it was sand: that's how I like to start them," says Hamilton.
"We put the stakes in the ground to mark out the building. During this period, we were really focused on the design. We were aware of the existing aquariums and the facilities that were coming when we designed this thing, so we knew that we were in a highly competitive market. Nowhere else in the world do you have three such hard-hitting aquariums within an hour's drive of each other."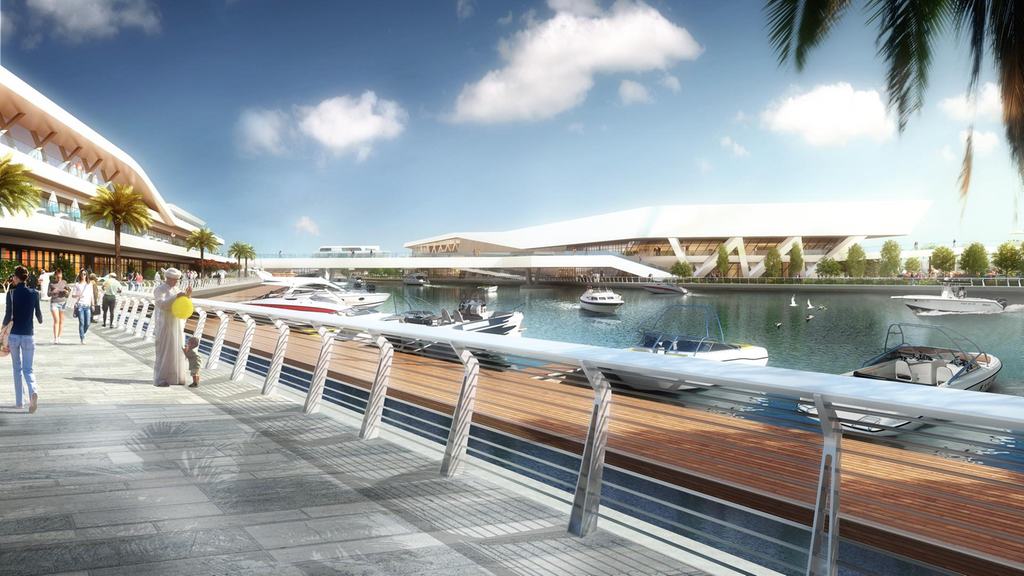 "So, The National Aquarium had to be designed in a way that would get it noticed, given that our neighbours are excellent, and one of them was also built by me, so I was up against my own past work."
Hamilton's experience in the region was useful in this regard. He explains:
"With my past projects, I did learn a lot about the UAE public and what they liked and disliked about the existing aquariums. I was able to draw down on more than a decade of feedback, and start the National Aquarium from that point."
A deeper journey
One factor that had turned out to be important for visitors was the length of dwell time:
"Other UAE aquariums were criticised for their short length of journey. It was one thing to say that this needed to be the biggest aquarium in the Middle East. That's great, but what is more important to me about this aquarium is that it has more exhibits, so the touchpoints for the customer are very constant."
"Their time inside the facility is going to be at least double the time spent in the other aquariums in this country. We've got double the exhibits and double the dwell time, and it will also work out as the lowest-priced ticket. We are really going for guest satisfaction."
The National Aquarium's goals
Concerning the aquarium's objectives, he explains
"We wanted to make sure that we capture the history of the UAE because the UAE was so dependent on the Arabian Gulf. The fact that the Emirates were so connected to the Gulf really hadn't been celebrated in this country. We put a lot of thought into how we could tip the cap to the past. The UAE is, obviously, something entirely different 50 years later, but the way that everyone used to live here is extremely relevant. I wanted to get that storytelling in place."
The National Aquarium will house the largest shark and ray collection in the Middle East and will also be the only facility in the Emirates to house scalloped hammerhead sharks and bull sharks in a line-up that includes sand tiger sharks, lemon sharks, zebra sharks, and blacktip reef sharks.
Hamilton says:
"If you were to ask anyone in this country whether there are sharks on the beach, they would say 'No, absolutely not. There are no sharks in this area.' There is a belief that this is a barren part of the world, which is completely incorrect. We celebrate sharks as the main focus; we have the biggest diversity in the country and the biggest quantity in the country."
Changing the narrative around sharks
There is a double message:
"We're saying to everyone, there are plenty of sharks out there, but don't worry."
We celebrate sharks as the main focus; we have the biggest diversity in the country and the biggest quantity in the country
In general, people still have a negative perception of sharks and the danger they represent:
"The bull shark is probably one of the most notorious species for negative interactions with people. We have plenty of bull sharks around the UAE, but the flip side is we've never seen negative interactions, which is because the Arabian Gulf is very healthy in its fish stocks.
"You don't see bull sharks in the shallows; they're often in deeper water. Without giving too much away, you will get to see that apex predator."
Ten different zones on show at The National Aquarium
In terms of the design, Hamilton says:
"We also wanted to make sure that we showcase the diversity of the world, so where my past projects had four to five different zones, this one has twelve. There are ten themed zones, and a couple of areas back of house where customers can go into and have experiences as well."
The zones range from Heritage UAE to Ocean Magic, where every sea creature has a trick up its sleeve:
"Then there is Frozen Ocean, Rainforests, Shipwrecks, and so on. We move the customer through a lot of themed zones, and they get a mini showcase of that part of the world or environment as they go through each."
The world's largest snake in captivity, a 7-metre reticulated python called 'Super Snake', has her home in a lush tropical habitat.
"Her sheer size and beauty will make her the most powerful representative in our Flooded Forest series."
Education and technology
There is an emphasis throughout on learning.
"Education is next-level here as well. We have involved a lot more tech than I've seen in any aquarium anywhere."
Some of the developments in technology are due to the COVID pandemic, he explains:
"We used to put a screen next to every aquarium showcasing the animals within and giving the customer more information. While we still have that facility, we now also have a signage guide that will run from everyone's mobile device, so as they move through the aquarium the information jumps to their phone and they can see what's in every tank on their own device.
"We're using NFC Tags. As you go past the signage, you just have to wave your phone, and that sign's information jumps to your phone.
Another thing I got a lot of feedback from past aquariums about was languages. We tend to do everything in English and Arabic, but then we get these enormous groups of people from other nationalities coming through."
This aquarium, therefore, is equipped to give all information in every common language:
"As you go along, your mobile device is essentially speaking to you in your language, providing information about the animals as you go."
Using projection mapping at The National Aquarium
Hamilton uses technology effectively to engage audiences. At Dubai Aquarium, he installed a digital shark cage where visitors could interact with virtual sharks.
"This time, I'm playing with video mapping," he says. "There are a lot of projection systems on the journey. However, the projector is never aiming at a screen. I did a lot of panoramic artwork, and use the projectors to animate the art, which is working really well. It's super cool. The content is so rich."
"Normally, when you look at a projection it feels like a projection. You can tell it's an image that's digitally projected. But when you project onto the art, you get all the richness of the painting, and can then add moving elements to that painting."
In the first zone, 20 big projectors run a 360-degree scene from the United Arab Emirates:
"There are dolphins jumping, turtles nesting, bats flying: all kinds of UAE wildlife CGI'd over these paintings. It's working really well. And then you have all the live characters in the room as well.
"This repeats along the way. We have a personality – an Emirati pearl diver – that appears in every room, highlighting the key messages as you go through. Plus, we also project onto 3D elements. We 3D print certain objects, and then video map them just to give a little bit of confusion as to what you're looking at. That tech goes from start to finish, as well."
Partnership with Environment Agency – Abu Dhabi
The National Aquarium has signed a five-year partnership with Environment Agency – Abu Dhabi (EAD) to protect and rehabilitate wildlife in the Abu Dhabi emirate. The rehabilitation centre, one of the largest conservation facilities in the Middle East, has already rescued a large number of animals.
Some of the best moments of my life have been on this project. The Whale Shark rescues were life-changing moments with these special animals
Hamilton says:
"We've been doing some amazing work. Some of the best moments of my life have been on this project. The Whale Shark rescues were life-changing moments with these special animals. They had never been done before; they were completely original plans, and they succeeded.
"It was a super cool distraction from building the aquarium. We'd literally be working on something, and then someone says, 'There's a 7-metre Whale Shark stuck. You need to come up with a plan and move on it now.' It's really cool. That's where we're investing heavily."
"Also, we're not even open, and we've already rehabilitated more than 250 sea turtles. A lot of them have already gone back to sea. We have almost done a full lap of the year on rehabilitating sea turtles. At one point we had them coming out our ears. We had a couple of hundred here inside the building.
"The National Aquarium invested in the medical equipment required to handle all these animals – x-ray machines, the ability to anaesthetise on the occasions where we have to amputate. We have our own vets and medical equipment and have invested heavily in things like satellite tags and tracking, so we can get post-release data to judge the success of the programmes."
Rescuing wild animals
There have been some random events:
"We're dealing with anything from a dugong emergency down to a sea snake. We get a phone call, and we develop a rescue plan. 95% of the time we make it up as we go because there's just no reference on this stuff."
Detailing some of the issues facing these animals, he says:
"With the whale sharks, there's a little bit of mystery in there, but some of it's fairly obvious, such as the alterations to the coastline."
"One of the whale sharks was clearly stuck inside a man-made lagoon, which operated like the perfect first trap. On that day, he was swimming past, it sucked him in and then he never found his way out. The odds of that whale shark getting itself in that situation was extremely small, but he managed to do it. That animal would have swum in circles and perished eventually.
"We had previous experience with another animal that taught us that you have to transport the shark a long way from where it was stuck in order for it not to repeat the incident. In this case, we had to transport that whale shark all the way back to the Arabian Gulf.
"It took us the entire day to move it, and a fleet of jet skis, boats, and scuba divers. We had scuba divers underwater monitoring the animal. We satellite-tagged that one, and it actually went out and joined the mass aggregation of wild sharks, which was a really nice way to conclude that rescue."
Sea turtles in the Arabian Gulf
Often, the sea turtles are simply a victim of life on earth:
"The Arabian Gulf is one of the very extreme water bodies of the world where it gets quite cool, and it gets very hot. If you're a reptile, essentially your body temperature is a match to your environment.
"A sea turtle living in the Maldives gets a pretty constant temperature throughout its life and doesn't get caught out by the weather. But a sea turtle in the Arabian Gulf is kind of rolling the dice. The food and nutrients here are amazing, so the reward for coming into the Gulf is very high. The risk is that when the winter kicks in, temperatures can plummet down to 10 degrees.
"For a reptile to go from summertime to wintertime temperatures, it can mean a 20-degree drop, which can catch them out, and that's what we see. When winter kicks in, they're dealing with the cold shock, and then a storm comes through and washes them up on the beach, so they end up with us. We're about to get into this again because winter is about to kick in."
Turtles rescued early in the season tend to recover quickly, he explains:
"They've only been exposed for a short period of time, so after a little bit of treatment, they can be released. The turtles that come at the back end of winter tend to have had a harder time, and have been sick for quite a few months."
A conservation focus
The National Aquarium has become the Environment Agency Abu Dhabi (EAD)'s go-to team:
"We work with them on these emergencies, and they involve us in some of the more difficult situations that they face."
"The relationship is going beautifully; everyone is focused on conservation work. We celebrate EAD here, especially on the local education elements. EAD is responsible for one of the most important ecosystems in the world. There are unique marine environments out there in the Gulf. We're the second-largest dugong population in the world and a stop-over for migrating seabirds.
"The EAD is tasked with keeping that safe. One area, Bu Tinah, was a finalist in the New 7 Wonders of the World competition."
Showcasing Bu Tinah at The National Aquarium
Bu Tinah is a focus for the National Aquarium:
"Our feature exhibit is called Bu Tinah. We designed that exhibit to showcase the kind of habitat that occurs out there. On top of the Bu Tinah exhibit, visitors can get on board automated dhows, which afford a view underwater to the Bu Tinah display, and above water, there is a replica environment with seabirds and the mangroves.
"While we don't have any marine mammals on site, we do educate people about them. We bring the dugongs digitally."
In addition:
"We also have a very healthy group of my favourite animal, hammerhead sharks. The Bu Tinah exhibit was designed around the hammerhead. I haven't had the luxury of doing this before, and it really works well. We literally started with the shark and designed something for that animal, then everything introduced around him had to be compatible and favourable.
"It has worked beautifully; the hammerheads are thriving, and it's one of the biggest groups of them I've ever seen in my life. They are moving so naturally through that environment. It's stunning."
Conservation is a fight to save humanity
In terms of the issues facing the marine environment and natural world, Hamilton says:
"I'm with David Attenborough on this. This planet is pretty tough. It's going to power on without us. If we do things to change it to a point where we can't survive on the planet, not long after we're gone, there are going to be more species. There is going to be more beauty. There will be more colour.
"The planet is not at risk. We are. We might take a lot of species with us which is really sad, but this is really a fight to save ourselves. I look at conservation that way."
The aquarium will be opening soon, Hamilton says:
"Very soon. I can't announce an exact day, but this side of the new year we're going to be open to the public."