The action-packed offering signals a departure for the company both in terms of content and operation. It will, however, get the blood pumping just as much as a roller coaster. Owen Ralph experiences The Bear Grylls Adventure.
For someone whose least favourite subject at school was PE (physical education), the call to visit the new attraction at Birmingham's NEC (National Exhibition Centre) was met with a little trepidation. Yet my curiosity to discover what Merlin Entertainments hopes will become its next global brand got the better of me. Soon I was zip lining out of a Chinook helicopter and scrambling through an assault course. I was making friends with snakes and eating bugs. I even travelled to the NEC by public transport.
Two years in the making, The Bear Grylls Adventure is the result of a collaboration between Europe's largest attraction operator and a man known to many TV viewers for his extreme feats of survival. The £20 million ($26.2m/€22.5m) attraction takes inspiration from Bear's real-life expeditions across mountains, deserts and jungles around the world. It then condenses them into an 8,000 square metre site in the heart of England.
Targeting a different demographic
Like me, Merlin has chosen to stray outside its comfort zone with the new offering, which opened ahead of schedule on September 12. Yet the reasons for doing so are clear says Mike Vallis, the company's divisional director for new brands.
"Our portfolio is quite family heavy," he says. "Other than the Dungeons, Thorpe Park, and to some extent Alton Towers and Gardaland, there is not a lot for young adults. So it makes sense for Merlin to have something which is not a massive theme park, more of a Midway, focused at that demographic. And with the growth in adventure, it's a route we were keen to go down."
A former divisional director at Thorpe Park, Vallis has already worked with several edgy intellectual properties (IP). During his time at the park outside London, for example, he oversaw the introduction of attractions including SAW – The Ride and Derren Brown Ghost Train. Yet they are still rides.
Merlin's own research showed that four in five adults are actively looking for more adventure in their leisure time. The time was right to create something new for this growing market segment.
Merlin's new Adventure
Marketed as "home of Earth's greatest challenges", visitors to the NEC can enjoy up to eight "epic challenges" when they step inside the former exhibition hall that, after an extensive revamp by Merlin, now houses The Bear Grylls Adventure (BGA).
Several of the individual components – a high ropes course, zip line, climbing walls, scuba diving, iFly indoor sky diving and escape rooms – can be found elsewhere, sometimes as standalone attractions. So what is BGA's USP?
Merlin has grouped them together to create a cohesive, immersive and fully-themed experience. In doing so, and adding a highly recognisable IP, it can command a premium compared to the cost of doing those activities alone.
"Climbing is a classic example," says Vallis. "We looked at a lot of climbing places. Some of them were pretty good, but none have a replica of El Capitan or all these other great peaks from around the world. Before people climb, we sit then down in front of a campfire to prepare them for the experience. It's all about the theming, telling a backstory."
So who/what does Merlin view as competition to its new offering? "Probably some of the actual activities themselves," says Vallis. "There are other iFlys around, there are climbing clubs, you can go diving. The difference we bring is you can do it all in one place among these fantastical themed environments, in a city hundreds of miles away from sea or mountains."
Bear necessities
Dotted around the moodily lit building are tough-edged inspirational quotes, together with real and replica artefacts from Bear's expeditions.
Born as Edward Michael Grylls in 1974 but given his nickname by his elder sister at just one week old, the adventurer is never far away at The Bear Grylls Adventure. He's there on screen at the start of each activity to give guests a taste of what to expect and explain how each activity aligns with the survivalist lifestyle (some sit more convincingly than others).
Eagle eyed visitors will also spot a wax figure of the man himself, created by the Madame Tussauds sculptors at Merlin Magic Making, Merlin's creative studio in West London.
Taming the Bear
There was dialogue with both Bear Grylls and his right hand man Scott Heffield during the attraction's development. Any fears Grylls would try and replicate some of the wilder challenges from his TV shows were soon allayed.
"Bear had some fantastic ideas," says Vallis, "and he understands the health and safety bit. He wants people to be challenged and not put in a dangerous position. The High Ropes is a classic example. People are scared of heights and it's a physical challenge, so it ticks two of the boxes, but it's 100% safe."
Vallis says the licensing agreement with Grylls came about by happy coincidence at the time Merlin was looking to get into the adventure market. "The question is, would we have done this without Bear? Probably. But he certainly adds a great layer to it and immediate cut through. When we did our research, told people what the product was and asked them who we should use, a lot of them said Bear Grylls. Others, once we mentioned his name, said 'Absolutely!"
Hero experiences
Experiences range in price from £35 for high ropes or climbing to £65 for iFly and £120 for diving. When visitors book one of these four "hero" experiences, the remaining four are bundled in as a 90-minute experience called Basecamp. This comprises a survival maze, escape rooms, assault course and – how very English – archery.
Activities are rated according to a number of factors. iFly rates two out of three for bravery and three out of three for stamina and balance. There are currently just three other indoor skydiving experiences of this kind in the country, in Manchester, Milton Keynes and Basingstoke. The new installation in Birmingham, which juts out from the side of the BGA building (as pictured above), differs thanks to its added layer of theming.
Guests can either scuba dive or snorkel inside a 864,000 litre (19m x 13m) tank, where they will encounter over 60 species of sea life including Black Tip Reef Sharks, Cownose Rays, Pufferfish, Angelfish, Blue Lined Snapper, Grunts, Squirrelfish and Triggers.
High hopes for the high ropes
The High Ropes experience begins with a zip line out of the showpiece replica Chinook helicopter that hovers over the building's entrance. The accompanying five-storey Sky Trail ropes course, the tallest of its kind in Europe at 24m (79ft), was designed and installed by UK based Innovative Leisure (in partnership with their US manufacturer Ropes Courses Inc).
Originally this activity was going to be featured indoors, but by making it taller and placing it outside, Merlin has created an added beacon for the venue. Participants experience both the zip line and ropes course while using the same safety harness attached to the belay systems as part of a unique outdoor adventure.
There are more than 20 different, real life mountain terrains represented in the Climbing experience. From Fontainebleau (France) to El Capitan (Yosemite, USA), these were modelled based on 3D scans of sections of the real thing.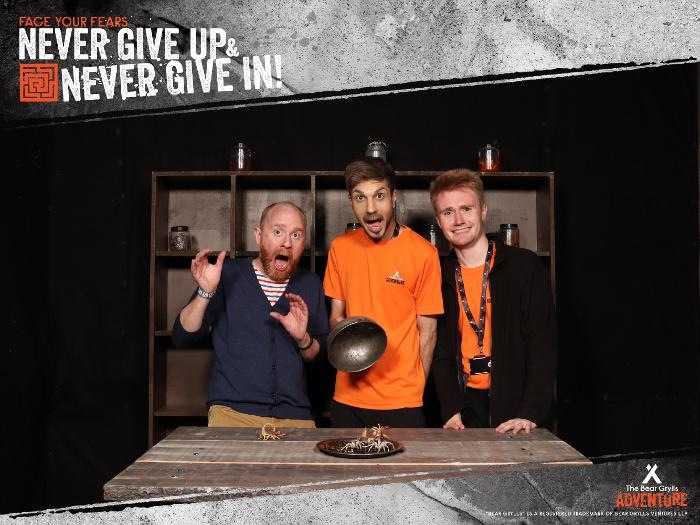 Basecamp at The Bear Grylls Adventure
Each group is allocated an 'Adventure Guide' to escort them through Basecamp. They start with the Survival Maze. The experience begins as guests enter a darkened room and follow a rope through a mysterious cave which, we are told, may contain tarantulas. They must also squeeze their way through tight passages, test their heartbeat in front of a live snake and eat a shot of mealworms.
The latter, and certain other elements of the attraction, have been done before by Merlin on the I'm a Celebrity Get Me Out of Here! Jungle Maze at Thorpe Park, and fans of the popular British TV show will enjoy the "I can't believe we just did that!" moments it provides.
The Breakout escape rooms that follow challenge participants to work in teams. They need to solve puzzles and crack codes to find their way out. There's also a slide between rooms!
Going commando
To get inspiration for the Basecamp assault course, all of which is located indoors, a team from Merlin Magic Making visited the Commando Training Centre for the Royal Marines at Lympstone in Devon.
"We were a bit nervous that we were going get a lot of people who don't want to do the assault course," says Vallis. "Yet it's actually had the most participation. There's something for everybody and they'll try and get as far as they can."
Like the assault course, the archery is an activity guests are likely to want to repeat. Not just beat their personal best, but of course the scores and times of their mates.
"We want to make Basecamp as repeatable as possible," says Vallis. "The Survival Maze is probably the least repeatable activity, but there will still be some people who want to come and do it again."
Selling survival
With its 'Midway' (short stay) attractions, Merlin usually likes to cluster a few together. It then cross sells between them. With BGA it up sells within the attraction itself. However, The Bear Grylls Adventure is not actually classified as a Midway.
It's larger for a start, and it is more of a destination. That's why the NEC, with its good transport links, was chosen over the higher footfall Birmingham city centre, where the company recently opened a new Legoland Discovery Centre (LDC) close to its existing National Sea Life Centre.
"I think this product in particular will be driven by word of mouth," says Vallis. "We obviously have a marketing campaign, and we've had great PR so far. But this age group is really influenced by what their mates are saying and what they read on Google and TripAdvisor.
"We're looking at people within a two-hour drive, but I'm sure we'll get people from further afield. There are a lot of people who really love Bear, he's got a crazy following. We'll pull out of London, that's the plan."
In addition to young adults, "up for it families" are on the radar. But the target guest, the "bullseye" as Vallis puts it, is an 18-year-old. Early interest has shown a roughly equal male-female split. "But ask me in a month or so and I'll be able to tell you how it's panning out" says Vallis.
Attendance goals and managing capacity
"I would expect this to do upwards of half a million," says Vallis. "The volume will end up being driven by filling the off peak. If you can utilise the asset on weekdays then obviously the numbers will be higher."
Although it has a leisure offer, including Resorts World Birmingham and the Genting Arena, many people come to the NEC for its exhibitions. Clearly The Bear Grylls Adventure would make a great team-building offer for attendees of such events.
As all activities need to pre-booked, walk ups are not encouraged. Most visitors will therefore benefit from the online prices. Merlin Annual Pass holders receive discounted rates, but don't go gratis. The attraction simply couldn't accommodate them all for free.
Spend per head is likely to be higher than in Merlin's family-friendly Midways. So too is dwell time, four-and-half to six hours according to forecasts. The nature of the activities offered means it is also a relatively staff heavy operation.
In addition to the individual experiences, a 'Go All In' package is offered for £160. Basecamp can also be booked separately at £20. This provides a cheaper, but broad-ranging, introduction to The Bear Grylls Adventure.
"We thought the All In might be a bit much. We thought the majority would just buy one activity and Basecamp," says Vallis. "It's very early days with our bookings, but there's a theme emerging. People either want to do one or do them all. They want to be challenged."
Managing the guest journey
General manager James Thomas was previously in charge of Merllin's LDC/Sea Life cluster in Manchester. One of his biggest challenges will be getting to grips with the booking system and managing guest capacity/throughput.
"We've got big capacity on Basecamp. However, diving's only got six people every half hour. And iFly's got 12 people every half hour, so there's a big disparity," says Vallis. "That's why we ask guests to book their hero activity first. We then tell them Basecamp will be two hours before."
Accesso's Prism system has been implemented to make the guest journey as seamless as possible on site. All visitors receive a wristband, or 'BearTag', on arrival. This keeps track of their experience times, logs photos taken, provides free locker access and can be used to pay for food & drink, merchandise and any additional experiences booked.
https://youtu.be/yGfHP0UTMUQ
A selfie-free zone
For safety reasons, guests are asked to leave their phones in the locker while completing each of the activities. So no selfies! For this reason, and the obvious social media marketing potential, images captured are emailed free to guests on request. There is also a souvenir photo book to buy.
There's a distinctly healthy slant to the food & beverage offer. Snacks include lentil crisps instead of potato chips, cereal bars and fresh fruit juice. And rather than adding pepperoni to their pizza, guests can opt for a topping of chilli grasshoppers. Yum. Coffee is provided by Costa and space has been allocated for a bar.
"I think people will want to celebrate once they've achieved all the experiences," says Vallis. "However, they will only be allowed an alcoholic drink after they've completed all their experiences. The wristband will tell us that."
Getting the product right
Obviously we want this to be a success," says Vallis. "But it's not about achieving the commercial returns at the expense of the customer experience. So for now the number one priority is getting the experience right. We can adjust the price up or down. But if people don't enjoy the experience it can never be rolled out."
There is potential to expand the facility in Birmingham, and to refresh almost all the activities except diving. A Paradrop VR attraction by Frontgrid has recently been confirmed and an ice climb could be next. Caving and surfing were looked at as potential activities during development.
Merlin would also like to add some kind of accommodation offer. Most visitors to the NEC and its extensive exhibition halls and car parks probably wouldn't describe the location as scenic. Yet Vallis points out some woods across the road. "It lends itself to camping," he says. "People just want to be totally immersed in adventure."
The range of activities will inevitably be tweaked when Merlin takes The Bear Grylls Adventure concept international. "Bear is very strong in the US, very strong in China," says Vallis. The next one is likely to be in one of those markets. We've also had interest from the Middle East and Germany."
International potential
Could The Bear Grylls Adventure become as ubiquitous as Merlin's Midway brands such as Sea Life and Madame Tussauds? Vallis thinks so.
"This could be in every major city," he says. "If you look at Birmingham and the 26 million people within two hour drive time, it was a no-brainer. In China there's 20 or 30 cities like that; in the US not so many. Once we know what demand there is out there, the demographics, frequency and penetration; we will know if this would work in a city with, say, 7 to 10 million as well."
As it has done at the NEC, the company would prefer to adapt existing buildings than build from scratch. "At the moment we are looking at 'boxes' because it saves with the cost of construction. I don't think it needs to be in a mall like a lot of our Midways. It's more about having the space, the communications, road network and the car parking. Depending where you are, you could have it all indoors, or a smaller indoor space and a bit more outdoors."
Surviving The Bear Grylls Adventure
For this writer, The Bear Grylls Adventure proved much less daunting than I had anticipated. Sure, it took about as long for me to tackle one of the obstacles in the assault course as it does for some people to complete the whole course. However, the fact that the Adventure Guides tailor the experience to the strengths of each group during Basecamp really helps. And yes, I would like to return to beat my lacklustre best.
For Mike Vallis, "it's been a fascinating journey. With most other attractions, certainly the ones I've been involved in, there's a bit of a pattern to follow. But the scary thing about The Bear Grylls Adventure is no one's done it like this before. It's all very innovative, and on top of that you've got the whole element of managing people through the attraction. But I think that [pre-booked experiences] is the way everyone in the industry is going to go."
There's one other challenge Vallis highlights as a particular concern ahead of opening: "Taking people's phones away from them!"
And that, for some people, might be the ultimate feat of survival.
Images courtesy The Bear Grylls Adventure, Magic Memories and Owen Ralph