Miral and Warner Bros. are preparing to open the world's first Warner Bros. hotel, The WB Abu Dhabi, on Abu Dhabi's Yas Island on November 11, 2021.
Operated by Hilton under the Curio Collection brand, the hotel houses a vast collection of Warner Bros. archives, as well as props and costumes from Warner Bros. films and TV shows.
The WB Abu Dhabi features giant digital screens that span the height of the building and play original content created for the themed hotel, which also boasts the iconic fountain from Friends.
Additionally, the piano from HBO's Westworld plays while visitors dine at one of the hotel's five restaurants, and families can request room service from one of their favourite Looney Tunes characters.
"We are proud to be launching another first with the opening of the only Warner Bros. hotel in the world," said Mohamed Khalifa Al Mubarak, chairman of Miral.
The WB Abu Dhabi coming to Yas Island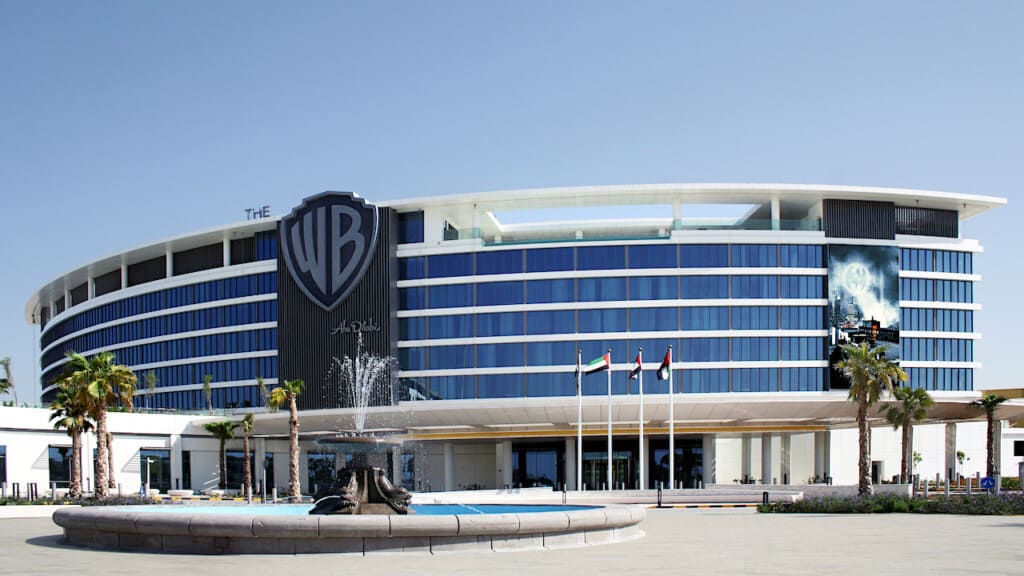 "This new story-driven hospitality experience is set to excite guests from all over the world, further reinforcing Yas Island's position as a global entertainment, leisure and business destination and supporting Abu Dhabi's ambition to attract greater numbers of local and international tourists."
The WB Abu Dhabi's guest room corridors display a curated gallery of artworks, and each of the hotel's 257 rooms is furnished with Warner Bros. decor and artworks.
Eateries include Craft Services, Sidekicks and Matinee. The Director's Club offers a fine dining experience, while The Overlook, a nod to The Shining, is a lounge area with an infinity pool.
The WB Abu Dhabi is also home to myriad leisure amenities, including a family pool area, fitness centre, spa and the Prop Shop, a Warner Bros. store.
The Kid's Club is a playful space for children that brings Warner Bros. characters such as Bugs Bunny and Daffy Duck to life.
The WB Abu Dhabi is located adjacent to the world's largest indoor theme park, Warner Bros. World Abu Dhabi, which features 29 rides and attractions across six immersive lands.
Warner Bros. hotel opens November 11
"Opening the doors to the first-ever Warner Bros. branded hotel is a moment that we have long dreamed of, and it's truly magnificent," said Pam Lifford, president of global brands and experiences at WarnerMedia.
The WB Abu Dhabi was designed "with fans in mind", a place "to further connect with the iconic Warner Bros. brands, franchises, and characters they love", Lifford said.
"The WB Abu Dhabi truly is the perfect experience to enjoy and relax while visiting Warner Bros. World right next door," she added.
As well as Warner Bros. World Abu Dhabi, Yas Island's attractions portfolio includes Ferrari World, Yas Waterworld and CLYMB Abu Dhabi.
Speaking at blooloop V-Expo, Miral CEO Mohamed Abdalla Al Zaabi opened up about making Yas Island a contactless destination, and confirmed that SeaWorld Abu Dhabi is on track to complete in 2022.
Images: Miral