Warner Bros. World Abu Dhabi is the world's first-ever Warner Bros. branded indoor theme park, located on Yas Island, the UAE's premier family destination for entertainment & leisure.
The park consists of six immersive lands, Warner Bros. Plaza, DC Entertainment's Metropolis and Gotham City, Warner Bros. Animation's Cartoon Junction, Bedrock, and Dynamite Gulch. It is populated by DC Super Heroes such as Batman, Superman and Wonder Woman. Plus, it is also home to much-loved characters from Looney Tunes and Hanna-Barbera, like Tom and Jerry, Bugs Bunny, Scooby-Doo and The Flintstones,
Featuring 29 state-of-the-art rides, interactive family-friendly attractions and unique live entertainment, Warner Bros. World Abu Dhabi, on Yas Island, is 10 minutes from Abu Dhabi International Airport, 20 minutes from the city of Abu Dhabi, and 40 minutes from Dubai.
Don Strickler has served as General Manager of Warner Bros. World Abu Dhabi since November 2018. Having previously served as the park's Deputy General Manager, he is responsible for all aspects of Warner Bros. World Abu Dhabi's operation.
A career in theme parks
Strickler is a native of Orlando, Florida and now lives in Abu Dhabi. He has worked with philanthropic organizations including the Children's Dream Fund and Give Kids the World, helping terminally ill children fulfil their wishes.
He talked to blooloop, beginning with his initial foray into the attractions industry:
"I originally started in 1993 at SeaWorld Orlando. Prior to that, I was in the Air Force. On leaving the Air Force, I needed a job, and SeaWorld was hiring. I hadn't planned to stay there, or even to make a career in theme parks; I just needed some work. But it ended up being fun."
"Over the years, I was promoted, and taken on as a manager to open SeaWorld's Discovery Cove in Orlando, Florida. I was on the opening team of that park, which turned out to be really successful. I was there for about six years and in 2005, I ended up taking a job in sales and marketing.
"The parks there are owned by one entity. All the SeaWorld parks, and the Busch Gardens parks, are under one group, Anheuser-Busch Adventure Park. So I started to work with corporate marketing, mainly to help them with the large call centre they had built, that needed some organisation.
"That led to thinking about how we could better tailor how our materials were marketed in terms of where we could direct customers, and so on."
From dolphin rescue to Abu Dhabi
At this point, he was recruited to Atlantis in the Bahamas, where a dolphin park similar to Discovery Cove was opening to provide a safe haven for 16 stranded dolphins whose home was destroyed by Hurricane Katrina. Dolphin Cay is now one of the world's largest open-air, man-made marine mammal habitats.
Having helped set up and open Dolphin Cay, his next move was to Dubai, to help open Dolphin Bay: "Then they realised I had some marketing experience under my belt. They needed some help marketing the waterpark and all the dolphin programmes, so my role grew, as my area of responsibility expanded."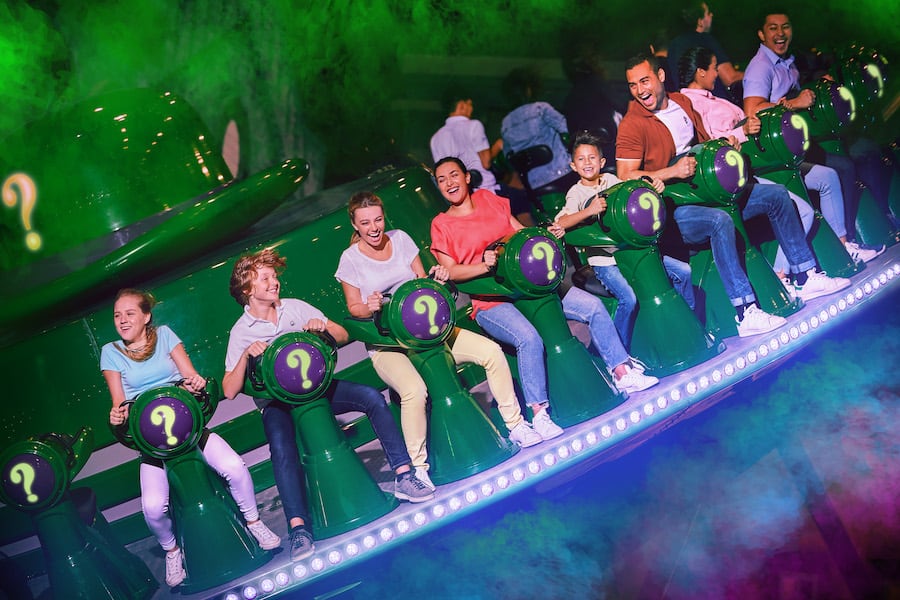 He remained in Dubai for five years, before coming to Warner Bros. World Abu Dhabi in 2015:
"It's Warner Bros. now; at that point, it was just sand. There was nothing to see but sand. Our job was to get the structure in place and get it open, which we did in July of 2018. At the time, I was deputy General Manager. I was promoted to general manager in October of 2018. I've been in that role since then."
Creating Warner Bros. World Abu Dhabi
To have created Warner Bros. World Abu Dhabi from nothing in three years is a huge achievement:
"It went from nothing to a full-fledged park. It was quite an accomplishment on the construction side, the development side, and then on our side, in being ready to open," says Strickler.
"When we opened, we were ready. We came out to great reviews. People were talking about us. We still had some growing pains and learnings to go through, but the great thing was that a lot of our team was very experienced."
"We were able to plan very well; our goal was to get 80% of it right, and then to work out the 20%. In the event, we actually got about 90% of it right, and only had 10% to work on."
He describes the attractions:
"The park is divided into two regions. Half of it is the Super Hero side, and the other half is the cartoon side. On the Super Hero side, we have the classic heroes from DC Comics: Batman, Superman, Wonder Woman, Green Lantern. On the cartoon side, we have classic animation with Bugs Bunny, Daffy Duck, Tom and Jerry, Scooby-Doo, and so on."
Six different lands
There are six lands at Warner Bros. World Abu Dhabi. The main land is Warner Plaza, the hub of the park, which is based on Classic Hollywood.
"The park is so cool in its concept and design," says Strickler. "If you imagine you're walking into the main entrance, you are actually walking into the shield of Warner Bros. The idea is that you step from the world of reality into the world of Warner Bros.
"The park is designed so you can't see long distances – something is always blocking the view, or is curved, and that's because we want you to discover the lands."
"From Classic Hollywood, you can make a choice. You can go into the Superhero side, or you can go into the cartoon side. On the cartoon side, there is Bedrock, from the classic Flintstones cartoons, with dinosaurs and cartoon trees.
"You then go into Dynamite Gulch, where Wylie Coyote chases the Roadrunner around. Warner Bros. also decided to have a little wink-nod fun with it, referencing the USA's Area 51, so they put in the Marvin the Martian ride there, and the futuristic Jetsons. Then, this transitions to Cartoon Junction, which is a classic cartoon landscape."
Cartoon Junction
Cartoon Junction is the location of some of the most iconic characters and animated worlds of Warner Bros., including Bugs Bunny, Tom and Jerry, and Scooby-Doo. Overhead, the perpetually sunny sky with 'clouds' is devised with sophisticated lighting techniques.
Rides range from Tom and Jerry's Swiss Cheese Spin and Scooby-Doo: The Museum of Mysteries ride, to spinning roller coasters and interactive dark rides that immerse visitors in the cartoon universe.
"The kids' area, which is part of Cartoon Junction, but could be a little land in its own right, is the Acme area. There is the corporate HQ where Acme makes all their gadgets and products, and that houses one of our rides, Ani-Mayhem. Across from it is the actual factory where everything is put together, and that is a kids' play area."
Superheroes galore
"When you get to the Superhero side, you've got Gotham City, which is the home of Batman," continues Strickler. "It's pulled straight out of the comic books. The goal was that we wanted people, while they're walking around, to feel like they're in Gotham City. So it's dark; it's always eleven past midnight, which is when Bruce Wayne's parents were murdered.
"There are two sides to Gotham City. In one, Gotham City Police Department still maintain some control, so that's less rundown, and then there is the side where the villains have taken over. They have gone crazy, spray-painted everything. "
"So you see the classic villains such as the Joker – he has his own fun-house; there is the Scarecrow and the Riddler. We do a show in the middle of all that, where Harley Quin has put on a surprise birthday party for the Joker, they get into mischief, and Batman has to come and break it up.
"When the show is over, the characters go to various locations, and meet and greet with the guests, and take photos with them. For COVID, we have set up a little meet and greet areas that are separated. You can still take a photo, but there is social distancing.
"Gotham city transitions over into Metropolis, home of Superman and Justice League, so everything there is in perfect order. There is no petty crime; you need to be a supervillain to even attempt to transgress."
The DC Universe at Warner Bros. World Abu Dhabi
Stepping through the southwest transition tunnel from Warner Bros. Plaza, guests get their first glimpse of the Metropolis skyline silhouetted against the perpetual sunset: justice is served as night falls. The skyscraper backdrop beyond the facades is blazoned with names such as LexCorp, Queen Industries and S.T.A.R. Labs.
"It's highlighted by the Green Lantern ride, a 'flying theatre' experience that transports guests across the cosmos, through special and visual effects," Strickler says. "It is interesting because the outside of the Green Lantern is an observatory, modelled on the observatory that sits in Hollywood. There is also the Justice League ride, where you get to be a part of a battle."
"Guests step first of all into the Hall of Justice, which has statues of all the Super Heroes. They're huge – several metres tall. It's a great experience, particularly if you're a comic book fan."
There are also restaurants and retail outlets specific to that universe.
"There are a lot of wink-nods for comic book fans to pick up on," says Strickler. "For example, above the Big Belly Burger, where Superman had his interview with the editor of the Daily Planet, is a bunch of skyscrapers; one has a Lexcorp logo. The nerds love that because the burger place is a subsidiary of Lexcorp."
A wide audience
There is also Ace O' Clubs, and Park Ridge Market. In terms of retail, guests can shop a wide range of souvenirs from Zatanna Books & Magical Curiosities, and Justice League Hero Supply Co., feast on savory snacks from the Daily Planet Newsstand and visit Front Page Photos to appear on the front page of the famed publication.
Across the park, there are 29 rides and attractions, and 16 food outlets, and 22 retail outlets. According to the Guinness Book of Records, Warner Bros. World Abu Dhabi is the world's largest indoor theme park:
"So I can say it's officially big," says Strickler.
The demographic is – discounting the COVID-19 period – a range.
"We're a local fan favourite, so any time schools are out, we are really busy, even now, with COVID. Prior to that, our markets were the GCC; we get a lot of fans from Kuwait; Saudi Arabia – they love us, too; China, India, – those are our main markets.
"We're good at both, but probably a bit stronger on the domestic side. Because even though we're going on three years old, our awareness in the international markets still needs to grow a bit. But here at home in Abu Dhabi, everybody knows about us. We have a lot of visitors when schools are out."
Warner Bros. World Abu Dhabi and COVID-19
Describing the effect of the pandemic, Strickler says:
"COVID-19 has had a huge impact on attendance, because right now, with the travel restrictions that are in place, our market is essentially just Abu Dhabi at this point. From an operational standpoint, we have had to find better ways, since reopening, to work. So, we have to be more efficient than we were in the past. We have to be leaner than we were in the past.
"We have always put our colleagues' and guests' safety at the forefront, even before COVID. This situation has made us step up our game even in that area."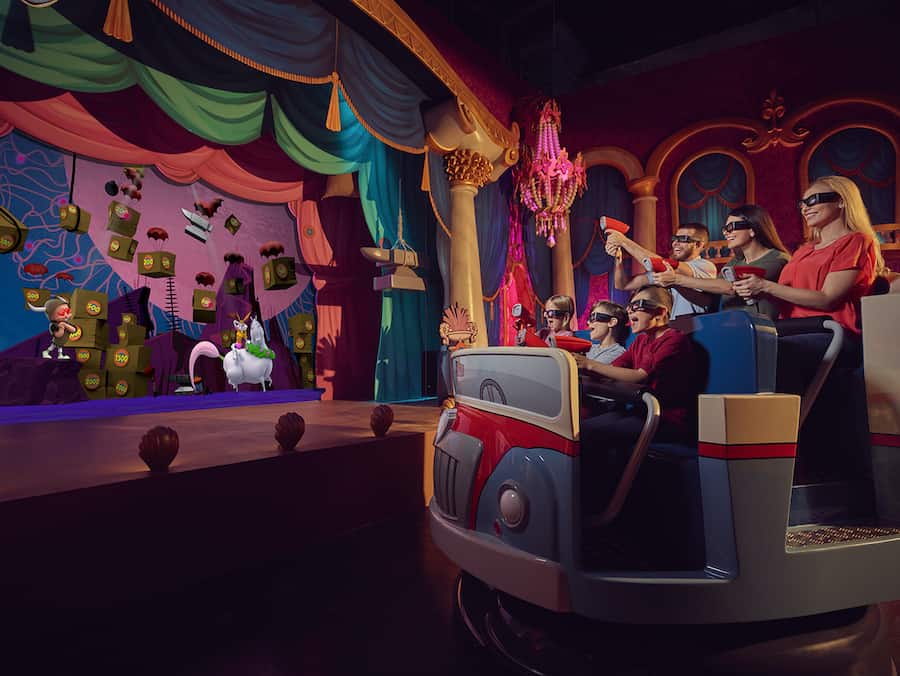 "At every entry point to the park, colleague or guest, we do thermal scans. We have reduced capacity – we're only running at thirty percent across the board in the park, so park capacity is at 30%. Retail and F&B capacity are at 30%, which is lower than most places.
"We have put social distancing floor markings down; cleaning schedules are meticulously adhered to. Things are wiped down on a regular basis, either after every use or on a schedule.
"We've set up regular COVID testing for staff, and we also have vaccinations here on the property, so staff don't have to move around in the city, which is risky. Plus, we have just opened up brand-new accommodation for colleagues, to help them stay safe right now, which has its own mini-mart store, restaurant and gym. It's about having to adapt to the new normal, for now."
Immersive entertainment
Explaining the drivers behind the type of attractions and rides at Warner Bros. World Abu Dhabi, Strickler says:
"For us, it's immersiveness. There are two things that we look at: immersiveness, and family. When you look at our current ride selection, we really focused on making sure that our rides tick those boxes.
"Some people feel some of our rides are too tame – they want more excitement. That is done intentionally. We wanted to ensure that if a family wanted to go on a ride together, they could. When you start going largest, fastest, biggest, you start alienating some people. They don't want to go on the rides. So we purposely focused on family. Immersiveness, for us, isn't a trend. It's who we are."
"We didn't want to make it where you just go on a ride, and you have fun, then when you come off the ride you're looking for that next thrill.
"We wanted every area to be interactive and fun. So, when you walk our areas, you'll run into Bugs Bunny or Daffy Duck; you'll run into Superman or Batman. The level of detail that we put into the theming and the music restaurant is incredible. Every restaurant you walk into is a different experience. Each retail space is different; different merchandise, different experiences, different feelings.
"Many of our guests, particularly our annual passholders, like to come in sometimes and just have a coffee and relax at one of our cafés, and watch the kids interact with the characters."
Special events at Warner Bros. World Abu Dhabi
"We have different shows throughout the day, out in the lands, not behind closed doors where you're sitting in an auditorium. They happen while you're there. The whole premise for us has always been that interaction, and as we go forward, we try to include it in everything we do."
One of the events Warner Bros. World Abu Dhabi has been running to universal acclaim is Superhero Saturday:
"It's really fun. A couple of years ago, we did a stunt. We wanted to see if we could break a world record for the number of people with capes on in the same location, and we got it. When we did that, it was just amazing how so many guests came out in these capes, and everybody was just like, 'We've got to do this again.'
"It was such a fun day. So that's where Superhero Saturday has evolved from. We encourage guests to come in their capes, in their costumes."
Superhero Saturday
"This year, Superhero Saturday has been really great. We always do a show, a show, do a separate kids training mission. We added a little wrinkle to it, because usually Robin is part of the show, so this year we put The Flash into the show, to mix it up a bit, keep it a little fresh.
"It adds some different dialogues because the way characters interact with each other in the DC universe are different, so the way Robin would interact with Green Lantern and Wonder Woman is different from The Flash. It adds these little opportunities."
"So we added that and I think the great thing about this year is Warner Bros. and DC Comics has been pretty firm with us in the past about differentiating between characters and Super Heroes. The characters cannot be the Super Heroes. This year they allowed us to say, 'OK: what if the characters dressed up as their favourite Superhero?'
"Warner said: 'Well, OK. I see that.' We started putting the costumes together, and it all started coming together, and Warner loved it; DC loved it.
"Funko Pops got involved as well, and they created Funko Pops based on these characters. So, for the first time ever, we have Super Heroes on one part of the stage, and characters dressed up as Super Heroes on the other."
The future of Warner Bros. World Abu Dhabi
Looking to the future, Strickler says:
"We have a lot of plans. Some I can't talk about, because they're in the design stage, so it wouldn't be fair. But for events this year, Warner Bros. is looking to release Space Jam 2.2″
Space Jam: A New Legacy (formerly known as Space Jam 2) is an upcoming 3D live-action/animated crossover sports comedy film; a standalone sequel to the 1996 film Space Jam.
"We're going to do something big around that and have several things in the hopper, but nothing definitive yet. We're looking to do something for Halloween. And then every year we usually decorate for the Winter Fest, and the Christmas season. So those are some of the things we're planning to do this year."
Additionally:
"We've got some new technology that's coming out that we're working with, that we think our guests are really going to like. But you'll have to stay tuned on that one because it's in the process of testing. We'll be announcing those new technologies later this year.
"Longer-term, we've got plans to take our existing spaces and add new attractions to those. We have several ideas that we're working on with Warner Bros.
"And then, long term, we're looking at expanding the park. We'll take our current footprint, and add some things to that, and then we're going to look at extending it. We will bring in a whole new land that we think people will be excited about."