Miral and Warner Bros. have opened the world's first Warner Bros. hotel, The WB Abu Dhabi, adjacent to Warner Bros. World Abu Dhabi on Yas Island.
The WB Abu Dhabi is part of the Curio Collection by Hilton. It features a huge collection of Warner Bros. archives, including more than 400 images and props from Warner Bros. films and TV shows.
"This is yet another great moment for us, with The WB Abu Dhabi hotel opening on Yas Island, further positioning it as a top global destination for leisure, entertainment and business," said HE Mohamed Khalifa Al Mubarak, chairman of Miral.
The WB Abu Dhabi officially opens
"We are very proud of our long-standing partnership with both Warner Bros. Themed Entertainment and Hilton, bringing world firsts and global hospitality offerings and experiences to Abu Dhabi."
Before entering the hotel on Yas Island, visitors will spot the iconic fountain from Friends, as well as the new Batmobile from The Batman, releasing in 2022.
The hotel's lobby features a 'living archive' that showcases props such as the cowboy boots worn by James Dean in Giant (1956) and Michael Keaton's cowl from Batman (1989).
F&B offerings include Craft Services, Sidekicks, The Matinee, The Director's Club, and The Overlook. Leisure amenities include a Warner Bros. store called the Prop Shop.
Warner Bros. archives at new hotel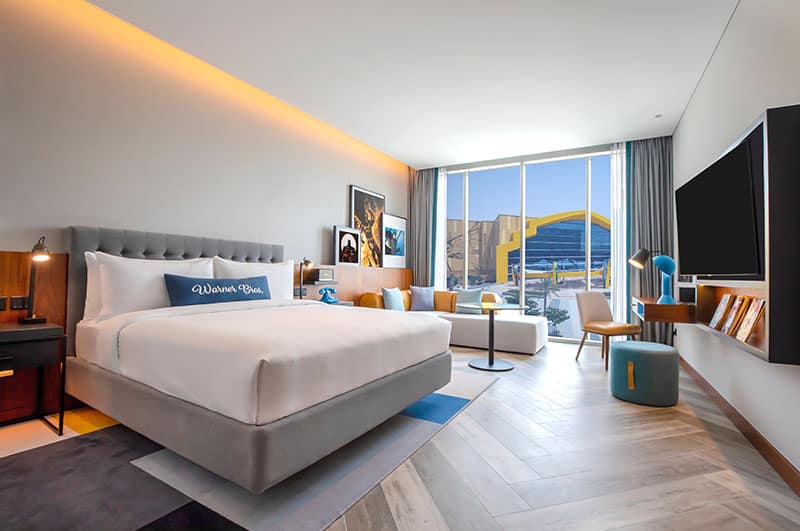 "Our dream has come true with the grand opening to the first-ever Warner Bros. branded hotel," said Pam Lifford, president of global brands and experiences at WarnerMedia.
"Our incredible partners at Miral and Hilton have helped us make this vision a reality for our fans around the world," Lifford added.
"We always strive to be fan focused and have developed an exceptional hospitality experience for them to further connect with the iconic Warner Bros. brands, franchises, and characters they know and love."
The WB Abu Dhabi is located adjacent to Warner Bros. World Abu Dhabi, the world's largest indoor theme park, which features six immersive lands and 29 state-of-the-art rides and attractions.
Images: Miral