Welcome to the blooloop briefing; a roundup of attractions news from the last seven days.
In the news this week – George RR Martin joins the Meow Wolf pack; SeaWorld teases new #BreakTheIce coaster; more details about next-gen rides at Lionsgate Entertainment World; Universal rolls out IoT at Orlando and Barcelona gets an 'animalist' zoo.
Watch the news in 3 minutes
For a quick run through the week's most eye-catching stories see our briefing video:
Read the news in 5 minutes
Theme parks
SeaWorld Orlando has released a teaser video for a new roller coaster for 2020 with the hashtag #BreakTheIce. The new coaster may have an icy theme and will offer riders "plunging thrills" and "predatory heights".
Walt Disney World Resort has unveiled an early look at the holiday events taking place at Disney's Hollywood Studios, Epcot, Animal Kingdom, Magic Kingdom Park and Disney Springs for Christmas 2019.
Kaisa Group's Golden Bay Resort in Shenzhen will turn a profit in its first year, according to a former Disney executive. The Chinese developer's $4.3 billion theme park will open in summer 2020.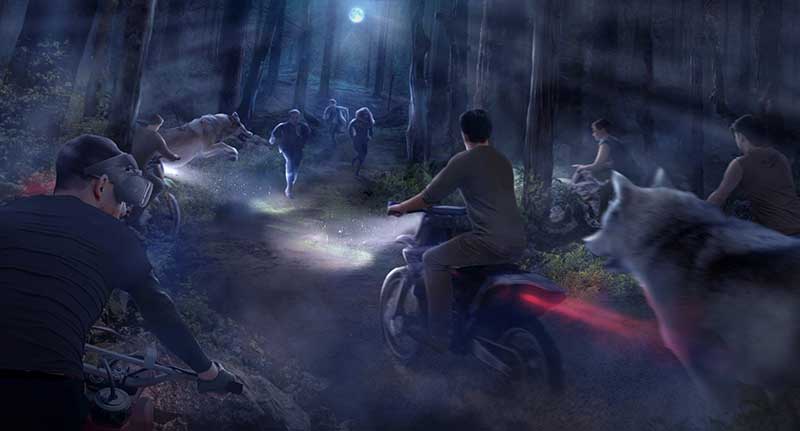 CAVU Designwerks, Dreamcraft Attractions, Thinkwell Group and Framestore have announced a new collaboration to work on two next-generation rides to showcase Lionsgate film properties.
Land of Oz theme park is opening this week in North Carolina with an interactive Journey with Dorothy experience, and an Autumn at Oz festival. The attraction's opening marks the 80th anniversary of the film's release.
Comcast has announced a collaboration between its Internet of Things (IoT) service, MachineQ, and Universal Parks and Resorts. MachineQ's IoT hardware and software will be used across the entire Orlando resort.
Zamperla, Jack Rouse Associates, WhiteWater, and FORREC have presented the winners of the Cornell 2019 Theme Park Design Competition. Students from the University of California, San Diego bagged the top prize.
Cruises and hotels
Merlin continues to add themed accommodation to its portfolio with the opening of Magic Hotel, its third themed hotel at Gardaland Resort. It has three different settings – Enchanted Forest, Magic Ice Castle and Great Wizard.
Genting Cruise Lines has unveiled its global ambitions and investments, adding Dream Cruises ships beyond Asia. Two Global-class ships are joining the Dream Cruises fleet from early 2021.
Odisha government has approved allotment of land for seven hotel and tourism projects, including a theme park and water park, with an investment of $50m. The projects will be developed over a total area of 79.5 acres.
Entertainment
Experience entertainment company Cityneon is eyeing growth in China after announcing an investment by CITIC Capital of an approximately 10 percent stake in the company.
George R.R. Martin, Game of Thrones author, has joined Meow Wolf as Chief World Builder. Martin is a resident of Santa Fe and was an early investor in the innovative artainment attraction.
Jadooz, which owns and operates entertainment zones with cinemas, gaming pods, and virtual reality (VR) centres in towns and villages in India, is opening 10 new attractions and hopes to expand further.
Kingsmen Creatives has announced that its US subsidiary, Kingsmen Xperience, has signed a licensing agreement with Hasbro International to open Nerf Family Entertainment Centers (FEC) in the US.
CircusTrix, the world's largest developer, operator, and franchisor of indoor active recreation centres, has announced the appointment of Parques Reunidos' Fernando Eiroa as Chief Executive Officer.
Museums
The Mullin Automotive Park at Enstone Airfield, a £150m classic car museum near Chipping Norton, has been given the go-ahead. The 63-hectare project is the brainchild of Peter Mullin, who built the Mullin Automotive Museum.
The World of Wonders (WOW) Science Museum has revealed more about its expansion project, which will include a planetarium, quadrupled exhibit space, four new classrooms, and an open-air amphitheater.
The Natural History Museums of Los Angeles County (NHMLAC) have announced a long-term initiative to renovate the 12-acre campus in Hancock Park, encompassing the La Brea Tar Pits and the George C. Page Museum.
Zoos
Barcelona Zoo is investing €64.6 million in a project, which will turn the attraction into the first 'animalist' zoo in Europe, putting animal welfare, conservation, research and education first.
The Byculla zoo is expanding and will feature night safari, a conservation and protection centre for rare animals, and a natural education centre. The proposed expansion is expected to cost around $73m.
Images: Meow Wolf, Lionsgate Entertainment World, Cityneon, Mullin Automotive Park.