DEAL 2017 is the largest trade show for the theme park and amusement industries. DEAL walks down the hall of fame each year as a 'thought leader' in the region for redefining the amusement industry.
This show has shaped the region's entertainment industry for the last 22 years and it has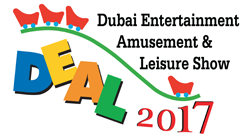 brought together great minds and their world class innovations all under one umbrella. DEAL has led the amusement and entertainment space during this period and the testimony to this is the fact that exhibitors at DEAL 2016 have signed multi-million dollar contracts in just 3 days.
If you are associated with the world of entertainment and amusement, then DEAL 2017 is the ideal platform that you must explore. Don't just take our word for it. We urge you to take a look at our exhibitor and visitor testimonials on this website to hear from the exhibitors and trade visitors who were part of our show in 2016.
DEAL, since its inception in 1995 has developed into an unparalleled platform that gathers exhibitors, buyers, and professionals from the international amusement and entertainment industry.Held annually at the iconic Dubai World Trade Centre, DEAL is the region's most anticipated and leading attraction for global and local stakeholders in the amusement and entertainment industries. So if you are planning to enter the Middle East and Africa region then – DEAL 2017 is your show.
Foraying into the 23rd edition, DEAL 2017 expects to witness an even larger gathering of key players and visitors in the amusement industry from Middle East, Africa, US, Mediterranean and Asian countries.