Between 7th – 10th May 2017, over 4,200 museum professionals attended the American Alliance of Museums' (AAM) Annual Meeting and MuseumExpo. AAM 2017 was held in St Louis, Missouri.
Just three years after the fatal shooting of Michael Brown and the subsequent unrest in Ferguson, a northern suburb of the city, St. Louis was perhaps a fitting backdrop for the conference's theme: Gateways for Understanding – Diversity, Equity, Accessibility, and Inclusions in Museums.
Through a range of speakers and sessions, these challenging topics were addressed head on, with the emphasis on encouraging conversation and debate to continue way past the closing of the conference. In addition, visible steps were taken towards promoting inclusion such as sign language interpreters and real-time captioning aiding the sessions.
Inclusion
There were many great speakers during the show. However, two from the opening session stood out. Haben Girma is a truly inspirational woman who was the first deaf/blind graduate of Harvard Law School and is now a civil rights lawyer advocating for disability rights all over the world. In addition to being a brilliant speaker, Girma has some pretty impressive credentials. She has earned recognition as a White House Champion of Change, Forbes 30 Under 30, BBC Women of Africa Hero, and has been honoured by both President Barack Obama, and President Bill Clinton.
Speaking to attendees, Girma stressed that "disability never holds anyone back- the barrier is society and expectation".
She emphasised how museums could improve the experience for disabled guests. These included the creation of tactile exhibits, making information compatible for screen readers, captioning for the deaf community, braille displays and switch control for non-hand use keyboards.
A single bangle doesn't jingle
Dr Johnetta Betsch Cole re
ceived the award for Distinguished Service to Museums and won a standing ovation from the audience. The award recognised Cole's dedicated work and support to the museum community over her 50 year career. Apparently Dr Cole has tried to retire 3 times, but she remains as dedicated as ever to the industry.
Dr Cole served as the Director of the Smithsonian National Museum of African Art and established the first Chief Diversity Officer position at a Smithsonian Museum. She continues to work to encourage greater diversity and inclusive practices in museums at the Ford Foundation and Andrew W. Mellon Foundation.
Whilst accepting the award, Dr Cole advised attendees to work collaboratively in a time where, "recent events have stirred up actions and attitudes against immigrants", wisely saying that, "a single bangle doesn't jingle".
AR vs VR and interactivity
During the conference, the exhibtion, MuseumExpo was a hive of activity too. Over 250 exhibitors showcased their products and services on the show floor. Augmented reality (AR) was a recurring theme, with exhibitors offering diverse content for smartphone-using museum visitors. It was, however, notable that virtual reality (VR) experiences were thin on the ground.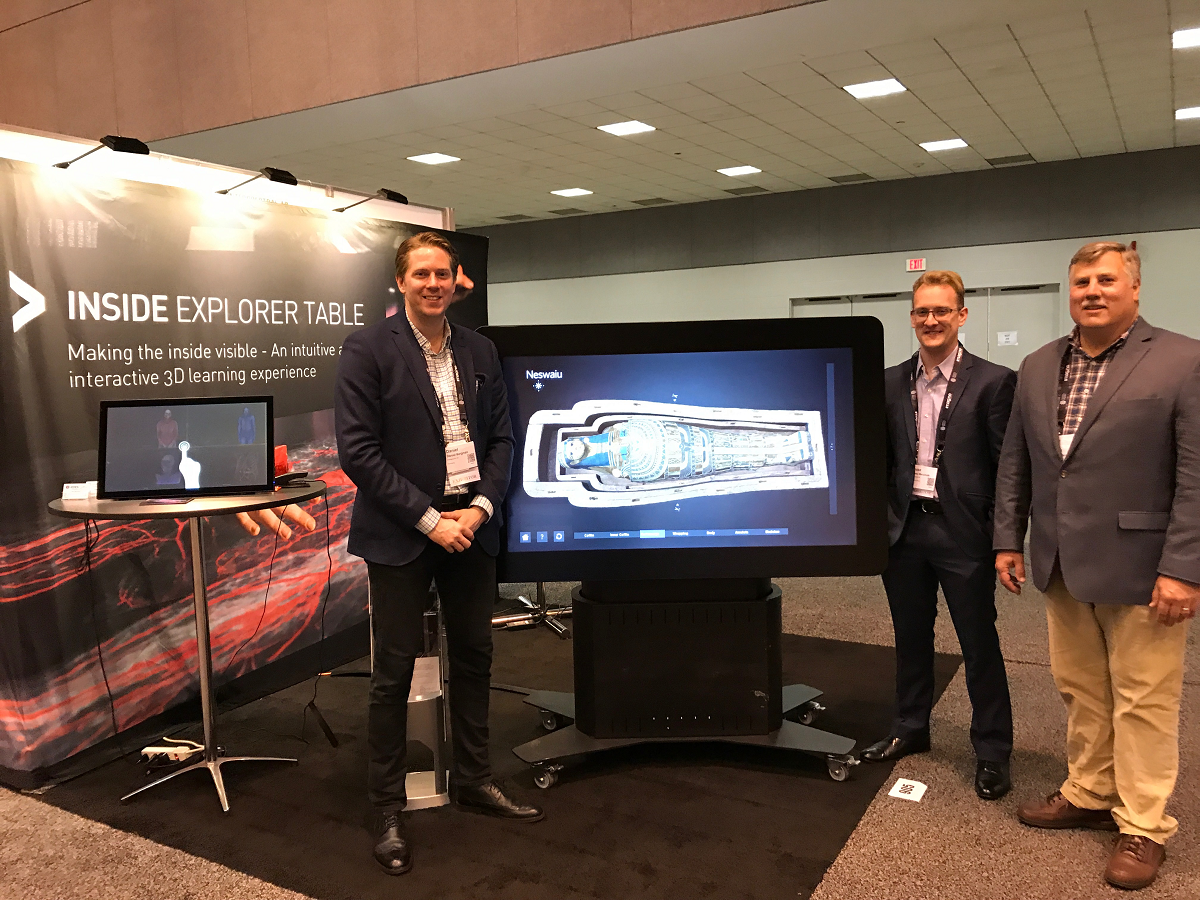 A number of interactive displays were, erm, on display, including Interspectral's Inside Explorer. The company's technology uses CT-scanning to visualise "slices" of an artifact. This is particularly interesting for museums whose collections include items too precious or delicate to be on show all the time. It also allows a fascinating and never before seen glimpse inside a given artefact. It is currently being used to great effect in the aquarium at the recently opened Frost Science Museum in Miami.
A worthy mention also to was Breeze Creative's exhibit (below). The company uses image capturing technology to scan children's coloured-in drawings. In the example below a child's drawing of a colourful fish becomes an animated fish (featuring the child's name and identical markings as the paper version) swimming around a virtual aquarium.  The technology has recently launched at Land of Legends in Turkey.
A busy show floor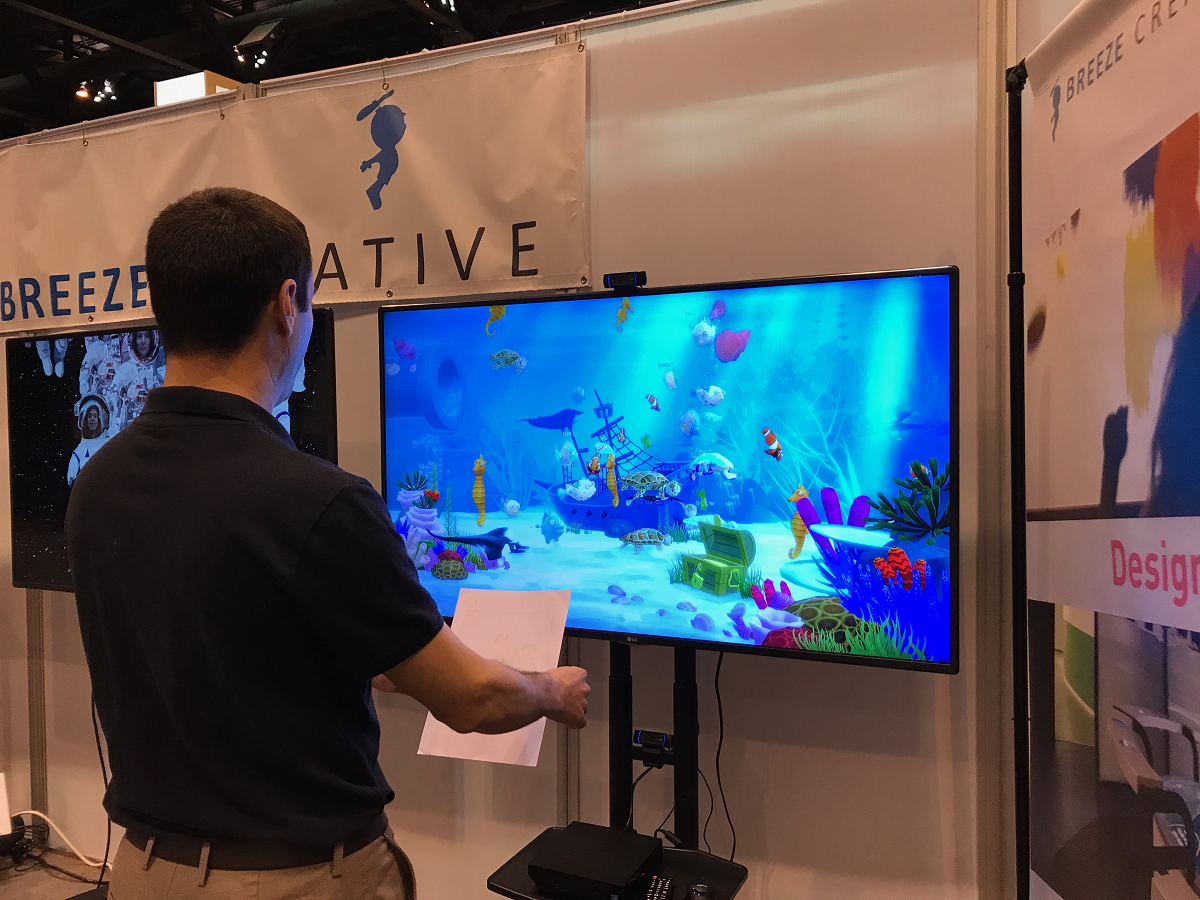 Exhibiting, or with a prescence at the show I also noted  Accesso, Chrisite, Digital Projection, JRA, Mousetrappe, Warstila and the Nassal Company.
On the UK's Department of Trade (DIT) booth were two extremes in the Museum sector. The V&A demonstrated the mounting of historic costumes with copies of Balenciaga dresses carefully adapting mannequins (by hand) to mimic the shape of the original wearer. On the other end of the spectrum was Collider Case demonstrating their AR technology.
During the MuseumExpo, there were also speaking sessions on the show floor. These included Meeting sponsors' PGAV's Thomas Owen sharing the annual Voice of the Visitor Report (where museum visits came out on top!) and Science North's Ashley Larose who spoke about the power of real-time motion capture technology for exhibits. Gateway Ticketing's Jamie Elswick explained how increasing engagement creates,"visitors for life".
The #AAM2017SlaveAuction at AAM
There was controversy at AAM 2017 too. Life-like model makers Life Formations exhibited models of a white auctioneer and an African American slave. Some attendees found this offensive and upsetting. This reaction was perhaps magnified by the fact the theme of the conference centered around diversity and inclusion. However, others argued that the models were legitimate exhibits as they had been commissioned for the Abraham Lincoln Presidential Library and Museum, and depicted real history, that though unpleasant,  shouldn't be shyed away from.
AAM's reaction was swift. President Laura Lott sent a letter to exhibitors and attendees and updated the museum discussion boards.  On the Wednesday morning the CEO of LifeFormations, Rodney Heiligmann, spoke to attendees on the show floor in a session facilitated by Dina Bailey. (The debate was live on Twitter using the hashtag #AAM2017SlaveAuction). The situation was in fact a real-life case study for the sessions at the conference and although difficult, did start a conversation.
During the show, the evenings were just as busy as the days. Numerous events were held across the city. Ticketing leader Gateway Ticketing had a reception, sponsored by Groupon, overlooking the striking Gateway Arch and the Mississippi river. So too did ACME Ticketing which had a reception at the Magnolia Hotel.
City Museum – an attraction like no other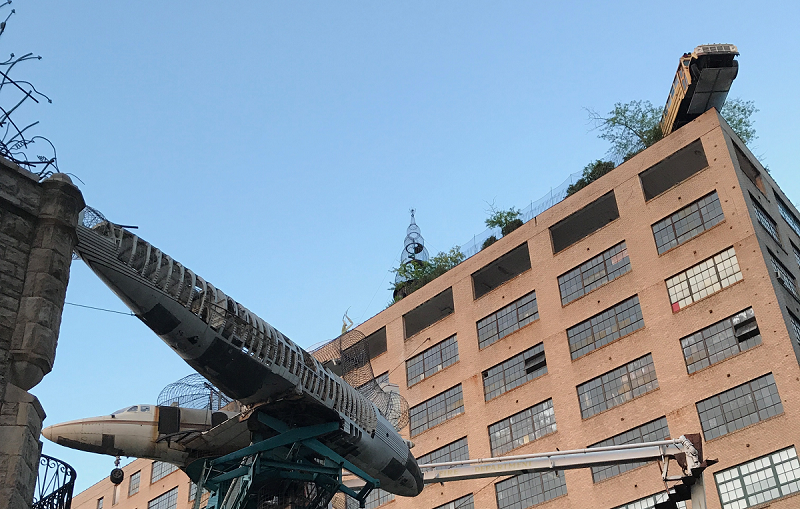 Throughout AAM 2017, I heard people say, "if you do one thing in St Louis, you need to go to the City Museum". I did and it did not disappoint. The attraction was unlike anywhere else I have ever been. Not so much a museum, it is more a huge adult playground featuring a labyrinth of tunnels, ball pools, caves, and even a ten-story slide. And all made from recycled art. There was even a bus hanging off the edge of the building and a recycled plane to climb through.
Meow Wolf (a notable winner at the recent Thea Awards) and EDG held a joint reception at the City Museum during the conference. This celebrated their partnership on their new travelling exhibit. The museum had inspired Meow Wolf when creating their own hugely successful art installation in LA, so they felt it fitting to host the event there.
The biggest event of AAM 2017 was the Garden Party held at the Missouri Botanical Gardens. Guests collected a picnic bag on arrival and armed with a free drink ticket, could unwind in the gardens. Quite an idyllic end to a busy week! Walking through the Japanese Gardens, feeding the Coi Carp and a spot of networking too.
We look forward to returning next year where AAM will be in Phoenix May 6th– 9th 2018.