The Amusement Expo 2020 trade show floor is open from the 10-11 March, with a wide range of exhibitors showcasing the latest products and services for the industry. Professionals from around the globe will attend the event at the Ernest N. Morial Convention Center in New Orleans.
Conferences at Amusement Expo 2020
On 9 March, there is an entire day of sessions, all taking place at the Hilton Riverside. Attendees can listen to the State and Future of the VR Industry from 9.45 am – 10.45 am. At this session, Kevin Williams from KWP, Bob Cooney and Alexis Macklin from Greenlight Insights will discuss the location-based VR market.
At 11am there are four different sessions. The first about small footprint FECs hosted by a panel of industry experts. Second, Armando Lanuti, President of Creative Works will discuss how to create a culture of inspiring leadership. Lanuti will share practical skills you can use to inspire your team.
In the third session at 11, Brandon Willey, CEO of Hownd will speak about the application of lean principles for marketing your FEC at 11 am. Sean Griffin from Nomadic will also talk about immerse entertainment trends and how implementing them can lead to customer adoption.
Afternoon Sessions
From 1.30 pm -2.30 pm, visitors can listen as Jan Goetgeluk, CEO of Virtuix, explains what esports is and goes through how it can increase your revenue.
In a separate session at the same time, Danny Gruening, VP of Marketing at Creative Works, will discuss making the right VR choices for your venue. He will explore the future of VR, as well as giving operational tips and tricks to make VR a successful choice for an FEC.
There will also be an FEC roundtable. Attendees will be rotated through different tables and given the opportunity to discuss 'hot button' topics for the FEC community.
Russ Van Natta, VP of Sales at Creative Works will discuss Infinite Game and Industry Trends at 2.45 pm. At the same time, industry veterans will share their insights into VR at the location-based VR operator panel.
Then from 5.15-7.15 pm there is an all-industry Gala Reception. This will be an excellent chance to network with people from all aspects of the industry.
Trade show from at Amusement Expo 2020
Triotech – booth #113
Triotech, an award-winning creator of media-based attractions, will showcase its new game, the Storm, at the show. The Storm is an interactive VR coin-op simulator ride. It was launched successfully at IAAPA Expo in Orlando 2019. Players interact by waving their hands to gain points. This drives replayability as players compete to gain the highest score. The company will also show its Typhoon simulator which is a top earner for FECs and visitor attractions.
Triotech recently opened three new rides at Resorts World Genting's Skytropolis, an indoor theme park located in Malaysia's Genting Highlands.
Attendees can contact Vice President of Marketing Christian Martin, Christian Saghnbini, International Sales or Dave Swafford, Sales Director USA to arrange a meeting at the show.
Embed – booth #406
Embed, the worldwide supplier of point-of-sale and revenue management systems, will showcase its new Mobile Wallet and its wearable media at Amusement Expo 2020. The mobile wallet was launched at the IAAPA Expo 2019. It is able to sit within Google and Apple mobile wallets, meaning guests don't have to download another app. Guests simply add the virtual game to their Mobile Wallet and play.
Also released at the IAAPA Expo 2019 in Orlando was Embed's new range of wearable media. There are over 200 design variations to appeal to the widest possible audience.
Embed recently worked with Jar BV Gamestate in Amsterdam, providing 180 smartTOUCH card readers to enhance the guest experience.
Click here to arrange a meeting with Embed at the show.
Redemption Plus – booth #1042
Redemption Plus, a supplier of redemption crane and merchandise prizes, will show attendees its new website which has a 'Shop by Machine' feature. This allows purchasers to shop for prizes based on what would fit their current machines.
Visitors to the booth will also see Redemption Plus's new 'Kid Kreated' line, a range of prizes designed by kids, for kids. For example, attendees will be able to see Punny Pals, a selection of plush toys designed by Holly, aged 13. And they can also get 20% off a single crane kit for stopping by the booth.
Redemption Plus recently won a first-place IAAPA Brass Ring Award for Best New Service for its proprietary service packages. These packages are designed to help customers streamline operations.
Arrange a meeting with Justin Michaels, Account Manager.
Boxblaster – booth #707
Boxblaster, a builder and operator of turnkey VR arenas, will show its five exclusive games at Amusement Expo 2020. Visitors will also be able to try the company's latest release, the player-vs-player Cyberblast VR. Set in a cyber world of Tokyo, this game is competitive and offers good replayability. Boxblaster plans on expanding the number of players able to play and add tournaments. This will enhance the element of competition. The company will also add more cities to the game.
Visitors to Boxblaster's booth will also be able to play the popular Gold and Mace game, where players must battle flying medieval knights.
Arrange a meeting with Yevgen Malyshev, Co-Founder, Vladimir Avdeev, President or Greg Smith, Sales Manager. Blooloop readers will be able to receive free installation with a Boxblaster VR arena purchase by quoting "Blooloop" with your inquiry.
iPlayCO – booth #566
iPlayCO, a leading play structure manufacturer, will introduce its new TAG Active products, the latest in its Adrenaline Park Equipment line. TAG Active promotes fitness, fun and competition. TAG Arenas are multilevel, multi-zoned play areas that feature a mixture of immersive activities and physical obstacles. Players wear an electronic band which provides gamification and metrics.
The first TAG Arena was installed in Novi, Michigan at AirTime and are now in Europe and Asia as well.
iPlayCO also installed attractions at the Abu Dhabi Mall in its Xtreme Zone last year. It provided soft play areas, active climbing and trampoline activities.
Contact Regional Sales Manager Rob Lothian to arrange a meeting.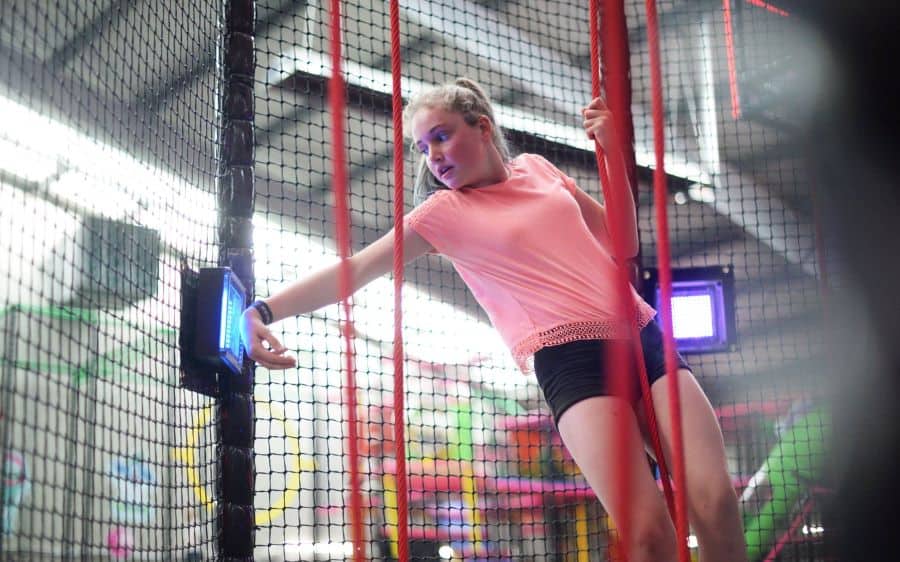 Virtuix – booth #553
Virtuix will showcase its Omni Arena at the show and give attendees a chance to experience it for themselves. This VR esports attraction allows up to four players to play at the same time. Players can physically move within the VR game thanks to the Omni motion platforms, which also give the arena a small footprint.
Guests are also entered into an ongoing prize contest where they can win $100,000 each time they play. This results in a repeat play rate of over 30%. The Omni Arena also offers a recorded gameplay video so players can share their experience with friends and family on social media.
The company recently installed the Omni Arena at two Full Throttle go-karting venues in Cincinnati.
Make an appointment with Marisa Garris, Director of Business Development at the show. Sign up here for an Omni Arena demo.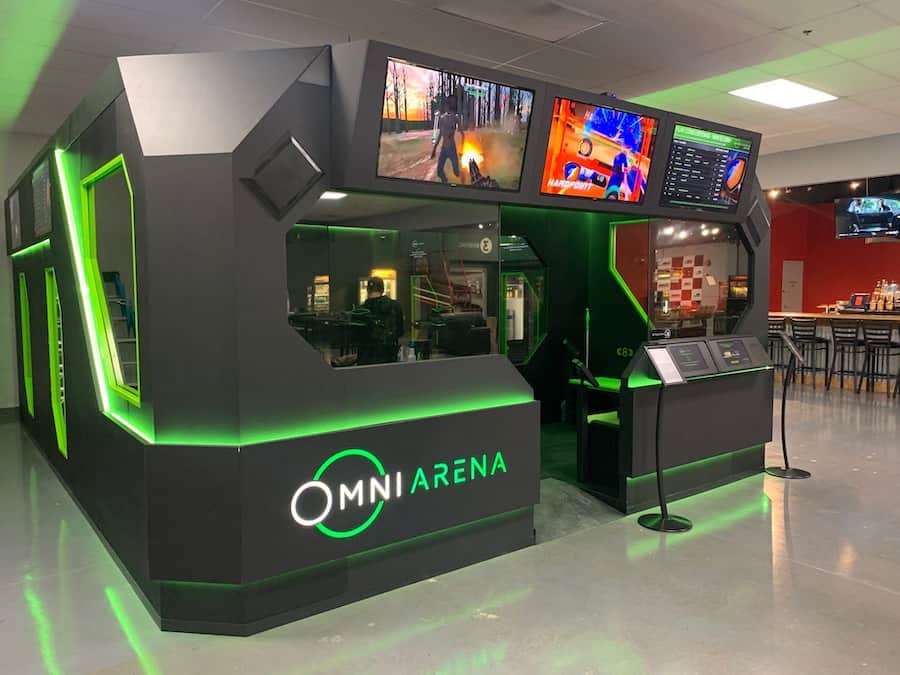 LAI Games – booth #205
LAI Games, a leader in the interactive game industry, is bringing its new game lineup to Amusement Expo 2020. These were first launched at the IAAPA Expo in Orlando last year. Outnumbered is a competitive target shooting game. It has an app that helps to encourage replayability. HYPERpitch is a baseball-style pitching game that tests speed and accuracy. Pearl Fishery mixes a classic coin-pusher game with a multi-layered big-ticket game.
The company will also bring the very popular Virtual Rabbids: The Big Ride. This has three new experiences, including a VR interactive ride.
In addition to this, LAI Games recently announced that the Peral Fishery is performing well and exceeding operators' expectations.
Attendees can contact Chris Brady, VP of Sales, for a meeting at the show.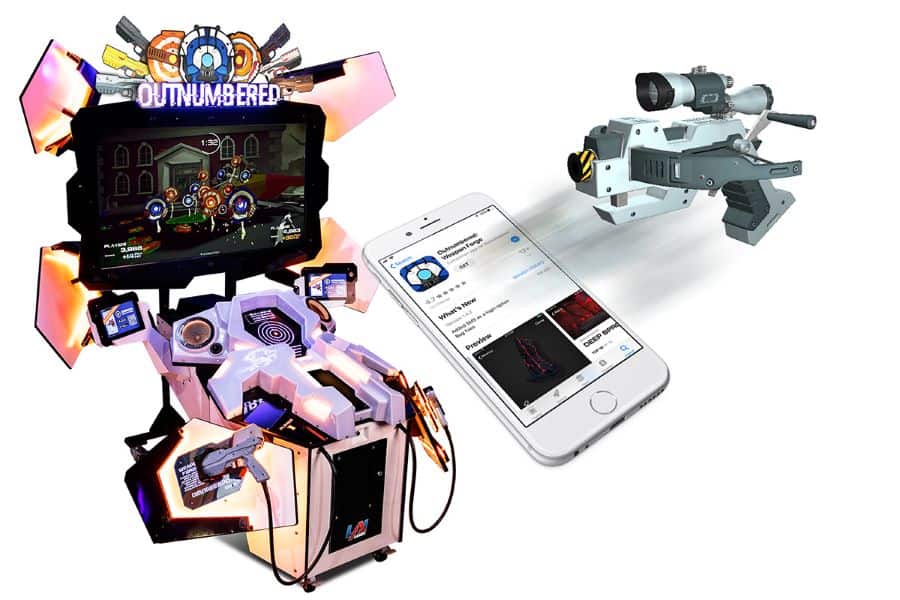 Creative Works – booth #1027
Creative Works, the theming company and attractions provider, will showcase its latest products at Amusement Expo 2020. Given the popularity of VR, the company will display its Hologate Arena attraction and give attendees the chance to try it out. Attendees will also see the Game Up Esports attraction at Creative Work's booth. Esports is a rapidly growing industry, and this attraction from Creative Works allows operators to capture some of its revenue.
The company recently installed an open-air laser tag concept in the Urban Air Adventure Park in Knoxville. Thanks to the use of half walls at the entrance of the arena, other visitors are encouraged to join in. Creative Works is also in the process of installing the first Lucky Putt attraction at a new Andretti Indoor Karting & Games location in Texas. The company debuted Lucky Putt at the IAAPA Expo in 2019, and it has an automated scoring system as well as proprietary software.
Contact Experience Consultant Athena Symonds to arrange a meeting.
Funovation – booth #1009
Funovation create small-footprint, high-tec attractions like the Laser Maze Challenge and the RAID Game Chamber. Attendees at the show will be able to explore the company's second gameplay for the RAID Game Chamber, Memory Master. This game has exceeded the number of plays of the first games, Destruct Sequence. In the game, players race against the clock to complete patterned sequences in a certain time frame.
The company is also offering a financing option at the show, 0% down for 6 months on a Funovation attraction for qualified buyers. This means that FECs with delayed openings can install the attraction and start making returns straight away.
In addition to this, Funovation recently installed two Laser Maze Challenge attractions in Scene75 in Cincinnati.
Attendees can contact CEO Ryan Borton or Global Sales Manager Nic Hanzelik to arrange a meeting at the show.