Aardman, the award-winning UK studio, has announced the creation of a new immersive attraction in a number of British locations.
Shaun the Sheep: Championsheeps will be launching in Electric Gamebox's London, Manchester and Lakeside (Essex) locations as the company's first collaboration with an official franchise developer, Aardman. It will be the first immersive experience at the venues specifically catering for younger children.
Hi-tech, high excitement
In teams of up to six, guests partake in a variety of games featuring the animated children's favourite, requiring good reactions, agility and teamwork. The high-energy experience by Aardman requires no heavy wearables or equipment unlike comparable ventures, just a motion-tracking visor provided on arrival.
During the 30-minute game, 5-12-year-olds and their families will be transported to the Mossy Bottom Farm "Championsheeps", where they will compete in sporting events with a Shaun the Sheep twist such as "Baah Bells" and "Sheepy Uppy".
Ngaio Harding-Hill, Aardman's head of attractions and live experiences says "We are thrilled to launch Shaun the Sheep's first live immersive sporting adventures! The exciting new partnership with Electric Gamebox provides fans of all ages with a completely unique Shaun the Sheep interactive digital event experience.
"Bringing families and friends together to play all-new Shaun the Sheep Championsheeps action games, that celebrate the fun and physical humour of the characters in a fully immersive event."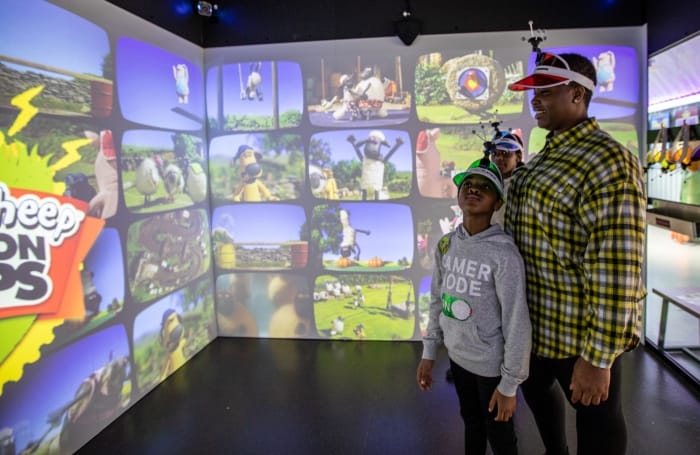 Immersive gaming
Shaun the Sheep: Championsheeps will be added to Electric Gamebox's existing portfolio which includes creations such as Psychedelic Mansion, Block Smash Mania and Alien Aptitude Test: London 84'.
The Electric Gamebox franchise has garnered a fanbase largely down to its high-tech 'Gamebox' experience which utilises projection mapping and touchscreens combined with surround sound and motion-tracking technology to deliver immersive social gaming experiences.
Will Dean, Electric Gamebox founder and CEO adds "Shaun the Sheep is such an iconic and well-loved character, and it has been a pleasure to work with Aardman on bringing him to life in a unique way at Electric Gamebox. We know that children and adults will have great fun working as a team to impress Shaun in our immersive Championsheeps games."
Earlier this year, Aardman partnered with the Wildfowl and Wetlands Trust (WWT) to digitally enhance the visitor experience at one of its natural sites with the "Wetland Heroes" mobile app.