Walltopia, a leading climbing wall manufacturer, has announced the release of the Gamifier by Techtopia, a new interactive platform designed to engage guests and empower operators.
Walltopia is pleased to introduce the Gamifier, which has been designed by Techtopia to increase visitor retention by providing a fun and engaging experience. It will also help operators to optimise their business by collecting relevant data.
Techtopia is a daughter company of Walltopia. It develops software and hardware solutions to make adventure and climbing facilities safer, smarter and more engaging; for both visitors and operators.
This new interactive platform enhances active entertainment attractions and facilities through engaging game mechanics. It uses RFID technology and smart reporting tools to collect and analyse data, allowing operators to understand and meet their guests' needs.
The Gamifier by Techtopia
The system is built on three key elements. Guests wear RFID bracelets which are detected by sensors around the facility and the data is collected by a game engine that tracks activity. Through this, players can enjoy a whole range of enhancements to their experience, such as scoring, bonuses, quests, time trials, group competitions and even treasure hunts.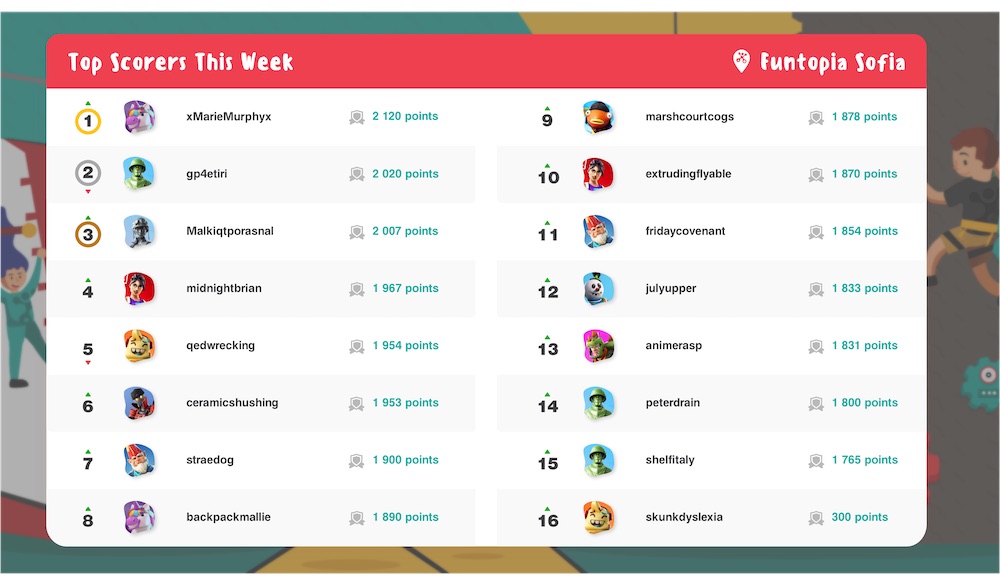 This screenshot shows a custom-made version of the system developed for Funtopia FECs, called Funtopia+, which will be on display at IAAPA Expo 2019 in Orlando.
Operators can easily view and interpret the traffic data from a central control panel, which gives real-time insight into how the venue is performing. This data can be used to influence decisions, for example preventing bottlenecks by raising the points available in less busy areas.
The Gamifier can be retrofitted and easily integrated with existing management systems & websites. It is also customisable and can be branded to match the client's existing identity and visuals. Operators can also benefit from bespoke features, such as unique games, cashless systems, locker access, party modes and more.
Attendees at IAAPA Expo 2019 are invited to visit Walltopia's booth #1686 to test the core functionalities of the Gamifier on a wide selection of Walltopia products. The version specifically developed for Funtopia FECs, Funtopia+, will be on display as well.
The event takes place at the Orange County Convention Center from 18 – 22 November.
Walltopia also recently teamed up with Climbmat to offer new safety flooring solution called One More Life.