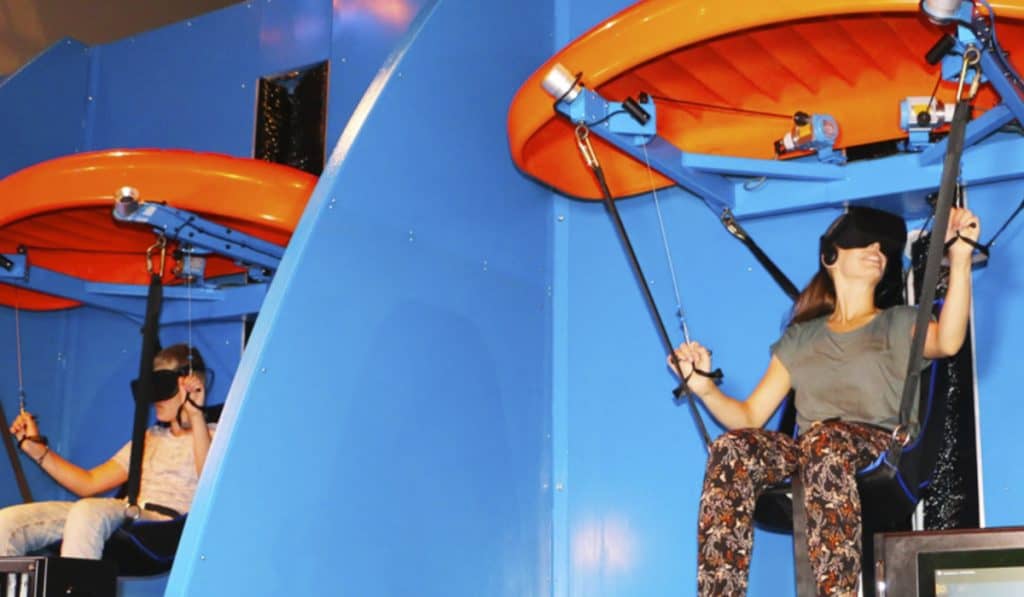 A totally dynamic and immersive flight adventure unlike anything you've ever experienced!
ParadropVR is a fully immersive attraction that combines dynamic physical movement with free roam VR content. Both the physical and virtual game play is 100% controlled by the user for a totally unique and realistic flying experience.
The rider flies wherever he wants to go through a virtual skyscape in stunning detail. They have a complete range of movement and also experiences the exhilaration of sudden drops and smooth deceleration which adds to the realistic feeling of gliding through the skies.
The ride also features an interactive game element controlled by the participant. Riders collect points by flying through rings in the sky. They can then share their score with friends via the integrated mobile app.
Paradrop VR is a great way for operators to unlock the potential of virtual reality within their business. Highly configurable, it is ideal for a range of venues and age-groups. Great for entertainment, education or training.
SIMULATES FLYING A PARA-GLIDER
INTEGRATED GAMIFICATION
FULL USER CONTROL
FULL TURNKEY SOLUTIONS – INCLUDES VR CONTENT
COMPELLING COMMERCIAL RETURNS
MULTIPLE THEMING OPTIONS