It's just as well then that thanks to cinema evolution, the experience is becoming entirely different. Some cinemas now boast motion seats, luxury recliners, enhanced F&B, 4DX, escape rooms, and even a dark ride.
Potential customers are now streaming TV and movies. They can watch on 65-inch smart TVs with Ultra HD 4K from the comfort of their own homes. But cinemas are attempting to entice them with more premium experiences.
Cinema evolution: Location-based entertainment at Cineplex
Leading this cinema evolution is Canada's largest cinema chain, Cineplex, offering more premium cinema options and expanding its location-based entertainment (LBE).
Cineplex's premium experience includes wall-to-wall screens, Dolby ATMOS surround sound, extra-wide, high back seats. It also offers IMAX, and VIP cinemas with enhanced food and drinks menus, adult-only licensed auditoriums, and luxury seating.
Other features include D-BOX (seats moving in sync with the film), 4DX (motion seats moving in sync with the film but with environmental effects like mist, wind, and bubbles), and luxury recliners with powered footrests.
Cineplex offers location-based VR attractions like The VOID and XSCAPE interactive entertainment centres at its venues. It is also partnering with VRstudios and has a plan to install up to 40 VRstudios arcades in its multiplexes and LBE centres across Canada by 2021.
The company has also opened the following LBE attractions:
The Rec Room – a social playground with amusement gaming, live entertainment and dining experiences under one roof, targeting 10-15 locations across Canada. Attractions include bowling, VR, live entertainment, air hockey, pool and ping pong.
Playdium

– reimagined entertainment complexes featuring indoor play, food, and tech-enhanced amenities, targeting 10-15 locations across Canada
Cinergy's escape rooms and XD 4D dark ride
In the US, Cinergy is ramping up the cinema entertainment experience with escape rooms, bowling, games and multi-sensory interactive attractions such as Hologate VR.
At its cinema complex in Tulsa, there's even a Triotech XD 4D dark ride, which combines a motion experience with 3D graphics, special effects, and an immersive shooting gaming system.
Cinergy Tulsa also features 14 lanes of boutique bowling, five immersive escape rooms, a full-service bar with an LED-lit bar top, and an extensive games floor with over 90 interactive games.
As for the actual screens, state-of-the-art movie theatres have luxury recliner heated seats, swivel tables and call buttons for service. A premium chef-inspired dining menu and an extensive bar menu are available.
Jadooz and MX4D in India
Jadooz owns and operates entertainment zones with cinemas, gaming pods, and virtual reality (VR) centres in towns and villages in India, spearheading cinema evolution in India.
The company bills itself as the 'next generation entertainment destination'. It has venues across urban, semi-urban and semi-rural stretches in India and similar economies.
It's opening 10 new attractions and plans to open 250 centres by the end of the next year.
Also in India, MediaMation Inc, a leader in immersion entertainment technology, has announced the country's first MX4D theatre experience.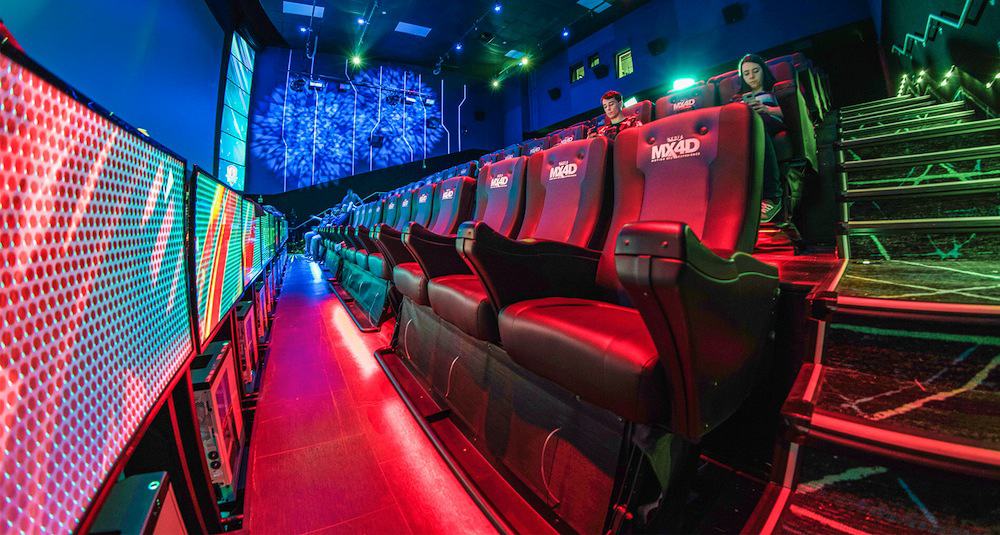 As part of the MX4D experience, visitors will enjoy state-of-the-art seats. These include a full range of motion and special effects designed to enhance the latest movie releases. This experience goes further than standard 3D, with extra atmospheric effects including wind, fog, rain and strobes.
MMI's newly patented EFX armrest adds to the customer experience too, meaning cinema-goers will have a better communal experience.
MediaMation is expanding the MX4D experience to sites all over the world, with a footprint in 21 countries spanning over five continents.
D-BOX Technologies' motion seats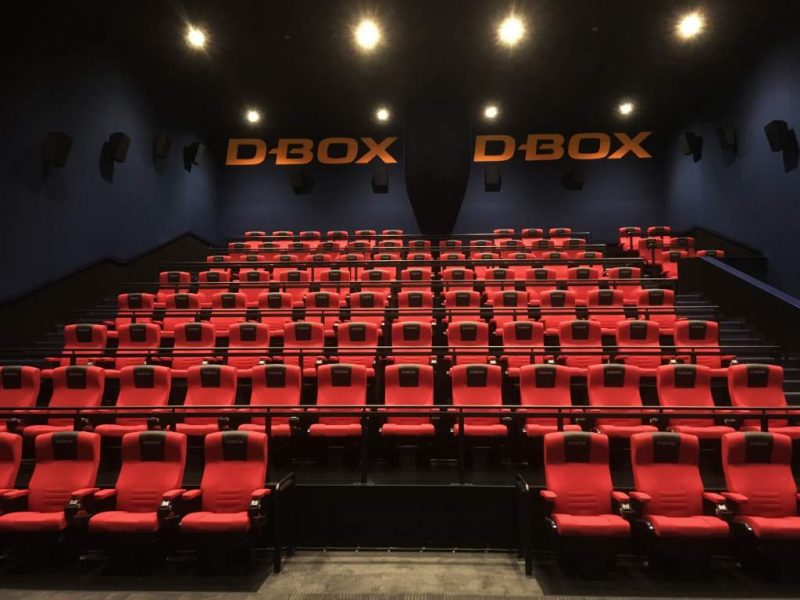 D-BOX Technologies has built up a following in over 40 countries. Its motion seats immerse audiences in the storyline by perfectly synchronising movement with the action on the screen.
Based in Montreal, Canada, D-BOX creates hyper-realistic, immersive entertainment experiences. Its motion seats can be found in movie theatres, video games, virtual reality applications, themed entertainment projects and professional simulation.
Australian cinema chain HOYTS is equipping four auditoriums in Melbourne and Sydney with over 200 D-BOX motion seats, and for the first time, D-BOX Technologies is adding reclining motion seats to two full cinema auditoriums in the US.
Cinemark is also installing more motion seats by D-BOX across theatres in Latin America in response to increased demand.
Butler services with Dubai-based Reel Cinemas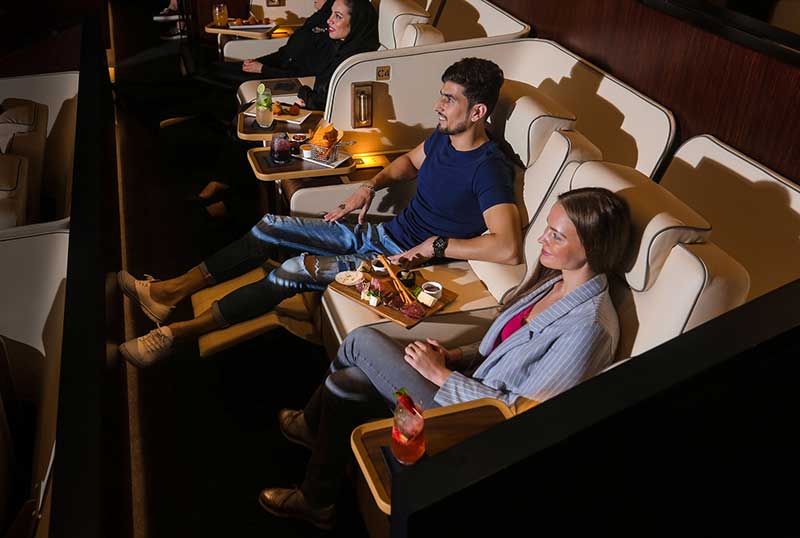 Redefining the cinema experience for luxury-seeking viewers is Reel Cinemas – The Dubai Mall, with personalised butler services, a dine-in service, Dolby Cinema and the first ScreenX in the Middle East.
The Platinum Suites offers a VIP experience. Here, visitors can be pampered with upscale amenities and personalised butler services. They can also enjoy luxurious seats with a private lounge and five-star gourmet choices.
The Dine-In-Cinema offers Guy Fieri's signature dishes along with international cuisines. Visitors can enjoy an extravagant meal with choices from six starters, six main courses and two desserts.
Cinema Evolution in Saudi Arabia
Vox Cinemas has pledged $500 million to build 600 screens in Saudi Arabia, primarily family-oriented cinemas, featuring recreational facilities like bowling alleys and F&B outlets.
The company's Riyadh location includes a KIDS Theater and an IMAX screen. It also features a Nutella bar and an 8-lane bowling alley.
Saudi Entertainment Ventures Company (SEVEN) is also planning a second mega entertainment hub in Riyadh. The destination will feature restaurants and cafes, open spaces for events, sports and live shows, and cinemas.
SEVEN is building 20 entertainment centres, including one 100,000 square metre entertainment complex in Riyadh.
Bill Ernest, CEO of SEVEN, unveiled the company's game-changing plans for Saudi's entertainment and leisure sector, discussing the family-friendly entertainment destinations, 50 new cinemas, and $64 billion government investment.
Last year, AMC Entertainment opened the first commercial cinema to operate in Saudi Arabia in 35 years.
What next for cinema evolution?
In the near future, cinemas might also look to high-tech cinematic presentation to deliver a hyper-real experience. Ang Lee and his team went the whole hog during a 2016 world tour of Billy Lynn's Long Halftime Walk, which included 3D at 120 frames per second (per eye), 4k resolution, 6P laser illumination, 28 foot-lamberts (per eye) with a high dynamic range version too.
Another vibe that filmmakers and cinemas might explore is interactivity. Netflix and Black Mirror have already released choose-your-own-ending stories with the lacklustre Bandersnatch. So, it's only a matter of time before cinemas jump on the bandwagon. Will they start offering repeatable movie experiences with different endings?
And what about cinema and esports crossovers? The second Hollywood Esports MX4D Theatre will open soon at the Theatre Box cinema complex in San Diego, California. Theatre Box can also convert an auditorium between cinema mode to esports mode in under an hour.
So we'll look forward to seeing you soon down the local esports/cinema. Relax into luxury, motion-based seats while drinking champagne and enjoying ultra-realistic films with multiple endings.