by Charlotte Coates & Scott Diel
Puy du Fou, twice voted the World's Best Theme Park, chose Ultra-Wideband (UWB) locating technology from Eliko, a leading real-time location technology (RTLS) provider, to enable the production of its newest immersive show, Le Premier Royaume.
Since 1978, France's Puy du Fou theme park has dramatized history through live historical tales on a massive scale. Its innovative experience for theatre goers, which has been called "the eighth art", is an immersive combination of cinema and live theatre.
Ranked number one in Europe and number two worldwide on Trip Advisor, the theme park receives over two million visitors per year. In fact, it is second in France only to Disneyland Paris. Puy du Fou has been voted World's Best Park by its industry peers on two occasions and its shows have also collected accolades for technical innovation.
Tech to keep pace with imagination
In 2019, Puy du Fou launched its newest immersive show, Le Premier Royaume (The First Kingdom). This is a dreamlike, fantastic experience that follows Clovis, King of the Franks, through 14 worlds. The show cycles continually for seven hours per day. It uses 14 different sets that occupy 2,200 square meters of space.
During the experience, five hundred theatre goers move through the sets, as 8 actors execute perfectly timed entrances and exits. This is supported by lights, sound, and special effects. However, the production, despite its 13-million euro budget, was initially challenged to find a technology that could keep pace with the imagination of its creators.
RFID limitations
Puy du Fou relies on technology in its productions to sense the exact location of an actor and activate microphones, as well as sound and lighting effects, at the precise moment required.
"In the beginning, we used RFID technology, but it was problematic," says Martin de Gaillard, who is responsible for automation and IT for Le Premier Royaume.
This is because the measurements generated by the RFID technology were only approximate:
"Sometimes they were totally wrong," says de Gaillard. "The system would say the actor was one meter from the microphone and then it would say five meters. The distance caused delays, and the public might notice a long lag. For instance, an actor's lips moving but not producing sound."
Microphones also needed to be "smart" and know when an actor is present. "Sometimes the microphone would come on when the actor entered the stage, but the lag required delaying the shut-off," adds de Gaillard. "That could mean the actor exited the stage and the public heard something said offstage that they're not supposed to hear."
De Gaillard and his team soon reached the limits of active RFID technology. Initially, they addressed the problem by tweaking the software. However, they were still not satisfied:
"The RFID simply gave us wrong measurements. And we wanted the best when it comes to accuracy and flexibility."
The right solution
This was not Puy du Fou's first immersive production. Previously, the use of cameras had proved a solution to the inaccuracies of RFID. But de Gaillard knew the small rooms used in Le Premier Royaume, as well as the lack of line of sight, would make camera use complicated:
"We are in a two-storey building, with different shaped rooms filled with stage decors. These are made of concrete, steel, wood, etc."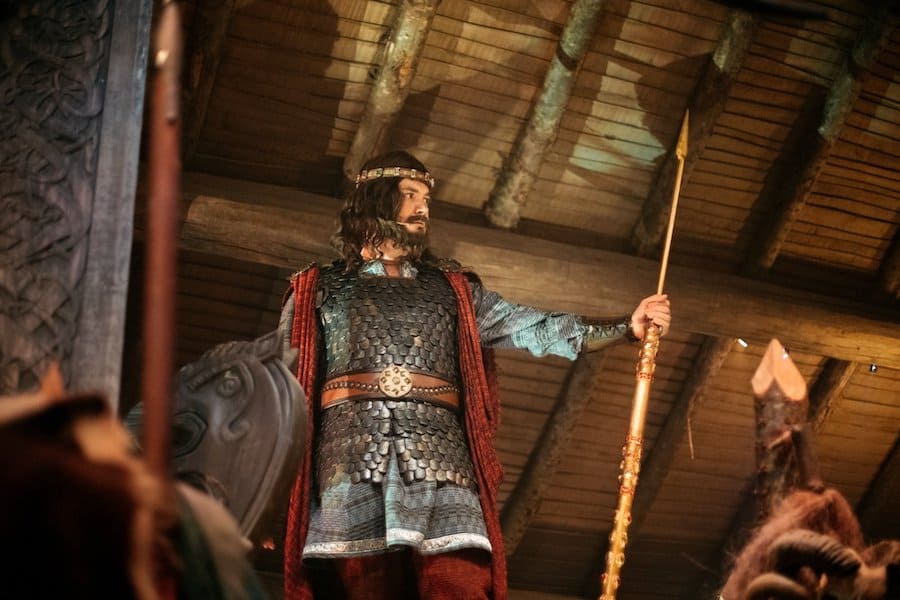 He considered Bluetooth, too, but it was also not precise enough. So, he began a search, finally concluding that an ultra-wideband real-time locating system (UWB RTLS) was the solution.
What is UWB technology?
Ultra-Wideband is the next generation of radio technology. Just like Bluetooth and Wi-Fi, ultra-wideband (UWB) is a short-range, wireless communication protocol that operates through radio waves. Simply put, UWB can do more, more precisely, more reliably, and under a greater variety of conditions. Compared to its counterparts, it is currently the most precise technology for establishing locations indoors.
Eliko has been providing reliable location data to a range of industrial companies since 2014. Now, the attractions sector is also discovering the benefits of using its state-of-the-art RTLS solutions, powered by Ultra-Wideband (UWB) indoor positioning technology.
Unlike similar solutions, such as RFID, this type of wireless technology can both position and track objects in real-time. This is because it simultaneously transmits data using extremely short pulses across a wide band of frequencies. This means that users will enjoy extremely precise location data. Eliko's UWB indoor positioning systems can achieve a tracking accuracy to within 3 centimetres and can handle both 2D and 3D data.
UWB technology also works in non-line-of-sight conditions where the use of cameras to track location is not possible. This means that the signal is capable of penetrating wood, concrete and other materials. In addition, as it operates at very high frequencies, it has no interference issues with other radio waves.
Eliko's UWB RTLS system can track hundreds of objects in real-time. The solution is easily scalable, with an intuitive user interface.
This technology is proving to be an ideal way for theme parks and other entertainment providers to automate audio and light systems for live shows, based on the real-time location of a performer, as Puy du Fou discovered.
UWB RTLS technology in action at Puy du Fou
Six months into the production of Le Premier Royaume, de Gaillard's team at Puy du Fou replaced the RFID technology with UWB RTLS. They incorporated the antennae for the location-tracking system into the pre-existing stage environment in such a way as to be unseen by the audience.
The antennae are reference devices, which Eliko refers to as anchors. The anchors are placed around the tracking area to gather positioning data and create a positioning radio network. These communicate with the tags, which are small mobile devices attached to the objects or people that the user wants to track.
In this case, once the system was set up, all the actors needed to do was to each carry a tag, which they could easily place in their pocket. The tags communicate with the anchors to determine the actor's precise location on the set.
The result was that the show's actors were now placed within a few centimetres of their actual locations. And, because Eliko's UWB RTLS also works in non-line-of-sight conditions, it is reliable in an environment such as this, with wood and concrete used in set construction.
Why Eliko?
Working with an established leader in UWB RTLS meant that Puy du Fou could get the solution up and running quickly:
"Eliko's system was easy to understand," says de Gaillard. "Autonomy is very important to us. With Eliko things worked exactly like the manual said they would. It's easy to put an anchor on the map and find the actor.
"Yes, there are other solutions out there. However, we felt they might take too much time and money to adopt and test, which meant extra risk for us. We wanted to move forward fast. Eliko seemed to be a good option and meet our technical needs. So we tested it for several weeks under real conditions and we were satisfied with it. We had good support from Eliko's team and they assisted us well to set up the system, including the anchors."
With Eliko things worked exactly like the manual said they would. It's easy to put an anchor on the map and find the actor
Eliko provided the Puy du Fou team with advice and remote assistance support. Thanks to this, the park was able to continue setting the system up even with the disruption caused by the global pandemic. Part of the service included helping Puy du Fou determine the optimal radio network layout so that the infrastructure was installed in the best possible way. Eliko designs the infrastructure anchor count for each of its client's specific needs.
Full automation without delay
The technology worked so well that Le Premier Royaume does not need a technician present during the show:
"The technician comes in the morning and turns on the system," says de Gaillard, "and then it works automatically."
But there was one lag in production that no technology could solve. That was the park's closure due to the pandemic. Finally, on 10 June 2021, the park reopened, something Martin de Gaillard and his team had waited a long time for.
Since their system is capable of 3D tracking, they will soon put that feature to use. They also plan to put UWB technology to use in all Puy du Fou's immersive shows in the future. In addition, the team will roll it out to their standard stages, where it can better trigger light, video, sound, and special effects.
"UWB offers many possibilities for entertainment," says de Gaillard in conclusion. "Knowing an actor's precise location means everything is triggered at the right time. It's easier for the actors because they can focus on acting and not technology."
UWB technology has a range of applications for attractions
In addition to Puy du Fou, Eliko's clients in the attractions and entertainment industry include The Curtis R. Priem Experimental Media and Performing Arts Center in New York, the M9 Museum in Italy, and more.
As the attractions sector works to recover from the impacts of COVID-19, there are many other reasons why operators should consider UWB RTLS technology. For instance, tracking visitors in real-time could improve safety, helping attractions to maintain social distancing. Plus, this precise indoor positioning solution is also ideal for wayfinding, queue management and much more.
In fact, the possibilities for theme parks, museums, zoos, FECs and more are endless, as Indrek Ruiso, CEO at Eliko, explains:
"In museums, we have seen that UWB tracking can help to analyse the visitor experience. Also, after the pandemic, one museum has used this technology to offer a safer museum visit. This is because the technology is beneficial for social distancing and contact tracing."
A low latency solution
"Besides the high accuracy and robustness, the latency of UWB RTLS is low," adds Ruiso. "And that's another reason why the entertainment industry is beginning to adopt UWB RTLS because then there are no delays for the audience. You can't have a live show with delays.
"With Bluetooth, the latency can be three seconds, and that's not enough for live shows. But Ultra-Wideband latency is around ten milliseconds. So it is a useful solution for live performances, where every second matters."
Ultra-Wideband latency is around ten milliseconds. So it is a useful solution for live performances, where every second matters.
"For these clients, it is valuable to be able to precisely track their actors in order to automate their systems. Other technologies have proved to be not that reliable. For example, we had a customer in New York who needed to accurately track actors. He said that the infrared systems, which are widely used in such applications, don't work well in darkness. Whereas he found that UWB solved their problem."
Eliko looks to the future
Eliko is an Estonian embedded electronics company that was first founded in 2004. It has been working on its cutting-edge UWB positioning systems since 2014. These are built on a chipset developed by Decawave, the leading industrial UWB chip provider, which was recently acquired by Qorvo. "The secret behind our outstanding precision relies in our hardware and ranging software, both designed and optimised in-house," said Ruiso.
The company works with innovation leaders in a wide range of different sectors and Eliko UWB RTLS now has over 150 customers worldwide, including in Europe, Australia, the US, Canada, Chile and Mexico. It has been a member of the global UWB Alliance since its start, working to create reliable systems based on the latest domain knowledge.
Looking ahead, Ruiso says:
"We have another museum project in the pipeline, where they will be benefiting from this UWB technology. But what is exciting for us is that the use of this technology is endless. Our customers are so creative, and they see cases where they would like to use the technology to solve their problem.
"UWB has so many different applications. We're always looking for new exciting partnerships. Because it's not just about what technology can do, it's about what people can do with emerging technologies.
"Imagine what you want to do and together, in close cooperation, it is possible to solve all sorts of challenges and make your vision come true. As well as new technological developments, it is collaboration and cooperation that leads us forward."
Eliko's research is supported by the European Regional Development Fund.