Panasonic Business, a leading audiovisual technology provider, presents its latest range of 3-Chip DLP laser projectors, ideal for immersive location-based entertainment.
Panasonic is pleased to announce that its new PT-RQ35K projector series, the world's smallest and lightest 30,500 lumen 3-Chip DLP projector, is available from December. With its rich, immersive colour and ease of installation, this new range is a perfect choice for the location-based entertainment industry.
The PT-RQ35K (4K) and PT-RZ34K (WUXGA) can be used in museums, exhibitions, theme parks and events, as well as being a good choice for projection mapping projects. The reliable products also feature Quiet Mode (46dB) so they can also be used for conferences and in auditoriums.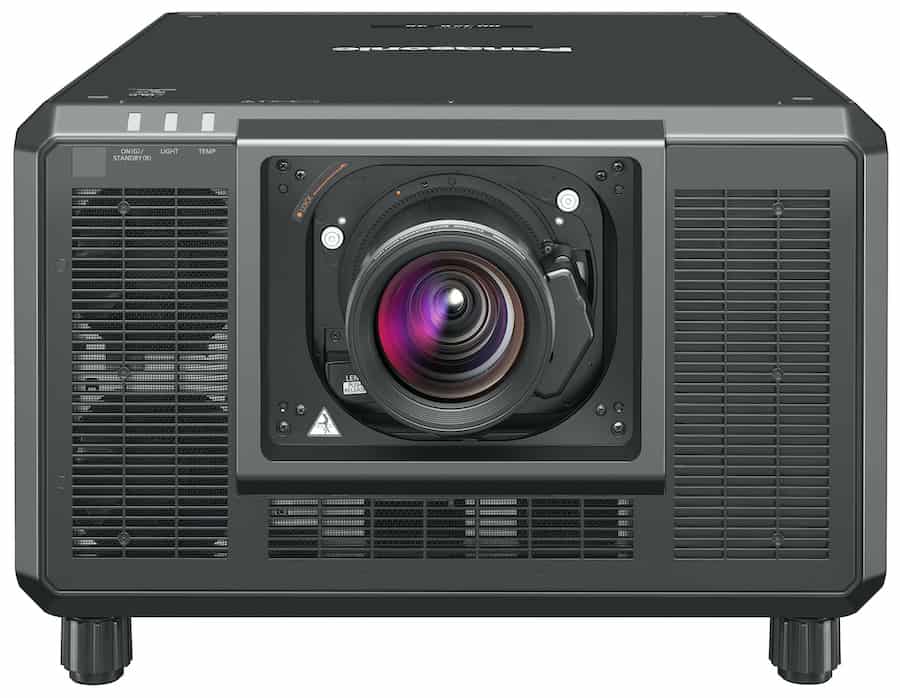 Immersive digital experiences
"With consumer behaviour changing, location-based entertainment (LBE) brands and destinations will need to compete with bigger and more stunning attractions to bring visitors back into venues," says Hartmut Kulessa, European Marketing Manager at Panasonic Business.
"Immersive digital experiences will play a huge part in this transition. With its spellbinding picture quality and expanded colour gamut, compact body and simplified workflow, the PT-RQ35K Series is the ideal projector for creating the enhanced in-person experiences that LBE venues need."
The new range includes 30,500lm exceptional brightness, 4K resolution with Quad Pixel Drive and an all-new laser engine to create immersive images. Panasonic is the only supplier to use 2-Axis Pixel-Shifting technology for clear and detailed images (3840 x 2400 pixels; 4K/16:10).
The cutting-edge laser engine with red and blue lasers expands the colour gamut to 114% of its predecessor, the RQ32K projector. It includes optimised blue-laser wavelengths and Dynamic Digital Control to regulate red laser output and cooling for consistent image quality. Plus, the Multiple Laser modules come with Panasonic's Failover Circuitry. This means that if a single laser diode fails, projection continues uninterrupted without a noticeable loss in brightness.
Light and reliable
In addition to these features, the RQ35K series is also the world's smallest and lightest projector of its kind. It is 40% smaller than the previous model and can be easily transported, stacked and installed.
The range features Smart Projector Control, using NFC, which means that the user can prepare for set-up through an app on their mobile phone without plugging in the projector. It also includes Remote Preview, allowing users to check for signal image and content through a web browser or app with the projector still in standby.
With the new Gradation Smoother function, operators can choose between three levels of image correction to counteract colour banding or can disable the function when it's not necessary. Furthermore, the high visibility Information Monitor makes set-up and operation easy, displaying errors in real-time. The RQ35K series also comes with optional Geometry Manager Pro software pre-installed.
Panasonic's latest projector range delivers 20,000 hours of maintenance-free operation as a result of its filterless design and premium optical parts, such as the hermetically sealed DMD block and shielded laser drive. In addition, the Backup Input allows for continuous picture display by automatically switching between signals in as little as 0.3 seconds if the signal is interrupted.
The series is also compatible with Panasonic's line-up of 18 lenses for its 3-Chip DLP projectors, including a Fisheye Lens for dome projection and the new Ultra-Short-Throw Lens (0.370:1, WUXGA) and Short-Throw Zoom Lens (0.645–0.850:1, WUXGA) with zero offset.
Following the COVID-19 pandemic, Panasonic provided its PTZ camera system to Liverpool Metropolitan Cathedral, allowing it to live stream Sunday Mass to over 5000 people.