He has Universal in his blood, having worked with the company for 23 years across every show at the park (excluding stunts); from performer to writer, to his role now as Senior Director for Entertainment Creative Development.
Here, Blooloop talks to Aiello, the man in charge of creating the new nighttime show Cinematic Celebration as well as scaring thousands of guests at the annual Universal blockbuster, Halloween Horror Nights (HHN) event.
Mike Aiello began his career at Universal as a skipper on the Jaws ride, killing the animatronic shark approximately 90 times a day. Soon after, he was a tour guide at Nickelodeon Studios. He then went on to singing, dancing and playing harmonica as a Blues Brother.
"I kept getting a lot of people telling me that I looked like Dan Aykroyd so I auditioned", he says.
From Jaws to
Harry Potter
Aiello worked on various shows. He had his first encounter with Horror Nights as a performer in a maze called Hotel Hell in '97, jumping repeatedly out of a washing machine to scare guests. "It was addictive to scare people like that", he says. Later he performed in the chainsaw scare squad and even was Captain of the Frightanic, a Titanic-themed house with water crashing onto the windows, a titling floor and Aiello screaming Celine Dion in full make-up.
Soon, Aiello started submitting scripts for the shows. In 2002, he was brought in to help punch up jokes for Bill and Ted's Excellent Halloween Adventure. The next year he was given the entire show to write. After 4 years of doing Bill and Ted, he was hired as a Show Writer and pseudo-Creative Director in 2005. He wrote all the mazes for HHN, Bill and Ted, and then with the arrival of Harry Potter, he wrote the shows for the Wizarding World. He is now in charge of all shows and entertainment at the resort.
HHN28: 10 houses, 5 scare zones, 34 nights
"For HHN it's about making people scream and run, but then I get to do Harry Potter which is uplifting and magical, and then the nighttime shows which are awe-inspiring. For me it's one of the best gigs, as I'm able to put my hands on a lot of different types of things", he says.
Halloween Horror Nights is an enormous event at the park, this year with 10 houses (the most they have ever done), 5 scare zones, held over 34 nights. The event is running from 14th September to 3rd November.
The park has a vast team in-house for make-up, décor and costuming of characters into all sorts of
nightmares, as well as a huge warehouse to store 28 years worth of props and smaller set pieces.
This year for HHN 28, an assortment of big brand houses are scaring guests amongst some of Universal's own content. Chucky is back, this time as a interactive puppet. He has possessed PlayPal toys again, where warped baby dolls, and a man inspired by the game 'Operation' will be walking around amongst other toy amalgamations.
Killer Klowns, Stranger Nights and a new demographic
A big win for Aiello is to have the cult favourite Killer Klowns from Outer Space at the event.
"I saw it on HBO every night growing up. I loved it – it was ridiculous!", he says.
Directed by the Chiodo Brothers who had a love of mechanical effects and puppetry, the film had monster-like clowns terrorising the neighbourhood. Whilst relatively unknown, the movie has a 75% rating on Rotten Tomatoes. In addition to clowns, Sam and other characters from the indie horror film Trick 'r Treat will also be at the event as well as the Steven Spielberg classic Poltergeist. The final house to be announced was the Universal Monsters maze bringing the classic monsters of Dracula, Frankenstein and more to life.
These IP houses are joined by the hugely popular Stranger Things, the first time Netflix has been involved in HHN. Guests will experience iconic moments of the series. They can also expect to see the living room fairylights, laboratory, and come face to face (does it have a face?) with the Demogorgon.
"We really talked to Netflix about what our visions were for the maze; how careful we wanted to be for environments we chose, how we wanted to treat the Demogorgon", says Aiello.
"We want to translate films and tv in the most authentic way possible. That level of attention to detail is what sets our event apart".
A new Renaissance in Horror
Streaming services are opening up new channels of content for Aiello to play with. Big name brands like Stranger Things are attracting new people to the park. These are those who have never gone to a haunt event before but want to be immersed in their favourite show.
Aiello notes shows like Stranger Things, American Horror Story, Walking Dead, are attracting cross-demographic audiences, meaning horror is attracting more people than ever before.
"Horror is going through a renaissance right now. People are saying I want to watch films like the Quiet Place or Get Out as the story is interesting. It doesn't matter if it's a horror or not", he says.
"Horror isn't about blood and gore. It's about the bravery of enduring something that you know is going to be scary. People want to overcome."
Brands for Halloween Horror Nights
Some of the biggest brands in horror are part of the event; however just having the brand doesn't make a successful house. They can come with unexpected challenges. Aiello recounts their recent Exorcist maze in 2016.
"Exorcist was a white whale for us. We had wanted it for a long time and the channel finally opened up. Warner Bros were great to work with us, we got the green light. I'll never forget we are sitting around the table and it hits us……. It ALL happens in one room! How are we going to do this?", says Aiello.
"It was two weeks of breaking the film down to try and tell the story so you saw the room in different forms. However, it is also taking a more abstract approach into the possession, so keeping the tension in the transition spaces. It was a challenge".
A (blood) elevator pitch
Similarly testing can be the locations of the story especially within the space constraints of a haunted house. Aiello had the tricky task of replicating the Shining's vast hotel lobby. He also had to (spoiler alert) re-create the blood elevator moment authentically. "We said we'll just do a projection, we have a wall surface, we can create in CG to show depth. We went down that path for a month but in my gut it just didn't feel right. It feels too easy", he says.
"We ended up doing a forced perspective miniature of the blood elevator, with massive water cannons out the elevator door and sides to fill the space. It was completely enclosed".
Popularity of the unique mazes
Universal also creates their own content and storylines for the event. "We use the unique content mazes to fill in the gaps of the branded mazes. If the brands are the 'treats' of the event, these are the tricks", says Aiello.
For the last two years, own-brand IP mazes have outperformed heavyweight brands. This year all the mazes have a 80's flavour. "We knew we had Stranger Things, which is deeply rooted in the 80s. The show is successful because of the era they set it in. And also how they are able to pull a lot of nostalgic reference into the show", says Aiello.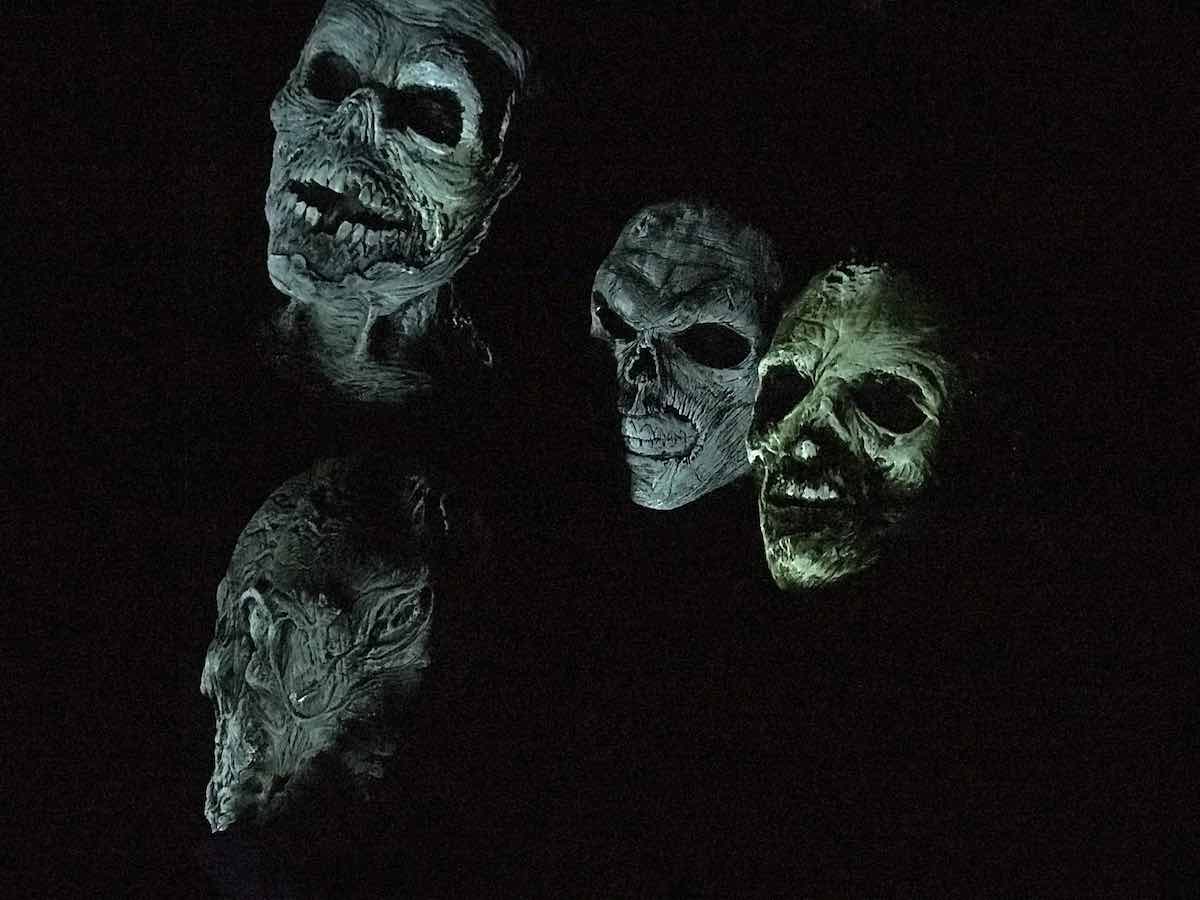 "We thought if we can, let's use the brand and some of our original ideas to populate the event with textures of the 80's without it seeming overbearing", he says.
Original mazes this year include Slaughter Cinema, themed on 80's B-movie monsters; The Harvest, a haunted barn house; Carnival Graveyard: Rust in Pieces, complete with scary clowns and amusement-themed weapons; Dead Exposure: Patient Zero, a pitch-black house with UV strobes revealing Zombies in Paris in 1982; and the Academy of Villains dance troop.
A people omni-mover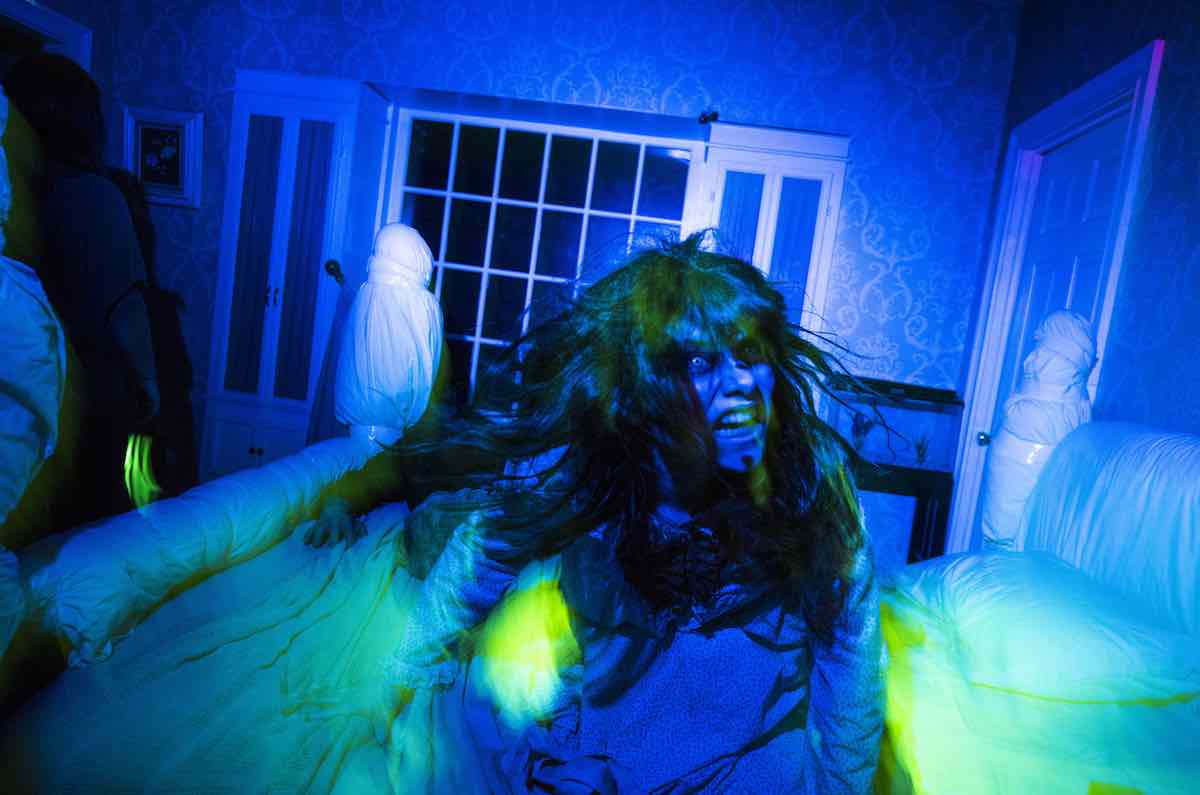 So how does Universal know what will hit right with the audience?
"We do surveys on what resonates with the guests. We used to do fear panels, asking people what they are scared of, but everyone said the same thing; drowning, spiders, heights and clowns. Also, a high percentage of people are scared of serial killers and dolls".
The houses are designed with blind corners. This is to keep up the tension throughout the house for the thousands of guests that experience the maze in one night. The fans call it a 'congoline' mentality according to Aiello but he likes to think of it as a dark ride. "Every person is a ride vehicle, like Haunted Mansion's omnimover", he says. "You never see the full scare around the corner ahead of you".
Scaring going global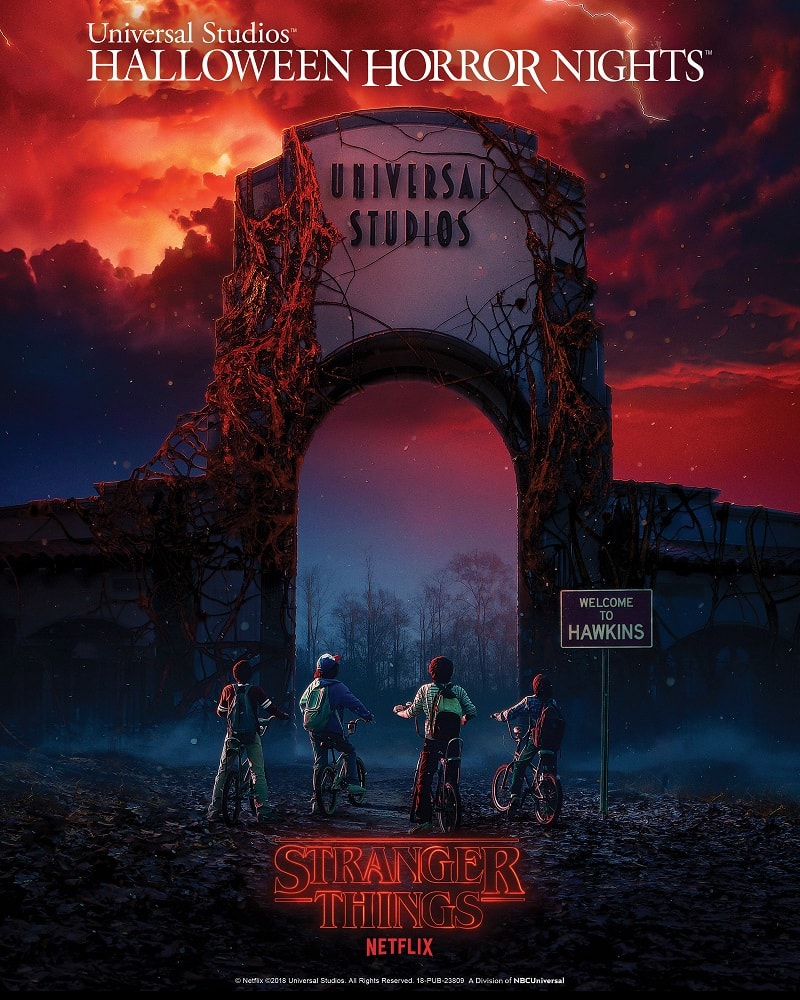 HHN is a big deal at all Universal Parks around the world. Stranger Things will be at Singapore and Hollywood this year in addition to Orlando, the first time that a house is at 3 parks at the same time. Aiello has a reciprocal relationship with Jon Murdy, Creative Director at Universal Studios Hollywood, meaning mazes often make it to both coasts.
"He does a maze that is really successful; we will say let's bring it here and vice versa. American Werewolf in London is an example of that; we did it first, it was the number one maze that year, so Murdy did it the next year", he says.
Guests don't scare the same around the world according to Aiello. Japanese guests go around the event in mobs. "They scare like a pulsating group in a fluid motion like a school of fish", he says. "It's interesting as at the event in Japan, the demographic is primarily female. It's almost a release for them to scream and yell". As the parks' attendance is large, the event is primarily focused on the street programme to entertain the masses. This is in part because the event is included in general admission.
A jaw-dropping experience
As the event is an annual programme, Aiello admits they are lucky there will always be another event to improve the offering for next year. He references An American Werewolf in London as a learning experience where the puppets would malfunction constantly.
"There was a whole team devoted just to them – every hour we would get a radio call saying "the wolf's jaw fell off", we'd have to run out and fix it", he says. "When we did it a second time, we said ok, what are the successes, let's forget them. What can we improve on and we bring it all into a new design".
Being able to adapt the live entertainment is something that Aiello says separates the event from a ride attraction. "It is still theatre, it's still organic, it's still malleable at all times. In a maze, there are scares we don't even know work until we put guests through. There is no computer model that we can use to predict what will work. All we can do is design the maze based on learnings from our past, and scenarios in the hope that it will be a great scare", he says.
"About 90% of the scares hit exactly as you hope they will. About 10% don't. Night one we are out there and immediately identifying areas that could work better and then working to figure it out".
The bittersweet tear down and future of HHN
After over a year of planning each event, and over a month of Horror Nights, the mazes are torn down. Aiello admits it is bittersweet. "We only keep about 10% of the maze. Larger scenic pieces we can break down, and larger items like doors, and windows – they are very expensive! Most scenic goes go every year", he says.
Fans should also keep an eye on Williams of Hollywood Prop Shop about 2 weeks after the last event night. Props will start appearing in the shop unannounced, so fans can buy a piece of HHN history to take home.
Aiello has already started planning HHN 29, and started to look ahead at the 30th Celebration. With technology improving and virtual reality becoming an increasing trend in the attractions industry, Aiello feels it doesn't have a place at HHN fully – yet.
"Two years ago we did a VR upsell ticket. However, it's always going to be a challenge creating a ticket package that is such a high price for a small audience", he says.
Real horror
"People enjoy haunted attractions because it is real. VR/AR is great technology, but I still haven't found a scenario where I forget I'm in the virtual realm. Companies like the VOID are doing some amazing stuff, but the tech will be a challenge until the standard is as high as the actual house".
Aiello admits he would love a Doctor Who themed haunted house; although he isn't sure America is ready for it yet. Universal's new studio, Dark Universe, was created to give new life to classic Universal monsters living in the same realm; think the Avengers but in horror. However the project seems to have been put on hold since the disappointing release of The Mummy, the first in the series. There is little known about the project's future. HHN has announced a Universal Monsters house this year. However, the new film universe could be prime content for Aiello to bring to HHN year after year.
"I'm waiting to see. I'm a huge fan of the classics, Frankenstein and Halloween are my two favourite horrors of all time. I just want it to succeed", says Aiello.
Cinematic Celebration and dancing minions
Mike Aiello wears many hats. In addition to HHN, his team have just finished the new nighttime show 'Universal Orlando's Cinematic Celebration'.
The show is an upgrade on a previous night time event 'Cinematic Spectacular' which focused on 100 Years of movies by Universal Pictures. Hurricane Irma destroyed much of the old show and the time was right to give it new life (it was six years after the centennial celebration anyway).
The new show also pays tribute to the characters and stories seen in the park itself. This includes for the first time Harry Potter has left the Wizarding World. The brief from Universal was to give the 'true kiss goodnight' to guests after a day in the park.
A new level of depth
The first decision was to use only half the lagoon and create a dedicated show area for 6,500 people in an under-utilised part of the park, Central Park. As a result, all guests can see the show face on and Aiello's team could design it from one perfect vantage point.
The show has just under 130 fountains of all various types and heights. It also has 5 water screens spanning 370 feet end-to-end, and two screens in the foreground to give a new level of depth and layers to the show. All these in front of the projection mapping on the New York facade and pyrotechnics off the roof.
"The prior show was very montage heavy- a lot of content at a quick pace. We wanted guests to spend time with these characters", says Aiello.
"I
t's a different feeling out there than we have ever had before."
The team needed to consider what characters looked good on the water (who knew Transformers were so fiddly). Also in the show are Jurassic World, the Fast and the Furious, and a host of children's characters. Even Aiello's childhood favourite (and oldest attraction at the park) E.T makes an appearance.
"There is nothing more beautiful than seeing that moon with that bike going across on the fountain. It's an absolute dream", he says.
Aiello is proud of the latest show. "It is the largest and best night time show this park has ever had. I think it really competes with the other nighttime shows that exist in our area", he says.
"For the first time we really capitalise that this is Universal Orlando – this is what we offer. We've got Trolls dancing, Minions running amok on the water, How to Train Your Dragon and Kung Fu Panda; again some brands that are really more family-oriented. Kids were going crazy, parents dancing with their kids; it's a different feeling out there than we have ever had before".
Mike Aiello on the future – A HHN water show?
With Universal adding more and more attractions, including the announced Nintendo World, and rumoured third gate, Aiello has segmented the show so they can use the 'toybox' of the lagoon to improve and tweak the show for guests in future years. Potentially even using it for HHN, which they have done in the past.
Mike Aiello continues to work on any new show offering at the park, although seems humble about his unique role.
"If you'd have told me 23 years ago, when I was that skipper on the Jaws Boat, that I would have the Duffer Brothers on speed dial, I would have thought you were absolutely insane. I am just a fan like everyone else, who happened to get a cool job that allows me to give the fans the things that I would want to see too", he says.
Aiello also attributes the success of the mazes to his extensive team. "You need the people around you to be able to fill in the gaps that you don't possess. At Universal, people create because they love it, never because they have to".
All images courtesy of Universal Orlando Resort and Mike Aiello.