I had the pleasure of experiencing the IAAPA trade show floor for two days recently to check out the latest and greatest creations the industry had to offer.
By Lance Hart, Screamscape.
Other than making a brief stop at the 2017 IAAPA show for about 3 or 4 hours, it has been a good 8 years since I last attended the IAAPA trade show in person. As a result, there was lots of ground to cover and plenty to see.
It was obvious that some new trends had settled in since my last show. Nearly a decade ago there seemed to be more of a push to create new flat rides and new interactive attraction systems. There was also an early drive to create new and different flying theater experiences.
This year there seemed to be less of a push to create new traditional ride experiences. However, there was a bigger focus on new technologies to create more immersive experiences. There was also a move to create VR style attractions, both stand-alone and as an add-on to park rides. In addition, many new businesses were selling "escape" game experiences. While the Flying Theater technology was still there, it has been refined to a new art. This also marked another trend I noticed, new refinements in development everywhere to improve existing concepts.
New concepts and systems
The IAAPA Attractions Expo is always full of great new products and the announcements of some beautiful new attractions, so much so that it would be nearly impossible to mention them all. So I will highlight a few items that really caught my eye. The things I find myself still thinking about even a week later as projects to keep an eye on.
One such item that is always special to me are the new dark ride concepts and vehicle systems on display.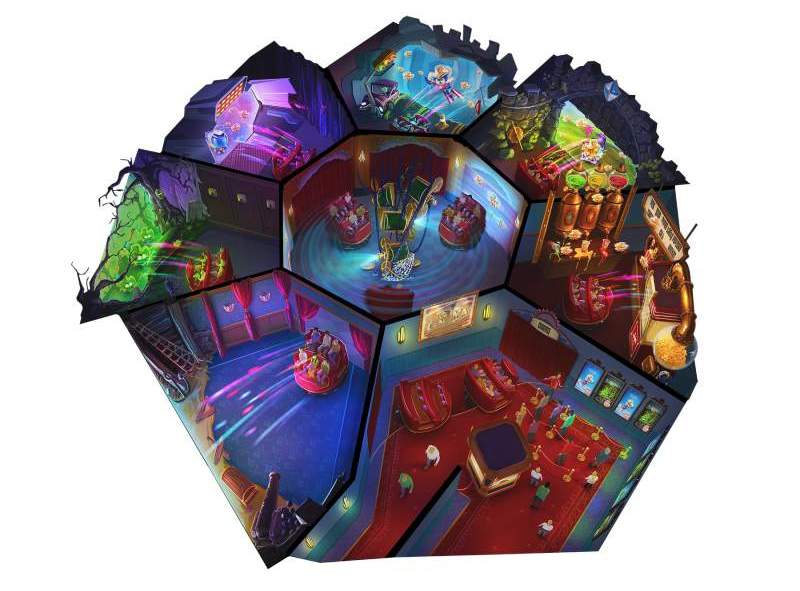 On the small scale side of things, I love the idea of the new compact Erratic Ride experience from Alterface and ETF Ride Systems (pictured). This allows for a full size dark ride experience to be added in a very compact footprint. The system allows trackless vehicles to traverse through media based scenes in a non-linear order. The combination allows for nearly unlimited ride concepts to come to life. It can also offer skill based experiences, alternate endings, and more.
A new breed of roller-coasters
Another concept that caught my eye was the "World's First Robotic Coaster" opening at a new Wanda Park in Guangzhou, China in 2019. The concept (from Premier Rides) will mount a ride vehicle attached to a Kuka robotic arm onto a coaster track to create an experience like no other.
Then on the high end of things we have the latest concept from Dynamic Attractions, the Dual Power Coaster. This amazing ride system could be used for both indoor and outdoor applications. It allows for a unique and themed vehicle to be powered by its own wheels or through an unseen coaster track system below the roadway.
The vehicles are on a motion base and are able to bounce, tilt, and spin. They can simulate, among other things, driving on two wheels, drifting through turns and jumping over objects. This is all at variable speeds. It can also handle inversions. If that wasn't enough, you can place two of these side-by-side to create a dueling race themed attraction experience.
"Racing" rides at the IAAPA Attractions Expo 2018
On the subject of "racing" rides, I have to mention the new Spike Coaster concept from Maurer Rides. It is something they've been working on for a time, with a prototype built at Skyline Park in Germany since 2017. But it's the refinement of the system they are building now in Italy at Mirabilandia as the showcase attraction for the new Ducati World that has really caught my eye.
The ride features wo dueling Spike Coaster tracks with riders sitting on powered vehicles themed as futuristic Ducati racing bikes. These are outfitted with a working throttle, an LED dashboard, lights and onboard audio which together create an immersive racing experience for the rider. Maurer had a demo vehicle at the IAAPA trade show. You could actually sit on it and it wasvery comfortable. Furthermore, upon grabbing the handlebars I flashed back to my youth, back when I used to ride motorcycles myself.
Approved by Ducati
The feel of the bike and posture while at the controls were simply spot-on. No wonder, as Maurer told me that Ducati themselves have given advice and approval on the design. They even provided the actual front molded piece of the vehicles straight from the factory floor. I'm no Ducati expert, but they look like Panigale V4 series to me.
Maurer told me they had deals in place to build up to six more Spike Coaster rides over the next several years, but all outside the North American market. That said, they also claimed to have gotten a lot of interest from American park owners. These operators are anxiously waiting for the Mirabilandia ride to open this Spring so tjey can try out the finished product themselves.
This ride system really has the potential to stand out in a number of locations. It will do so without trying to be the biggest or fastest in the world, but by being a unique draw. It has a great look and the ability to offer a fun and very re-rideable experience. Guests will ride it repeatedly in order to race their friends. Plus the very open vehicles provide easy access for photos to be taken of the riders. This is important as social media exposure can really make a difference.
VR, VR, and more VR
Lastly, I wanted to mention the overall scope of VR at IAAPA. It seems that everywhere you looked, if a booth wasn't offering a VR or AR attraction, they had an option to add it to an existing attraction. No matter if it needs it or not. While there was a push a few years ago to try to add VR enhancement to existing rides in parks, my belief is that there has also been a significant push-back against the concept from guests.
A case in point was the addition of VR on the Kraken coaster at SeaWorld Orlando. This was heavily marketed, only to be dropped entirely the following year. Six Flags has also rolled out similar VR enhancements only to pull back as well. It is now rolling it out more successfully as a limited-time special event rather than a permanent modification. Overall I don't think the future of VR in theme parks is to be used as an "add-on" to existing experiences. However, I do think that there is a use for VR in parks. We just haven't quite figured it out yet.
For example, I've heard nothing but good things about The VOID and their use of the technology to transport guests in small groups into fictional words. They are able to bring the worlds of popular movies like Ghostbusters, Star Wars and now Wreck It Ralph to life. Unfortunately I have not had the chance to try those experiences myself. However, I did come across a particular use of VR that I really did find amazing at the Triotech booth.
Triotech had announced a new concept called "VR Maze" in 2017. This was launched with Ubisoft's Rabbid characters. The company has since taken the concept much further with their latest title, Assassin's Creed: The Temple of Abubis. The VR Maze systems puts the popular HTC Vive headgear and controllers to full use. They transport the player into a creepy Egyptian temple, armed with a virtual bow and flaming arrows.
Creeping around the tomb like structure I was quickly and completely immersed in the experience and world. Considering the entire adventure takes place inside a 120 square-foot compact space this was pretty amazing.
Along the way you find hidden treasures and rescue a fellow assassin. You also fight off the forces of an ancient evil with your bow. This leads up to a VR re-creation of an iconic moment from Ubisoft's game series. It's a leap of faith from the top of tall structure.
Upon taking off the headgear, I was amazed, energized and perhaps most importantly… I wanted more! To me that was the sure sign that I think Triotech was really on to something here. The concept is meant for small attractions. However, they do plan to develop the technology to allow for multiple players at once inside larger arenas. The technology could therefore become perfect for use as a walk-through attraction inside a theme park setting.
As for me, I can't wait to see what comes next!