Now Vice-President at Universal Parks & Resorts, Paul Osterhout is part of the team guiding the development of company's eagerly-anticipated resort in Beijing. Here, in his own words, he discusses everything from intellectual property to the challenges of working in China.
To IP or not to IP. That was the title of my presentation at SATE Europe 2017 about whether it's essential for theme park owners to go and buy someone else's intellectual property (IP). It's not. You can create your own. The most important thing is to have a great story. IPs have the advantage that they offer a known story, known characters, so you have an audience that has expectations before they get there. When you invent your own IP, you've got to create it yourself.
The benefits of working with established IPs

They offer multi-generational appeal, well loved by children, teens and adults and span multiple media formats: film, television, books, comics. It's a wonderfully active partnership. The best collaboration happens when the IP holder is engaged and excited to work with us. Especially when we have concepts where we need to take the characters and put them into situations that weren't in the original story. It's essential to have a partner that is engaged and willing to explore these different avenues.
Universal provided a fantastic example of creating original stories with Volcano Bay. This spectacular new waterpark at Universal Orlando is immersive storytelling at its very best. Guests can get into the story as much as they want, or just go and have fun in the water, relax, and enjoy their vacation. I think the story, attractions, and technology all work seamlessly together to really elevate the theme park experience. And the food is phenomenal!
Invisible technology at Volcano Bay
That's why we created TapuTapu. I think if you ask anybody what they would fix in a theme park, universally everybody would answer queues. If we can find ways for guests not to wait in line, that's got to be good. We are exploring different ways to address what we know is a big concern for many guests. With virtual queues, you can get so much more out of your day in the park because you're not spending half of it waiting in lines.
Just recently we opened Race Through New York Starring Jimmy Fallon in Orlando, and that's queue-less too. You go in there with a reservation and while you are waiting there are lots of fun, interactive things to do. When it's your time to ride, you just go straight in with your reservation.

Beijing will be a resort, not just a theme park
There will, of course, be a theme park, but also our first Universal branded hotel. Obviously we are in China, so we are going to make sure our Chinese visitors feel welcome and at home, but it will feel like a Universal theme park.
There's still a lot of work to do, but I can tell you that we will debut things there that we haven't done before at any of our parks anywhere else in the world. Everything is coming together nicely, we are very happy with the direction it is going and I can't wait to share it with everybody. I think we are still a ways away from any kind of announcement regarding the full program or opening date.
We have tested a lot of IPs in China
Both familiar Universal IPs as well as IPs we have never created attractions with before. If you look at the biggest movies in China, you will see that a lot of them are Western. We have done several rounds of consumer testing not only in Beijing but all around China to get a really good handle what the Chinese audience responds to.
We've got a great bunch of people in China
The biggest challenge has been the time difference. The design for Beijing has been done out of Orlando, and we're exactly 12 hours apart from Beijing. We have lots of early meetings and late meetings to get everyone in the same "room". We've grown our team on the project from five people to around 300 in Orlando and an equal number in Beijing.
Language is not really an issue. Obviously it takes extra time to translate things, and that slows things down a little, but we work it out in the end. But you know what? It's not a huge challenge, we have done parks overseas before.
Competition is good for everybody, right?
I love what Disney has done with Avatar in Florida and Guardians of the Galaxy in California. Growth is good for everyone. It's great for us as a creative industry, and great for the vendors. It pushes us to generate top-notch product that continues to raise the bar.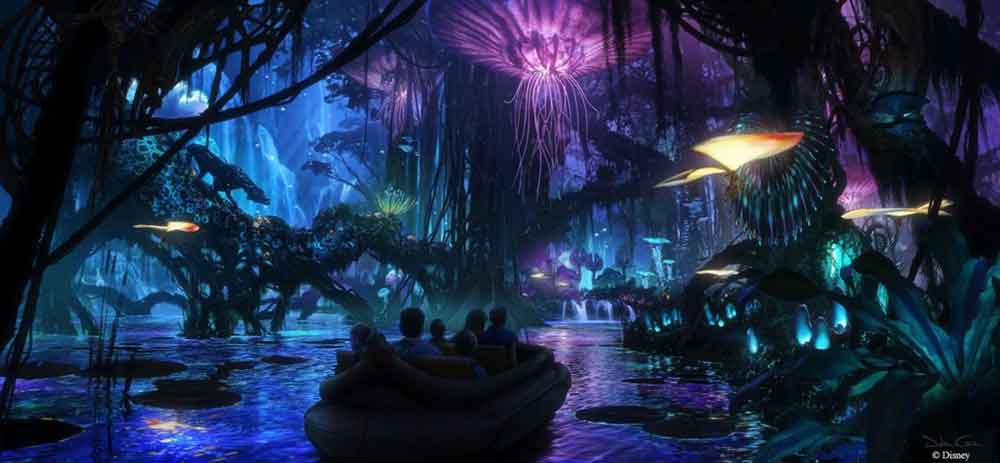 Universal Parks & Resorts is expanding aggressively, and I think that will be the case for the foreseeable future. We want to be the best at what we do. It's a really exciting time for Universal Creative with everything that's going on around the world, whether that's with Nintendo, DreamWorks, Fast and Furious, and so much more. We have an endless and growing supply of entertainment at our disposal. And now with Beijing, there are more opportunities than ever to create amazing experiences for our guests.
Paul Osterhout was educated at Lyman High School in Florida. He started his career as sculptor at Walt Disney Imagineering (WDI) in the 1980s. Paul served as a WDI Executive Producer and Vice-President of The Walt Disney Company. He was also Executive Producer of Disneyland Resort Paris, as well as working on projects at Tokyo Disneyland Resort. He joined Universal Parks & Resorts in 2013, initially to work on its resort project in Moscow, before moving to Orlando and taking up his current role with the company's upcoming resort in Beijing. Paul has also worked at Electronic Arts, Cinnabar and is a founder of Contour Entertainment.
All images courtesy Universal Parks, Avatar image courtesy Disney