Marvel-themed attraction Ant-Man and The Wasp: Nano Battle! has officially opened at Hong Kong Disneyland Resort (HKDL), with Ant-Man star Paul Rudd in attendance.
Ant-Man and The Wasp: Nano Battle! is a high-tech, high-energy attraction, for which HKDL collaborated with the original movie production team – including director Peyton Reed and composer Christophe Beck.
The attraction sees guests team up with Ant-Man and The Wasp as they shrink to the size of ants in order to battle Arnim Zola and his Swarmbot army.
It features various Ant-Man Easter eggs and details, including a sign designed for 'small' guests, which reads: "You must be taller than 1.27cm to ride."
It's the second Marvel-themed attraction to open at the park, following the Iron Man Experience, which opened last year.
HKDL Ambassador, Melody Leung, presented the first five Nano Battle guests with a special attraction poster, as well as a 'Mission Brief Booklet' signed by Paul Rudd, Peyton Reed and the Marvel team.
Sam Li, the first visitor to enjoy the ride, said: "I was the first one to experience the Iron Man Experience last time when it launched. I arrived at the Park at 8.30am this morning and wanted to be the first one to experience this new Marvel attraction again.
"Thanks HKDL for bringing Ant-Man and The Wasp to Hong Kong," added Sam.
Marvel Studios president, Kevin Feige, said: "I love it. It's amazing! I came to Hong Kong two years ago for the launch of the Iron Man Experience and now being here for Ant-Man and The Wasp: Nano Battle! The attraction is amazing and it's a dream come true."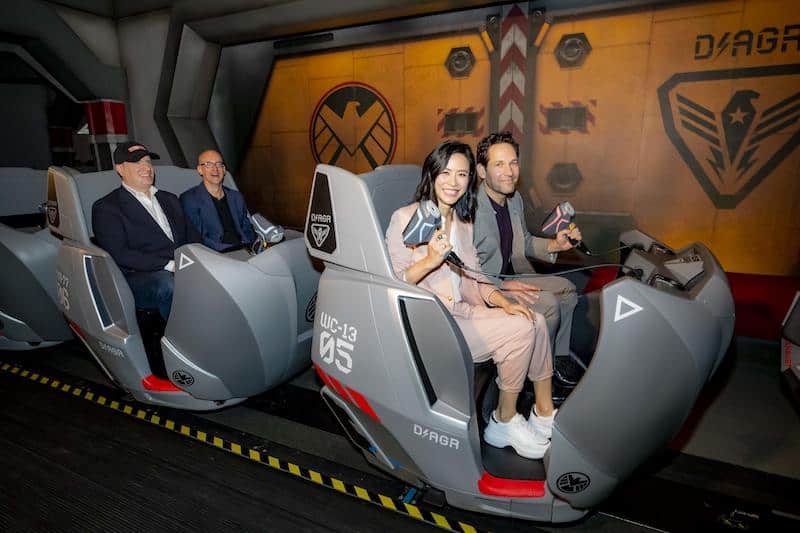 Paul Rudd added: "Ant-Man and The Wasp: Nano Battle! is a blast! I rode it four times, and I want to ride it 10 more times. I still can't believe I have a ride here. When you hit a target, my tip is to just keep shooting. You can hit it multiple times in a row."
"You become a part of the movie," said Peyton Reed. "The movie is great for audiences to sit and watch. But in this attraction, you are becoming a part of the adventure itself."
Mini newspapers to promote Nano Battle!
Marking the opening of its Ant-Man & The Wasp ride, Disneyland HK distributes teeny weeny newspapers https://t.co/eJyZueQwW2 pic.twitter.com/zAUaYieTXc

— MARKETING MAGAZINE (@MarketingEds) April 2, 2019
To announce the launch of Nano Battle, Hong Kong Disneyland worked with Mindshare to create a miniature edition of Hong Kong-based tabloid Sky Post.
The shrunken paper was available as an insert inside the full-sized edition, and featured a story about the ride.
Adding local flavour to the attraction
"It's so fun spotting all the subtle Marvel references whilst experiencing the ride," said Marvel fan Kitman Cheung. "I enjoyed the local references found in the attraction.
"If you're attentive enough, you'll catch the popular local food, egg tart once you step into the pavilion and it is even mentioned a few times during the battle. It was surprising to see so many Hong Kong elements within a Marvel story. For a super Marvel fan like me, it's the perfect attraction!"
Cantonese is incorporated into the script
"My favourite part is how interactive the ride is," said Fluid Wong, a Marvel fan from Hong Kong. "While I was busy hitting the Swarmbots all around me with the EMP Blaster, and focusing on getting a high score, I kept hearing funny comments from Ant-Man and The Wasp.
"This made me even more immersed into their world. What really surprised me was that I noticed Ant-Man and The Wasp speaking Cantonese. That was a major highlight for me."
Enjoy the expanding Marvel universe at HKDL
Ant-Man and The Wasp: Nano Battle! is part of HKDL's multi-year expansion, which includes more Marvel-themed attractions coming to the resort.
Images: Hong Kong Disneyland Resort