Disneyland in California has reopened its Jungle Cruise ride, which has been criticised for its portrayal of indigenous people for decades. Disney is also making changes to the Jungle Cruise attraction at Walt Disney World in Florida.
Jungle Cruise, which takes visitors on a tour along rivers in Asia, Africa, South America, has been reimagined by Walt Disney Imagineering and now features new adventures and an expanded storyline.
"We're excited to be building on the story of the Jungle Cruise to include new adventures that stay true to the experience we know and love, while adding more humor, more wildlife, and an interconnected story," said Imagineer Chris Beatty.
Jungle Cruise reopens after criticism
"As part of creative development, we've also introduced characters from around the world and took a thoughtful approach to ensure accurate representation of cultures in our story."
Jungle Cruise riders join skippers on a humorous expedition along four rivers – the Nile of Africa, the Amazon of South America, the Irrawaddy of Southeast Asia and the Ganges of India.
The expanded backstory for Jungle Cruise focuses on Alberta Falls, the granddaughter of Dr Albert Falls. New scenes include a safari of explorers stranded in a tree as chimpanzees take over the wrecked boat.
In addition, a Lost & Found location has been transformed into a gift shop run by Alberta's friend Trader Sam. And, for the first time in Disney history, a cast member features in a park attraction.
Disneyland ride adds new scenes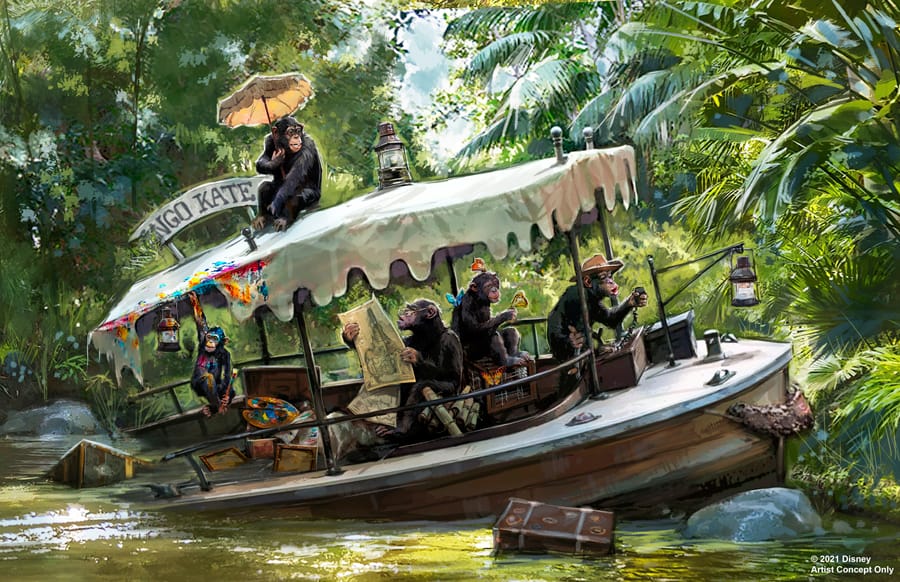 Jungle Cruise wildlife scenes include 'Ancient Cambodian Shrine' with tigers, cobras and crocodiles, and 'Jungle Cruise Safari Camp' – a former camp overrun by gorillas.
'Indian Elephant Bathing Pool' is home to bathing elephants, while hippos and lions can be found at the 'African Veldt'. 'Schweitzer Falls' introduces guests to the 'back side of water'.
Disneyland marked the return of Jungle Cruise with a delicious 'pineapple split', served in a souvenir container that looks like a Jungle Cruise boat with a striped canopy.
Images: Disney