Efteling has announced that the new 'World of Sindbad' area is coming together, with building work on the Sirocco and Archipel attractions in full swing.
Efteling is spending €2.8m to transform the existing Reizenrijk area of the park, which includes indoor roller coaster Vogel Rok, into the World of Sindbad.
Vogel Rok is already based on the tales of Sinbad the Sailor. The existing Adventure Maze and Monsieur Cannibale attractions are being turned into Sinbad-themed offerings Archipel and Sirocco.
The Sirocco and Archipel attractions are currently in development opposite Vogel Rok and will be ready in a few months, according to Holland's fairytale theme park.
Archipel and Sirocco attractions
Archipel is an adventure island where young explorers can play and discover, while Sirocco is a merchant's boat experience where guests must evade a whirlpool at sea.
The building site opposite Vogel Rok has changed dramatically since the beginning of September, with the spinning cauldrons and maze from Adventure Maze and Monsieur Cannibale removed.
The existing pond has been expanded to create Archipel, and Efteling has covered the roof of the Sirocco attraction with reeds.
This month, Efteling will work on tree-planting and adding greenery. In spring 2022, the remaining greenery will be planted around the new attractions.
Sinbad the Sailor theming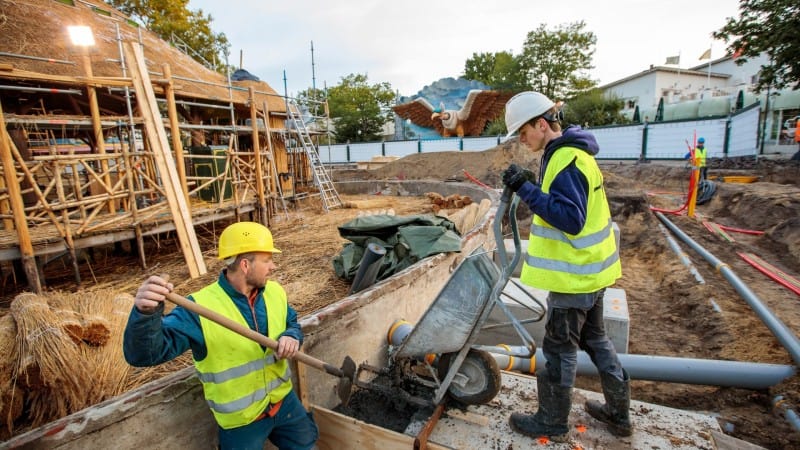 Earlier this year, Dutch authorities approved plans for the theme park's 'World of Efteling 2030' expansion. Efteling plans to become an international destination, welcoming 5 million visitors annually.
Efteling launched its inclusive play forest Nest! on May 31. Nest! is a safe space for young guests and children with disabilities to play together.
The attraction is gearing up for its annual Winter Efteling celebration, which starts on November 15. There will be festive garlands, bonfires, crackling fires and thousands of twinkling lights.
Images: Efteling