Extreme Engineering, a leading adventure attractions company, has announced that it will debut four new attractions at IAAPA Expo in Orlando.
Following almost two years since the pandemic commenced, IAAPA Expo is back in person, with suppliers around the world in attendance. Extreme Engineering has confirmed it has secured the first booth attendees will see as they head down the escalator, booth #4800.
Expo return
Amongst the highlights this year from Extreme Engineering are three new suspended family coasters and a new Parkour adventure experience providing cause for the company to celebrate.
Phil Wilson, Extreme Engineering's executive vice president says "We have the world's first surfboard suspended roller coaster called Surfin Tsunami, a brand new side by side coaster at faster speeds called Cloud Coaster Storm, an interactive coaster called Sky Tag and our latest adventure ride called Parkour Around, where people literally experience what is like to be Super Mario Brothers."
Visitors to the company's booth will be able to see interactive models and rendered video layouts of the Cloud Coaster Storm, Sky Tag and Surfin Tsunami products, showcased alongside updated features revealed for the very first time on the IAAPA Expo show floor.
Action heroes
Parkour Around will allow participants of any ability and age, to experience running through various elements whilst aided. Users would be attached to a patent-pending Extreme Engineering-designed assist device which will allow participants to jump at great length, height, and speed.
Wilson says "This device transforms riders into a video game action hero. It is like being a real Assassins Creed, Pitfall or Super Mario Brothers character. The possibilities with theming, IP and experience are endless."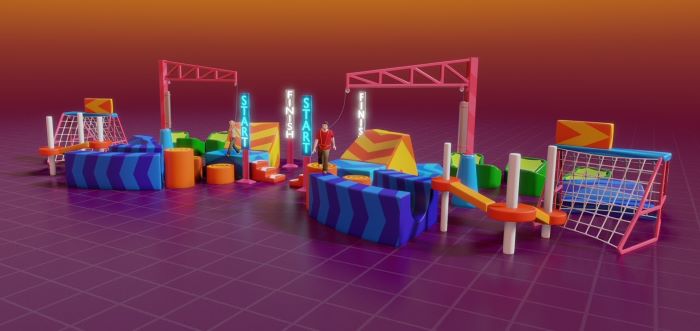 Coaster experiences
Extreme Engineering's latest coaster uses enhanced technology from its award-winning Cloud Coaster design. Operators can now benefit from an all-new track, side-by-side vehicle design and improved guest management, providing a "more thrilling, faster ride" with higher capacity. Cloud Coaster Storm can now achieve a throughput of up to 500 people an hour, dependent on track layout configuration.
Alongside new technical aspects, Cloud Coaster Storm allows FECs and amusement parks to choose to customise the experience with detailed theming. The suspended coaster has been designed to fully immerse guests, soaring them high into the sky with the opportunity of creating unique environments. Lighting and sounds upgrades are also available to be adapted into the ride vehicle's design.
An interactive coaster also inspired by Extreme Engineering's Cloud Coaster, Sky Tag is a budget-friendly, all-inclusive attraction specifically designed for family entertainment centres, including small theme parks, looking to provide a premier attraction at low cost.
Wilson says "Our design team was able to create a turnkey attraction that is modular, low-cost, interactive, high capacity and incredibly immersive. The Sky Tag is perfect for FECs and small parks on a budget while it can also be scaled larger for theme parks."
Surfin Tsunami is the only stand-up surfboard roller coaster on the market, presented for the first time at IAAPA Expo by Extreme Engineering. This unique roller coaster experience also benefits from the safety and design features found in the company's Cloud Coaster product. 
Riders can instantly transform into surfers, gliding beneath a suspended roller coaster track with turns and drops. The surfboard ride vehicle allows participants to safely ride standing up, easily adjusting to surfers of almost all ages.
This concept can be planned to navigate around existing structures, operate indoors and also designed to fit within existing attractions at amusement parks or resorts.
Prospective customers can find out more about Extreme Engineering's latest concepts at booth #4800 during IAAPA Expo. This year's event is held at the Orange County Convention Centre, Orlando, Florida, from 16 – 19 November.
Last year, Extreme Engineering announced the successful installation of a Cloud Coaster at Vietnam's Vinpearl Land Phú Quốc, a concept revealed at the last in-person IAAPA Expo.