PY Gerbeau, chief executive of the London Resort, opened up at greenloop's session on carbon neutral theme parks when he unveiled the dinosaur land, known as Base Camp.
Inspired by a prehistoric nature reserve, Base Camp will boast roaming dinosaurs, two coasters, advanced dark rides and interactive dig sits, as well as dining and live stage show experiences.
"Base Camp's design is based on a philosophy of what an actual, modern day, prehistorical nature reserve might look like," said Gerbeau.
"There will be thrills, spills and high energy rides combined with opportunities to get up close and personal with some of the most amazing creatures ever to walk the earth.
"However, unlike popular films that depict dinosaurs as villains, things don't always go terribly wrong here. We are building a land of preservation and celebration of dinosaurs."
In addition to the new visuals of Base Camp, Gerbeau confirmed his recommendation to carefully review and ensure the London Resort's 'gold standard' case for sustainability.
Base Camp dinosaur land at London Resort
This comes after Gerbeau confirmed that the resort "will of course continue" despite the site becoming an SSSI. Prior to that, the project passed the first test of the Planning Inspectorate.
"Working with the Planning Inspectorate, we have requested further time to prepare for the formal enquiry later this summer," said Gerbeau.
"It is absolutely fundamental for us to be leaders in sustainability. We've already committed to spending around £150m on remediation, habitat enhancement and providing around 8 miles of footpaths and public rights of way.
"But since Natural England designated the area a SSSI earlier this year – it is right and proper that we take a short extension to revise our reports and ensure they address the issues raised.
"We are on track to create a beacon of world class entertainment and experiences within a world leading sustainable environment. And we're very excited to announce details of our progress with a new land, Base Camp."
Base Camp's first roller coaster is based on the pterosaur Quetzalcoatlus. It aims to be one of Europe's fastest coasters and will recreate the typical flight path of the Quetzalcoatlus.
Dinosaur-themed roller coasters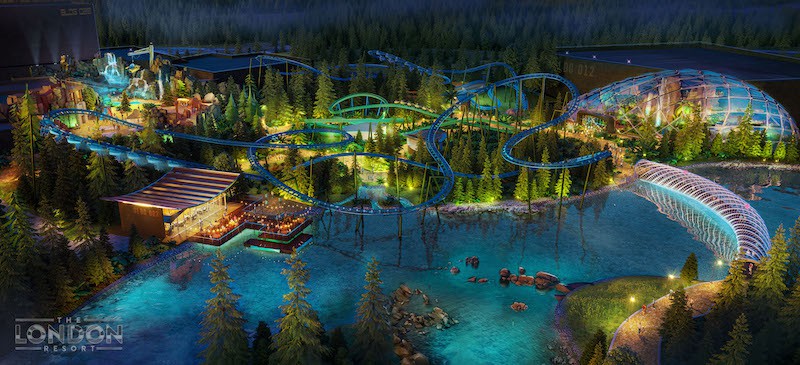 The second coaster will be a family-friendly offering, while an arena with 1,500 seats will put on shows amid a dense tropical forest.
In addition, a motion-based 4D ride will take visitors to prehistoric waters, providing a look at Ichthyosaurs, Mosasaurs and other sea-dwelling beasts.
Another dark ride will be an immersive attraction that uses gaming technology to allow visitors to track and tag dinosaurs and ancient reptiles in the wild.
Base Camp will be home to learning opportunities, including a huge play area where young guests can explore and excavate. There will also be zip lines, climbing walls and archaeological tunnels, as well as underwater viewing platforms.
As for F&B, one restaurant is inspired by the life and legacy of scientist Mary Anning. The second restaurant is a fine dining experience with huge windows offering visitors a thrilling underwater look at prehistoric oceans and dinosaurs.
The London Resort aims to be one of the most sustainable destinations in the world when it opens in 2024. It will boast an operationally carbon neutral theme park and deliver a net biodiversity gain.
Play area for exploring and excavating
Gerbeau spoke about the resort's sustainability plans at greenloop, revealing a £100m investment to remediate pollution and contamination.
In order to achieve carbon neutral operations, the London Resort will use only electric vehicles and will offer sustainable transport links. There will also be wastewater treatment, grey and black water recycling and renewable energy generation.
To deliver a net biodiversity gain, the London Resort plans to retain the marshes and add new landscaping. It will also invest £50 million in local biodiversity, enhance flood protection, restore habitats and create footpaths.
"Our vision is for the London Resort to be a beacon of world-class entertainment experiences set within a world-leading sustainable environment," said Gerbeau.
"We are building a unique, global destination and the storytelling, thrilling adventures, and environmental messaging found inside Base Camp help to reinforce that effort."
greenloop takes place between April 20 and 21. However, a recording of each session will be available to ticket holders for one month after the event.
Images: The London Resort