Themebuilders Philippines Inc., the specialist in theme projects and design, has announced the creation of an Ice Dragon at Toverland theme park in the Netherlands. The dragon features in the park's much-loved wing coaster, Fenix.
Themebuilders, along with Dutch company Van Krieken Design & Engineering, created the striking dragon piece ahead of the 2019 season. The Ice Dragon is part of the Avalon area, which was opened in 2018. The figure is an impressive addition to the area, looking down on guests as they enter. 
The company's artists created a unique dragon head, working closely to the design requested by the client. Louis van Krieken then made the moving elements for the head and installed it at the park. The animated dragon head has smoke effects and is a dramatic new feature in the Avalon area, which is themed around the concept of King Arthur and Merlin. 
A new element for Fenix
Themebuilders is proud to have been part of this collaboration and is happy to continue its long-term partnership with Toverland. The dragon adds to visitors experience of Fenix. This coaster is Toverland's largest-ever single investment and is popular with park guests. It reaches up to 40 metres high, sweeping over land and water. The track is 813 metres long, with three inversions including a zero-G roll. Fenix can reach a top speed of 95 kilometres per hour.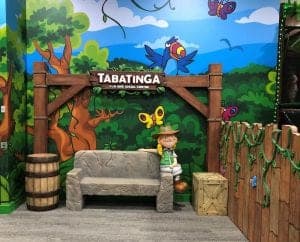 The company is experienced in creating themed elements and has worked on several projects around the world. During its partnership with Australian play centre chain Tabatinga, it has created several areas including the new jungle-themed birthday rooms.
Themebuilders also recently announced two new projects with the Plopsaland De Panne theme park in Belgium. It will be working on new theming for the Wickie The Battle water splash ride. The company will also produce 15 dinosaurs for the park's new 'Dino Splash' attraction.