Toverland theme park opens the largest expansion in its history with a new Avalon themed area, water attraction Merlin's Quest and the spectacular new Fēnix wing coaster.
The €35 million expansion has increased Toverland's footprint by seven hectares. The project includes a new entrance called Port Laguna, a new theme area called Avalon, the Fēnix rollercoaster, the Merlin's Quest water attraction and the Magiezijnn interactive magic show.
Avalon opens to the public on July 7th. The new area is themed as the land of Merlin the wizard.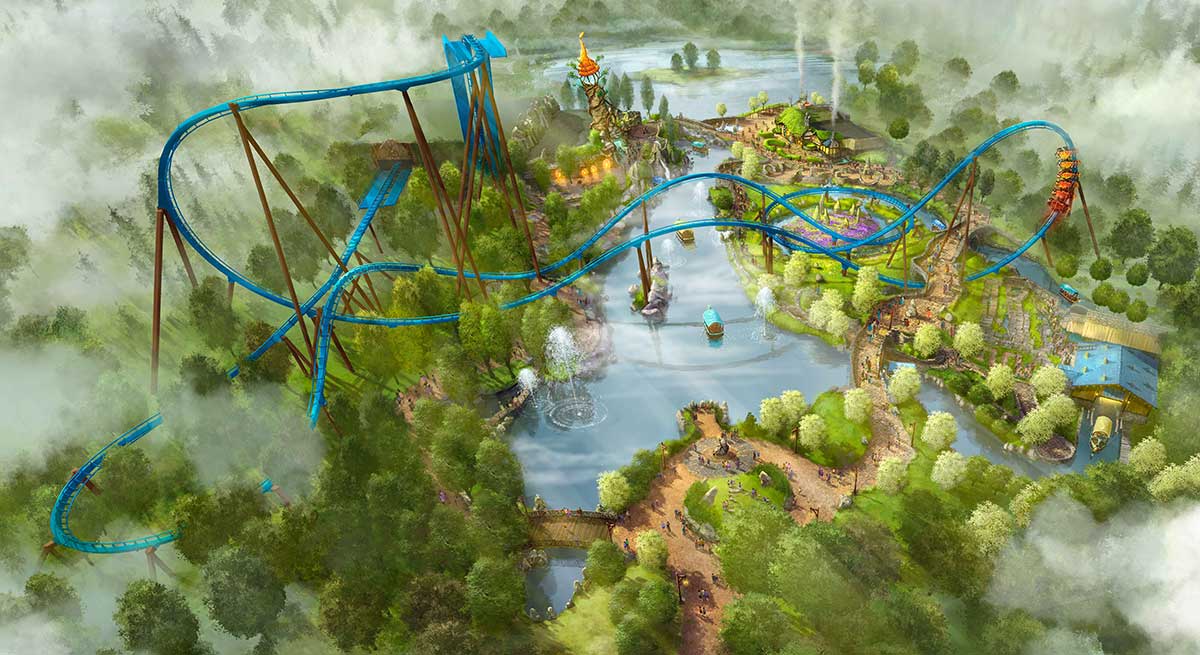 Fēnix wing coaster and Merlin's Quest
Fēnix is the first wing coaster in the Benelux. The rollercoaster from Bolliger & Mabillard is 40m tall, 813m long, reaches a top speed of 95 km/h and has three inversions – wing over drop (half corkscrew, half looping), an immelmann (half looping, half roll) and a zero-g-roll.
Toverland general director Caroline Kortooms said after riding the Fēnix rollercoaster, "We were looking across the area from a height of 40 metres and saw our guests relaxing and enjoying Port Laguna and Avalon. This is exactly the reason why we did all of this. This is our magic world!"
Merlin's Quest is a family water attraction from MACK Rides. During the 12 minute ride passengers must search for Tir na nÓg, the source of eternal life, in four indoor scenes featuring eighteen moving characters. 14 boats will cruise over a 430m course, two of which include disabled access. .
The new entrance, Port Laguna is themed as an idyllic Mediterranean port. The area includes interactive technology – visitors with a magic wand are able to perform magic. The area includes shops, F&B and the interactive Magiezijn magic show.
Future theme park investment
Located in Sevenum, close to Venlo and the German border, Toverland has welcomed over seven million guests since its first season. The park was founded by businessman Jean Gelissen, whose sister Caroline Kortooms serves as director.
Toverland is looking to boost attendance to 1 million visitors with future expansions and a four star hotel resort.