Nominees for all the categories are chosen by a panel of travel experts, theme park industry experts and editors from USA TODAY. Four weeks of online voting then took place before the announcement of the best-loved attractions.
Six Flags brought in a haul with nine of the company's parks and coasters making the Top Ten. Six Flags Magic Mountain in LA won Best Amusement Park for the second time and Superman: the Ride scored Best Roller Coaster in the USA.
"We are extremely honoured by this incredible show of support by our fans, who appreciate our track record of offering the most innovative rides and most thrilling park experiences in the industry," said Tom Iven, Senior Vice President of US Park Operations,. "Our mission is to keep pushing the limits and deliver exciting new rides and attractions in every park, every year."
Dollywood also scored highly, winning two categories outright.
Best Amusement Park: Six Flags Magic Mountain
"For roller coaster lovers, it doesn't get much better than Six Flags Magic Mountain," said USA TODAY. The park boasts a massive 19 coasters, including record-breakers. The New Revolution Galactic Attack is the first giant looping mixed reality roller coaster in the world. Twisted Colossus is the world's longest hybrid coaster. CraZanity is set to debut here this year.
Six Flags recently announced its intention to acquire more US parks and became the largest waterpark operator in North America in May this year.
Cedar Point in Sandusky Ohio came second, followed by Six Flags Great Adventure; Silver Dollar City; Six Flags Fiesta Texas; Dollywood; Busch Gardens Williamsburg; holiday World; Hersheypark; and Busch Gardens.
Best Amusement Park Entertainment: Celtic Fyre at Busch Gardens Williamsburg
The high-energy Celtic-inspired show at Busch Gardens Williamsburg proved hugely popular. "It will have you laughing and clapping to the beat of festive music," says USA TODAY. Native Irish animals play their part and the fun is ramped up with audience participation.
Best Amusement Park Hotel: Dollywood's DreamMore Resort and Spa
Togetherness, storytelling and family, are the key themes at Dollywood's DreamMore Resort and Spa. The hotel is a relaxing place, set in the Smoky Mountains of Tennessee just minutes from the theme park. There's an interactive splash pad, a zero-entry pool and guests can enjoy door-to-door transportation to the park.
Best Amusement Park Restaurant: Aunt Granny's Restaurant at Dollywood
Aunt Granny's restaurant presents a massive all-you-can eat offering at Pigeon Forge. Comfort food features large, with everything from chicken and dumplings, to a taco bar and steaks. However there is also a great salad bar and other healthy options. The restaurant opens before Dollywood does, for resort-goers in search of a swift and hearty breakfast.
Best Roller Coaster: SUPERMAN The Ride at Six Flags New England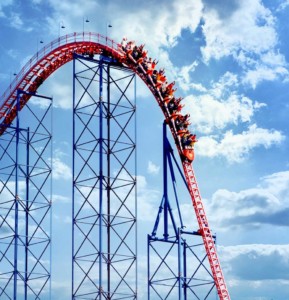 The 5,400-foot steel hypercoaster at Six Flags New England boasts a 221-foot drop and reaches speeds of up to 77 miles per hour along its twisting red track.
Second in place was another Six Flags coaster – Twisted Colossus at Six Flags Magic Mountain – and Six Flags' Goliath (Six Flags Great America) and El Toro (Six Flags Great Adventure) took fourth and fifth places. The other top ten coasters are Phantom's Revenge (Kennywood); Mako (SeaWorld Orlando); Phoenix (Knoebels Amusement Resort); Outlaw Run (Silver Dollar City); Apollo's Chariot (Busch Gardens) and Steel Vengeance (Cedar Point).
Best Outdoor Water Park: Aquatica Orlando
SeaWorld's Aquatica Orlando, brings in 1.5 million visitors per year. Dolphin Plunge is its signature attraction – an enclosed tube slide that passes through a pool of Commerson's dolphins. A leisurely raft ride takes guests down Loggerhead Lane. Over 60,000 tropical plants cover Aquatica's 60 acres.
Splashin' Safari (Santa Claus, Indiana) came in second followed by Six Flags White Water and Lost Island in Waterloo, Iowa.
Best Indoor Water Park: Aquatopia Indoor Waterpark
Aquatopia at Camelback Resort in the Poconos covers 125,000 square feet and features seven pools (including a wave pool), 13 slides, an adventure river alongside a water play with close to 100 gadgets and interactive elements. Storm Chaser is one of the longest indoor, uphill water coasters in the USA.
Images: Six Flags