The first theme parks across North America and Europe have just started to open again, following successful reopenings of attractions in Asia.
With this in mind, I ventured up to Dollywood in Tennessee to have a look around and see how things are working out after the COVID-19 crisis.
The park opened for season passholder preview days on 15 and 16 June. Then it opened to the public on 17 June. While there were invitations to sent out to media to preview the park officially on those dates, I opted to plan my own private visit on Sunday 21 June.
Rather than be part of a media tour, I wanted to get a better feel of how things really are. I also wanted to give the park a week to get all their procedures in a row. Another advantage was that I could put the new mandatory online reservation system to the test.
Reservation systems
So how was the website reservation system? Unfortunately, as someone who had purchased a season pass, I had some strange issues getting it to work.
To get a reservation you have to provide a little personal information and then your pass number. This seemed to work out fine. But when I tried to add additional pass numbers for my family to attend as a group, we hit a roadblock where additional passes were always 'invalid'.
We found two solutions, however. One was to download and make reservations on the official Dollywood mobile app, rather than the website, which worked just great.  Later I opted to try the website approach again, but instead of using the Google Chrome browser, I tried Microsoft's Edge browser, and I had no problems at all.
If you are simply buying a single-day ticket to visit the park, your ticket purchase will be for a specific date, so this will also include your reservation all in one step. Nice and easy. The reservation system is necessary as it allows Dollywood to monitor attendance, in order to keep crowds down after COVID-19.
Dollywood introduces time slots after COVID-19
One thing to remember is that tickets and reservations come with an arrival time slot as well. This is to keep the park from being overwhelmed with guests at one time. Since we were driving into town from a few hours away we opted for a 12:00 arrival time, not knowing if it would be clear or a crowded procedure.
As with other parks, the whole purpose of the reservation system is to limit park attendance, which I believe is set to allow no more than 50% of park capacity. Upon arrival, it was a bit strange to see the parking lot still so empty at noon. But it meant that we could see that there was ample space inside the park and crowding was not likely to be an issue.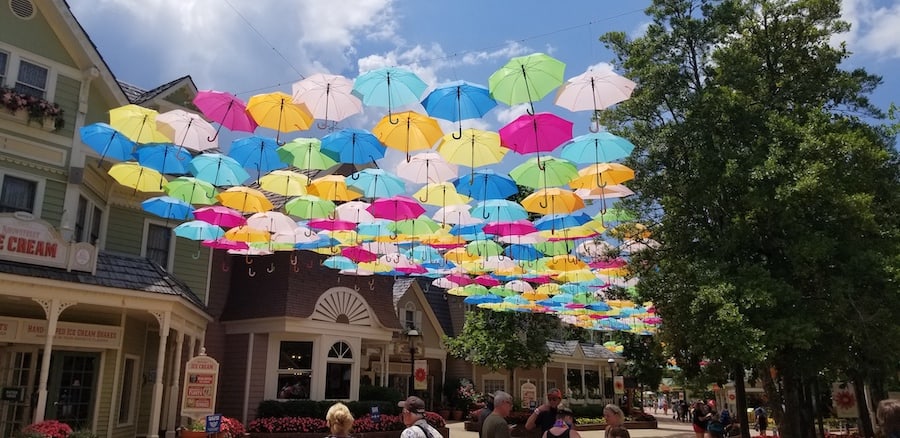 Once you park you can head for the loading station for the tram to the entrance. It is here that an employee checks your reservation and performs a quick hand-held temperature scan before allowing you to board the tram.
During the first day of operations, I had seen a few photos of guests waiting in long lines to have this done posted to social media. But clearly that was just opening day blues as there were no such lines to be found on my visit.
Parking and entry
We paid a little extra for the preferred parking experience. The lot is very close to the park and is set up to use the same separate entrance as guests who stay at the Dollywood DreamMore Resort. Visitors using this lot can avoid the parking lot trams and get into the park more quickly.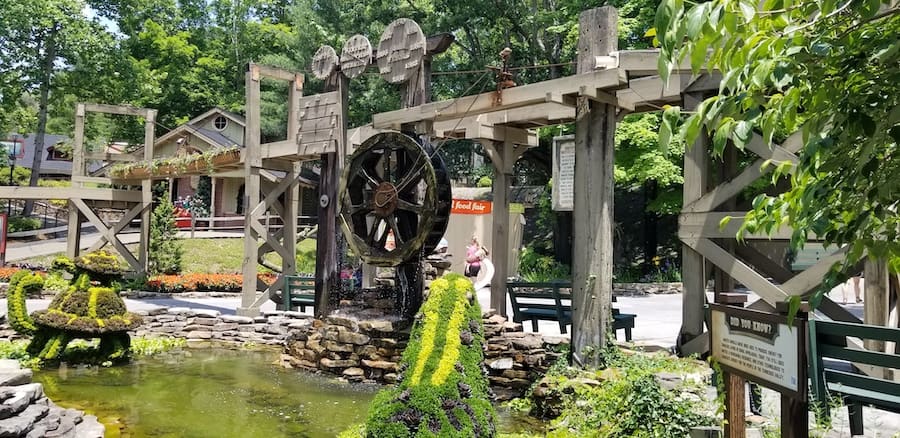 The entry here was a quick and painless express. You pass through a metal detector, a security agent performs a quick temperature scan and hands you a wristband to put on. From here you move on to the gate, scan your reservation and tickets and that's it, you are in the park and free to roam as you please.
Safety measures inside Dollywood after coronavirus
While I have no way to know what the exact attendance was at the park on this date, I will say that the crowd levels were very low. I did not feel crowded upon at all and I noticed that guest groups were pretty good at keeping a reasonable distance from each other.
Face masks must be worn in the park by both staff and guests. It appeared that the park has purchased their own good quality masks for all employees to wear during their shifts. If you do not have a mask of your own, or yours becomes lost or damaged, you can purchase one from the park as well.
Most guests seemed to be fairly good at wearing their masks. Yet I did notice a small percentage of guests who had opted to pull their masks down around their neck, chin, or to pull them down just enough to expose their nose throughout the day.
To Dollywood's credit, I did witness a few employees stop and tell these groups to put their masks on correctly. I applaud this and wish Dollywood would empower more of their staff to do the same throughout the park after the COVID-19 pandemic, as they would with people smoking outside designated areas.
Face masks on rides
Dollywood does have several no-mask relaxation zones set up as well. Here, guests can enter and be seated and relax. Seating has been marked off for social distancing.
You do not have to wear a mask on one of the park's water rides. But you can wear them on the thrill rides and roller coasters. However, we did notice that all too frequently guests would pull them down for the ride itself and put them back on afterwards. I believe this does fall in line with the park's current policy.
The majority of other major parks reopening thus far have opted for a mandatory mask-wearing policy on the rides. So, it might be a good idea for Dollywood to consider updating their policy to do the same.
Social distancing
Social distancing is also in effect on all rides at Dollywood after COVID-19. So, don't be fooled by the appearance of short lines. The majority of rides and roller coasters are only seating guests in every other row. In fact, on the park's famous Train ride, guests were only seated in every third row.
One ride that stands out above the rest is Dollywood's Wild Eagle, a B&M Wing Coaster. Because of the Wing Coaster's unique seating configuration, guests are allowed to be loaded into every single row on both sides of the train.
On all the major rides, an employee dispenses hand sanitizer into guests hands just before loading. This ensures clean high-touch points. Once an hour, operations on all major rides stop. The vehicles receive a complete cleaning and sanitation wipe-down. They are then sent off for a ride-cycle empty before loading guests once again.
This seemed to be a fairly efficient method and it kept delays to a minimum. Maybe this is preferable over performing a complete vehicle wipedown after every ride group.
It is worth mentioning that the Dollywood TimeSaver program is still available for purchase at the park. It is just on offer in more limited numbers. The TimeSaver program is also still a perk for guests staying at the Dollywood DreamMore Resort as well.
Despite having reduced capacity on the rides, on my visit, the crowd levels were low enough that I did not think TimeSavers would have been needed. But it is good to know it is still offered for days when things get more crowded.
Live shows and refreshments
One thing Dollywood is known for is the live performance shows in theatres spread out throughout the park. However, for the time being, all indoor performances are currently on hold.
The good news is that outdoor performances are still happening, so the park is not devoid of live entertainment or music.
Walking through the park I did notice quite a few hand sanitizer pump stations set up along the main pathways. There were also many of these in stores and ride queues. According to a Dollywood press release, it has set up over 250 such stations throughout the park.
The dining experience has changed as well. Fewer of the food stands are open throughout the park than normal. But with limited attendance, a reduction to the number of food options is to be expected. Self-service drink stations throughout the park are all shut down as well. However, there are plenty of places to get a bottled drink instead.
Those who love the popular buffets at Dollywood will also find the operations changed after COVID-19. The self-serve buffets at Aunt Granny's and Miss Lillian's Smokehouse now offering a "family-style" meal experience. This is served directly to the dining room's spaced out tables.
In conclusion, the experience was still a fun one, especially with the limited attendance in effect. The fairly empty pathways actually made for a very pleasant experience. Visitors can take a leisurely stroll around the park and enjoy the scenery and atmosphere which is always in abundance.
This aspect has been enhanced for the summer, as the park is currently premiering its first-ever "Flower & Food Festival" event. This features a number of large, bright and colourful decorations and topiary displays throughout the property.