About 10 years ago retro t-shirts became the rage. First, fashion-forward thirtysomethings and Silicon Valley coders wore Atari and Metallica shirts. Later, stores like the Gap and Urban Outfitters made faux-retro and retro style t-shirts for the masses.
By Adam Sandy (right), chief business development officer at Ride Entertainment.
The past several years have seen a surge in retro apparel at amusement parks across the US. Specifically, clothes and logos that are from the 1970s and 1980s. This corresponds to when many of today's park-going parents were kids and has created an instant connection. Amusement parks have taken advantage of this trend the past few seasons.
Carrie Boldman, corporate vice-president of merchandise and games at Cedar Fair, said: "This product connects with park-goers because they grew up with our parks and have fond memories of their trips to the parks. Everyone I meet has a story about when they visited as a child, or a story about how they shared this experience with their own kids and grandkids.
"Many people talk about it being their best day of summer and something they remember and talk about years later. I remember riding the Cedar Point Mine Ride with my grandmother. Vintage products work because everyone likes a trip down memory lane."
SooperDooperLooper
At Hersheypark, there are several favourites, but two pieces of apparel seem to be worn by a large portion of guests. When it is cold you see a lot of dark blue hoodies with white "HERSHEYPARK" lettering while during the summer guests of all ages sport the SooperDooperLooper t-shirts.
Elizabeth Hendrix, Hersheypark's director of retail, said the SDL t-shirts, often created in bright colours, have multi-generational appeal.
"Many of our guests visited the park when they were growing up and now they're bringing their families to visit. We have entire families wearing the Looper tees and recreating pictures from when they were young," she said.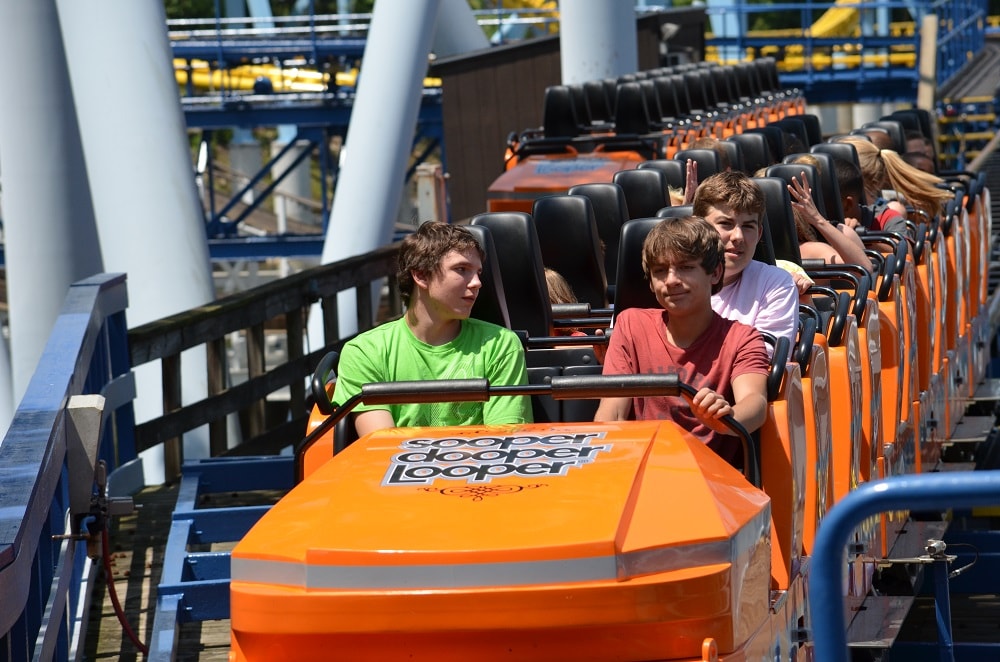 There are several factors driving this trend, but one of the clearest is simply time. The 1970s was a dynamic era for the attractions industry in the US. During that decade new regional parks with significant marketing power like Kings Island and Magic Mountain opened. In addition, many older properties like Hersheypark and Cedar Point redefined themselves.
The SooperDooperLooper was a product of this transformation at Hersheypark. In 1976 Magic Mountain in California opened the first vertical looping coaster, Revolution. The following year Hersheypark opened the SooperDooperLooper. With its 107cm height requirement and beautiful setting, it has remained one of the most popular coasters at the park. It still serves as many park-goer's "first big coaster".
The t-shirts, which the park sells just outside the exit continue to be a best-seller. They utilise the roller coaster's original logo, with a font and look that is very 1970s.
Big Bad Wolf
You can see this merchandising trend throughout the country. Parks that put in a significant amount of unique or record-breaking rides approximately 40 years ago are earning a little bit extra from those investments.
One of the best-selling shirts at Busch Gardens in Williamsburg, Virginia features the Big Bad Wolf, an Arrow Dynamics suspended roller coaster that opened in 1984 and was removed after the 2009 season. Its iconic logo lives in the park's collection of retro tees. The Loch Ness Monster, which opened in 1978, also has a lot of park-goers picking up its apparel.
Cedar Fair sells retro t-shirts at several of its properties. "A few best sellers at Kings Island are the original park logo and the BAT and King Cobra ride logos," Boldman said.
"At Cedar Point, the silhouette logo is something many guests remember, and of course affinity for rides and attractions from years past. WildCat and Oceana are popular, and Cedar Point will release four additional vintage ride designs for 2018."
Gen-X
Hendrix felt that the retro gear has proven to be popular with younger guests and those in the Gen-X demographic.
"Many of our visitors have grown up visiting Hersheypark and now return with their families," she said.
Boldman agreed. She said: "We have seen an increase in throwback merchandise and the sales are split. Much of the increase is from guests who have a strong affinity or grew up in our parks, young adults may not have that specific memory but are drawn to the simple art and vintage colour."
Hendrix even said that fanny packs are making a comeback. But, I do not think we need to monetise everything from my youth.
Author's Note: In full disclosure, Adam owns a Big Bad Wolf t-shirt from Busch Gardens Williamsburg, a Schwabinchen shirt from Cedar Point and a SooperDooperLooper shirt from Hersheypark.