It's been a busy week in the theme park world, with a business battle ended and new rides and attractions announced, just as an old favourite scuttles off into the sunset. Here the week's theme park new tops ten.
1. Comcast walks away from Fox
Perhaps the single news item with the biggest impact on the industry this week happened when Comcast announced that they were dropping out of the bidding war for 21st Century Fox.
Comcast is instead turning their focus entirely on a purchase of Sky, leaving The Walt Disney Company as the single remaining bidder who looks to add Fox's IP and assets to their growing media and theme park empire.
2. Closing date set for A Bug's Land
Disney California Adventure has set September 4th as the last day for guests to visit A Bug's Land. One of the family friendly rides within, Flik's Flyer, will be rethemed and moved to open in Pixar Pier as "Inside Out Emotional Whirlwind"  in 2019.
Meanwhile the remainder of A Bug's Land will be wiped out and replaced by a new Marvel themed area and attractions starting in 2020… all while not using the name "Marvel" due to a clause Universal's licensing deal for Marvel at their Islands of Adventure park. Details have yet to be released, though Disney did say that the Guardians of Galaxy characters will be joined by Spider-Man and The Avengers.
3. Universal Orlando adds new night spectacular
https://www.youtube.com/watch?v=LAc1ahH1zPQ
After a brief period of technical rehearsal the new Universal Orlando's Cinematic Celebration nighttime spectacular official opened last week on the lagoon of Universal Studios Florida. The night show features a mixture of brightly lit fountains, water screens, fireworks and even projection mapping on the building in the background.
The show mixes imagery and music from the movie and attractions themes that their guests experience during a visit to the Universal Orlando resort: Transformers, Fast & Furious, Despicable Me, Jurassic Park/World, Harry Potter and a slew of other fan favorites.
4. Kennywood adding NFL to the park experience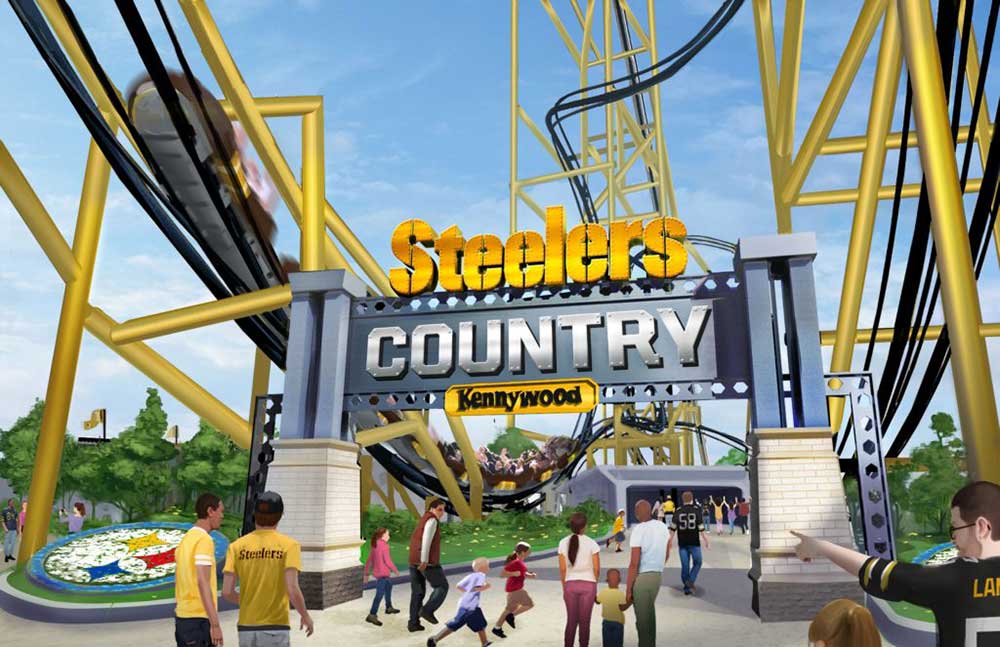 For the first time that I can remember, Kennywood will actually officially add an NFL team brand to a theme park experience with the introduction of Steeler's Country. As part of an official license deal with the local Pittsburgh Steelers team, the park will add an entire land themed around the NFL experience. It will include stadium-style football, a tailgate themed dining area and American Football themed midway games. There will even be an indoor area themed as a training field where guests can participate in skill drills.
The highlight of the area, looming high over it all will be The Steel Curtain, a new 220 foot tall coaster from S&S Worldwide with a very unique looking layout that will feature three recording breaking features: More Inversions in North America – 9, Tallest Coaster In Pennsylvania – 220 feet, and feature the Tallest Inversion in the World at 197 feet.
5. Six Flags Magic Mountain opens CraZanity
While it opened a bit later than expected, Six Flags Magic Mountain opened CraZanity this past week which is now in the record books as being the world's tallest pendulum ride, spinning riders at up to 75mph up to 172 feet in the air.
6. VR on a waterslide?
Germany's Therme Erding complex opened a new VR enhanced waterslide attraction concept from wiegand.maelzer and Ballast Technologies called VR Slide. I'm not sure I ever thought waterslides ever even needed VR. However, what they've built looks both interesting and easy to use. They have created waterproof headgear that uses wireless charging technology. There is also an easy way for guests to select different VR overlays to view on the same slide.
Guest positioning is monitored by the addition of up to 5 sensors along the slide route. The system looks fairly simple and could actually add to the slide experience. So this should be something to watch for over the coming years.
7. Attendance up At Dubai Parks
Dubai Parks & Resorts reported an attendance increase of 46% for the first six months of 2018, compared to the same time period in 2017. Seeing such a large rise in attendance in the second year is actually a good sign that the market is adapting to the presence of having true theme parks, since it isn't uncommon for new parks to actually suffer a slight decline in attendance in their second season after the "newness" has worn off.
8. Disneyland Paris to monetize FastPass
The Disneyland Paris Resort will be testing a new monetized version of their FastPass program from July 24 through to late September called AccessOne. For a cost of €15 guests can purchase a single AccessOne pass. This will grant them a one use front-of-line access to: Big Thunder, Buzz Lightyear, Star Tours, Hyperspace Mountain, Indiana Jones Temple du Peril, Peter Pan's Flight, Ratatouille, Rock 'n Roller Coaster or Twilight Zone.
This marks the continuing movement to monetize Disney's FastPass system after launching a similar system at Shanghai Disneyland in 2017 called Disney Premier Access. The Disneyland Resort also launched their own take on the concept called MaxPass in 2017. For a single price this grants guests access to make FastPass selections on their mobile device. They can do so while actually in the park rather than traveling to the FastPass kiosks. It also comes with the benefit of an included Disney PhotoPass.
It is worth mentioning that mobile device access to the FastPass system is included for free to guests of Walt Disney World, though early rumblings suggess some kind of paid-access enhancement feature may come to the Florida parks just before the opening of Star Wars: Galalxy's Edge in late 2019.
9. Universal Japan's temporary attractions gaining in popularity
Over the past few years Universal Studios Japan has gained new popularity with their annual Japanese pop-culture celebration known as Universal Cool Japan. The limited time event features custom made temporary attractions typically themed to popular Japanese anime programs and video games. In some cases these have been standalone walk-through experiences, or escape room style concepts. In other more elaborate examples the park has created VR overlays to use on their Space Fantasy indoor coaster or special 4D theater films.
For the first time in 2018, two of these special overlays have returned for extended runs outside of the Universal Cool Japan event season. As soon as 2018's Final Fantasy VR coaster overlay was removed from Space Fantasy guests were surprised to learn that 2017's very popular VR attraction, Evangelion XR Ride, had not only returned but would stay in place on the Space Fantasy coaster through to January 2019… at which point it will likely be replaced by something new for next year's Universal Cool Japan event.
Meanwhile it was just confirmed that the park's 4D Theater venue will continue to show "Pretty Guardian Sailor Moon: The Miracle 4-D" through to the end of September. This puts the park's normal presentations of Shrek 4D and Sesame Street 4D on the shelf for the time being in favor of the more popular Japanese IPs.
And with Nintendo on the way to the park in 2020, which is perhaps the strongest Japanese themed IP out there, it should be interesting to see how the park continues to balance the mixture of popular localized vs global IP content going forward.
10. Branson Ride The Ducks accident
In a devastating accident this week a Ride The Ducks amphibious vehicle tour vehicle in Branson, Missouri encountered violent storm while returning to land from the water portion of the tour, causing it to capsize and sink to the bottom of the lake. Of the 31 people on board, there were only 14 survivors. This is sure to shine a spotlight on the vehicle safety measures and policies in place for many adventure tours based attractions across the globe, and not just those who use vehicles based on the World War II era DUKW amphibious units.