There are some spectacular rides, and attractions opening at the world's theme parks this year. However, Galaxy's Edge aside, it is the huge roller coasters creating the most excitement. So what are 2019's most extreme coasters?
Last week I took a look at some of the more eye catching ride and attractions we can look forward to this year. Here, I highlight my top ten white-knuckle roller coasters.
By Lance Hart, Screamscape
10) Hakugei at Nagashima Spaland (Japan)
The first hybrid conversion coaster from Rocky Mountain Construction is coming to Japan in 2019. The former White Cyclone wooden coaster will be transformed into Hakugei; which translates into White Whale. While we don't know the exact stats of the project yet, the former White Cyclone coaster featured an impressive structure reminiscent of other RMC converts such as Twisted Colossus, The New Texas Giant and Steel Vengeance. So the results here could be just as spectacular.
9) Unnamed triple launch infinity coaster at Bobbejaanland (Belgium)
While the coaster has yet to be given an official name by the park, this will be a new Gerstlauer triple launch infinity coaster. The coaster is expected to reach speeds of 62mph during the launch sequence before running through nearly 2,000 feet of track and four inversions.
8) Unnamed euro-fighter coaster at Nickelodeon Universe (USA)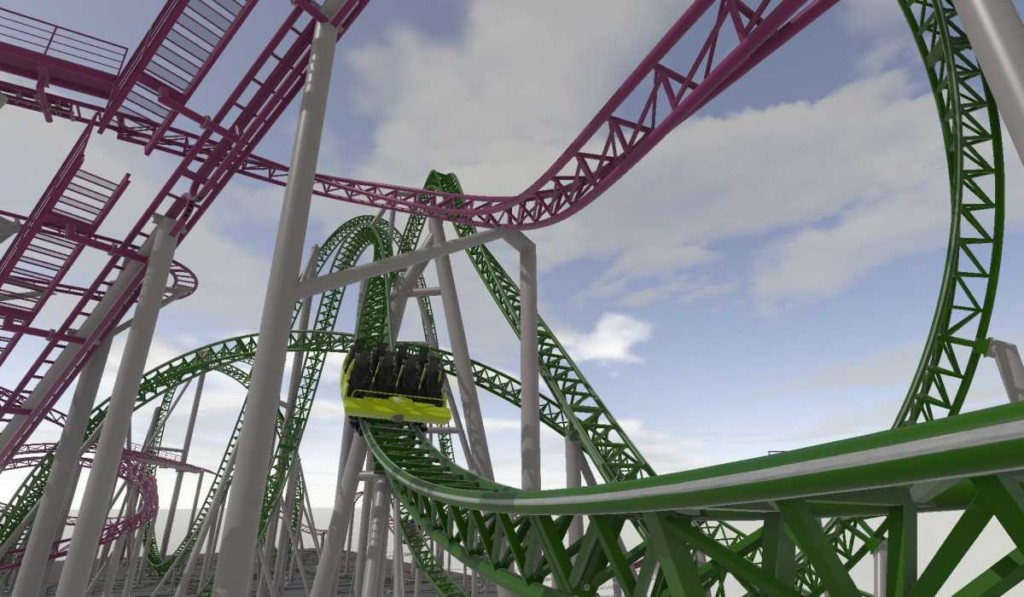 Another unnamed new coaster on the list is the Gerstlauer Euro-Fighter coaster coming to the brand new Nickelodeon Universe park built inside the American Dream Meadowlands mega-mall in New Jersey. The coaster will take the world record for having the steepest first drop in the world with a 121.5º beyond-vertical dive from the top; hitting 62mph and running through a series of 7 inversions that have been interwoven through the track of another one of the park's coasters.
7) Dual Dragons at Guangzhou Wanda Theme Park (China)
Expected to open in 2019, Dual Dragons is a unique creation from Intamin featuring two interwoven coaster layouts; with one being a standard sit-down coaster while the other side will be an inverted coaster. Each layout will reach a top height of 183.7 feet and will feature a magnetic launch.
6) Copperhead Strike at Carowinds (USA)
A new Mack Rides double-launch coaster should offer a new ride experience for the US market and is expected to be quite popular with coaster enthusiasts. While the coaster will not break any height or speed records, it has already been the subject of much buzz in the online community as one of the must-ride new coasters of 2019.
5) Untamed at Walibi Holland (Holland) – RMC Conversion
Known for their extreme coasters, Rocky Mountain Construction will transform the park's former Robin Hood coaster into a new wild creation that should quickly become a favourite in European coaster enthusiast circles. Untamed will also be the first such hybrid creation from RMC in all of Europe.
4) Taiga at Linnanm

ä

ki (Finland)

Intamin is back once again with another custom coaster creation. This time packing in 3,622 feet of track and four inversions into a very compact space at Linnanmäki. The coaster will kick things off with an LSM launch before hitting a number of extreme air-time hills, high-speed twists, overbanked turns and more; along with a second LSM launch booster in the middle of the ride, hitting a top speed of 65.9mph.
3) Yukon Striker at Canada's Wonderland (Canada)
A new B&M dive machine will be added to Canada's Wonderland. This dive coaster will feature a 75 meter / 246 foot vertical drop into an underground tunnel before hitting a series of four inversions (including a vertical loop). It will then go through a mid-course brake run, a little dip and into a final helix spin before hitting the brakes. Top speed will be 130 kph / 80.7 mph. 
2)
Maxx Force at Six Flags Great America (USA)
Six Flags Great America is opening Maxx Force in 2019; a triple-record breaking launch coaster from S&S. Maxx Force will feature a unique air-powered launch system, five high-speed inversions and custom coaster trains themed after Formula One racing cars. It will break the records for:
Fastest acceleration in North America; launching riders from 0-78mph in less than 2 seconds

Tallest double inversion in the world at 175 feet

Fastest inversion in the world, at a 60mph Zero-G roll
(Honourable mentions)
Before mentioning my pick for the #1 spot, I thought it was worth mentioning two other fantastic looking coasters that have been built for parks that have not yet opened. They could very likely open in 2019, but exact opening dates have not been locked down for either. These would be:
Unnamed wing coaster at Wuxi Wanda City (China) An unnamed B&M wing coaster coming to China that looks spectacular, and features not only a unique custom layout, but one that has been interwoven with the structure of a large fake mountain which it will pass around and through at different portions of the layout.
Dragonfire at Adventure Island (Qatar). This will be a new Premier Rides launch coaster built entirely indoors. The ride experience will begin by sending the track backwards up a huge spike track inside a large glass tower. This structure is built over the top of the entire park and towers the entire plaza below. Riders will then drop below the surface and run through a twisted track layout in darkness.
And without further ado… here is my pick for the most extreme coaster of 2019:
1) Steel Curtain at Kennywood (USA)
With an announcement that I think surprised almost everyone, Kennywood revealed what may be the most extreme new coaster in the world for 2019. They call it The Steel Curtain and this new coaster from Sansei Technologies (formerly S&S Worldwide) will be the icon attraction of a new land within the park themed around the local NFL football team, The Pittsburgh Steelers. The themed land is planned and designed by Cincinnati-based attraction design firm JRA.
The coaster itself will feature 4000 feet of track and a North American record-breaking 9 inversions. The 24-passenger train will climb a 50º lift hill 220 feet into the air and roll right into the first inversion before taking a dive to the ground at 75mph. The Steel Curtain features a unique layout unlike anything I've seen before. It also breaks  two more records: tallest roller coaster in Pennsylvania and the tallest inversion in the world at 197 feet.