News
Multimedia specialist LCI Productions has had a logo and website makeover. Hayley Miller, LCI's Marketing Manager said, "We wanted to create a modernised version of...
Alterface, a leading developer of interactive dark ride technology, is participating in the Dubai Entertainment Amusement & Leisure Show (DEAL), taking place at Dubai World...
Features
Dominic Wigley joined Merlin Entertainments in 2014 as Group Health, Safety and Security Director. Less than a year later Merlin suffered their worst accident in the company's history. The...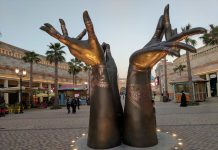 The International Association of Amusement parks and Attractions European division, IAAPA EMEA, held its first Winter Forum in Dubai from January 31st to February 2nd. 150 attendees visited some...
This is the ninth annual study Blooloop has conducted regarding new theme park rides and attractions around the world. BY TRACY KAHANER (LEFT), PRESIDENT KAHANER RESEARCH AND NEWS EDITOR, BLOOLOOP While...
Tayto Park, Ireland's only theme park, re-opens in April 2017. Themed around Ireland's most famous crisp brand, the amusement park is located in Kilbrew, near...
According to Thrill Engineer Brendan Walker, the most  thrilling moment of any theme park experience is just before it begins. That brief interlude between being strapped in and the...
There's more to Technifex than meets the eye, which isn't that surprising given the company's ability to deceive the imagination with state-of-the-art special effects. Alongside its thriving theme park...
Featured Events
DEAL 2017 is the largest trade show for the theme park and amusement industries. DEAL walks down the hall of fame each year as...
The three-day event provides IAAPA members based in the United States with the opportunity to meet with influential members of the United States Congress, and to discuss pressing priority issues affecting the U.S. attractions industry 
This 100% practical class will take you from Novice or intermediate to Social Media and SEO Superstar in just one day.
The nation's largest dedicated conference for the emerging room escape industry features interactive exhibits & vendors, on-site demos, networking opportunities and dozens of targeted...