On 14 April 2022 Floriade, the International Horticultural Exhibition, will open its doors in Almere in the Netherlands, welcoming visitors from around the world for the 'greenest day out'. Blooloop spoke to Hans Bakker, CEO of Floriade Expo 2022, to find out more about this unique, six-month-long event.
Bakker initially started working on Floriade Expo 2022 as a strategic advisor, having retired from a 40-year career spanning travel, conventions and exhibitions. Shortly after joining the team, after spending some time looking at how to improve things, he was asked to step into the role of CEO.
"I have come from the exhibition and convention industry," says Bakker of his background. "For about 15 years I was CEO of the RAI Amsterdam, which is the biggest convention centre in the Netherlands. So I have quite a lot of experience in exhibitions. An International Horticultural Expo is, of course, something different, compared with exhibitions that tend to last only a week. But there are also a lot of things that are the same."
"I hope to add some value in the coming months and afterwards, to create the marvellous Floriade Expo 2022."
The origins of Floriade
Floriade, the International Horticultural Exhibition, has been held in the Netherlands every 10 years since 1960, when the first Floriade was held in Rotterdam, but its roots go back earlier than this, as Bakker explains:
"Before the Second World War, there were also horticulture shows in the Netherlands. These were held under the name of Flora. It was more a national event, but it was beautiful. Last week I saw the catalogue of the 1936 event and there are some similarities."
In 1960, it became Floriade, an international event. Explaining its origins, Bakker says:
"After the Second World War, everybody was busy with getting back to a normal life again, with foods and with housing. And by the end of the 50s, people came to the stage that they said, 'All right, I don't just want a house and food, but also I want to have a garden and we want to do fun things again.
"In this light, and as part of the resurrection of the city of Rotterdam, the old idea of the Flora exhibition was taken up in 1960 and became Floriade."
Floriade evolves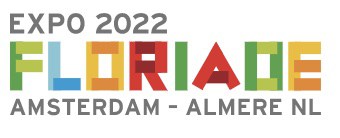 The event has developed significantly from its early days. Planting at Floriade is more diverse now, with more attention to biodiversity and the roles different plants can play.
"It was initially focused on flower gardens," says Bakker. "But from 1960 to 2021, this has evolved from an event that just showcases horticulture in terms of ornamental plants. Over the years it has started to encompass vegetables too and nutrition. Throughout the past few decades, Floriade has become more sophisticated, and more and more technology has featured too.
"In 1960, it was about living a nice life in your house and your garden. And actually, this original idea is now extended to let's say have a healthy life. You have to live in surroundings where you can feel good, and where you can have a healthy life.
"Now, this Floriade we have the theme of Growing Green Cities, so it's more or less concentrated on living better and greener in the city. We present green solutions that make our cities more enjoyable, beautiful and sustainable."
Growing Green Cities
Within this overarching theme of Growing Green Cities, there are four subthemes. These are: Greening the City, Feeding the City, Healthying the City and Energising the City.
Firstly, Greening the City will explore how to make cities and urban spaces greener. This will invite visitors to lose themselves amongst the plants and trees of the arboretum as it demonstrates the role each species could play in a green future.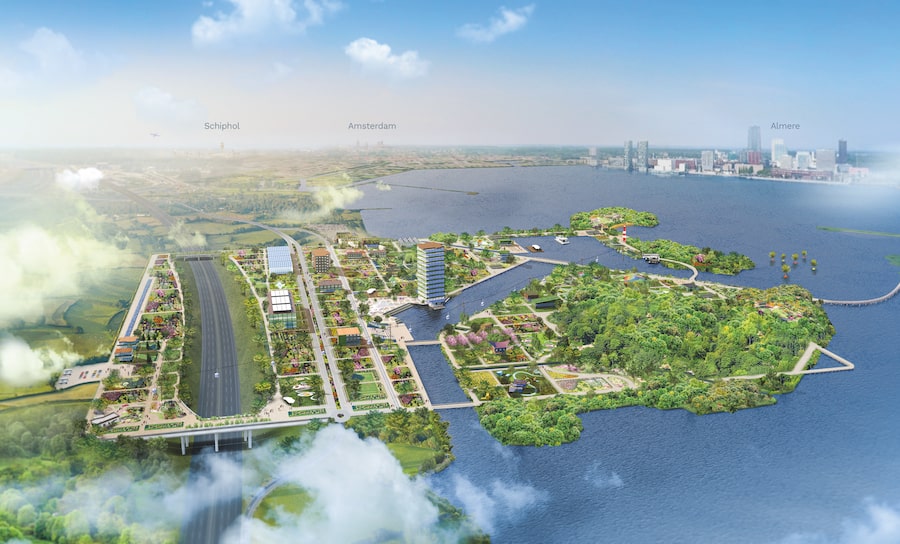 Meanwhile, Feeding the City will focus on food production in the city. It will include topics such as experimental agriculture and horticulture, urban agriculture, artificially produced food, nutrition, health and sustainable agriculture.
The Healthying the City strand will take a look at how clean air, water and soil can help us to stay healthy, both physically and mentally. Finally, Energising the City will present sustainable ideas for generating, storing and saving energy.
In addition, there is a robust arts and culture programme, as well as fun attractions, such as a cable car.
Floriade 2022 comes to Almere
Next year, Floriade will head to Almere, just across the IJmeer from the capital, Amsterdam. This is one of the Netherlands' planned cities and was founded in 1976. It was built around sociologist Ebenezer Howard's concept of the 'garden city', aiming to achieve harmony between the city and the countryside.
"It's an ideal location in the province of Flevoland, 30 kilometres from Amsterdam. It is an interesting place to be," says Bakker, "because it didn't exist till a few decades ago. It's new manmade land, on the former Zuiderzee seabed. There is a unique combination of water, land, and air which makes the area very special.
"Almere is also growing fast. It is expected that the city will be the Netherlands' fifth biggest city in 10 years. Maintaining the balance between the built environment and greenery will be a key challenge as it continues to grow."
Inspiring visitors
Floriade aims to inspire visitors during its six-month run. One of the highlights, Bakker says, will be the arboretum:
"We will have a unique arboretum, which constitutes the Expo's green structure. It is an alphabetically organised encyclopaedia of trees, shrubs and plants, that you can walk through. At the Expo, we will have 650 different kinds of trees, which are all types of trees that can grow and thrive in this specific area. There is a lot of clay because it was previously part of the sea.
"What makes this arboretum extra unique is that all the trees and plants contribute to a healthy, green city."
"There are all kinds of ways to find inspiration at Floriade. From greening the city or the surroundings of your house to just enjoying the beauty of nature and the plants and the flowers that can flourish here."
"We also have about 40 countries that will have their own pavilion and garden. They will be showing how they are greening the city in their country, how they are feeding and energising and healthying the city. Plus there are many national participants. They will be showcasing their industry or products from their industry and green solutions and innovations.
"The programme goes together with the attraction of a 5-minute ride in a cable car. You go over the beautiful scenery and you can see all these beautiful gardens and plants and flowers and trees. It also shows you how future cities could look with this potential for sustainable use of urban cable cars."
Floriade for the future
"This year's Floriade is special too, as it is not only a World Exhibition. The city of Almere also decided to develop an urban area that will stay for the future, beyond the event closing. The arboretum will stay there, and other parts of the Floriade. After the Expo, the Floriade site will be redeveloped into a new, green, virtually car-free urban district called Hortus."
"This is our sustainable approach. We are preparing the green structure and an exhibition and then to continue development of the urban area."
The impact of COVID-19
The global pandemic has had a significant impact on the attractions industry over the last 18 months. However, Bakker hopes that some normality will have returned by the time the doors open for Floriade in April 2022:
"We open on the 14th of April, for the public, and will close on the 9th of October. We think that by the time the opening is here, people in our catchment area will have had their vaccinations. Of course, we are still preparing to operate safely and in fact, much of Floriade will be in the open air, apart from the pavilions."
Sustainability is key
The theme of sustainability runs through the core of Floriade. Speaking about its importance, Bakker says:
"Floriade has always showcased all these beautiful plants and flowers, so we have always been about nature. We are all living in nature. But over the past century, certainly, we have not been that nice of a visitor for that nature. So, I think it's very important that we make everybody aware that we are part of nature and that we should shift to ecosystems where we can live our lives in a healthy way, and at the same time, a way that is healthy for the earth, that sustains it for the future."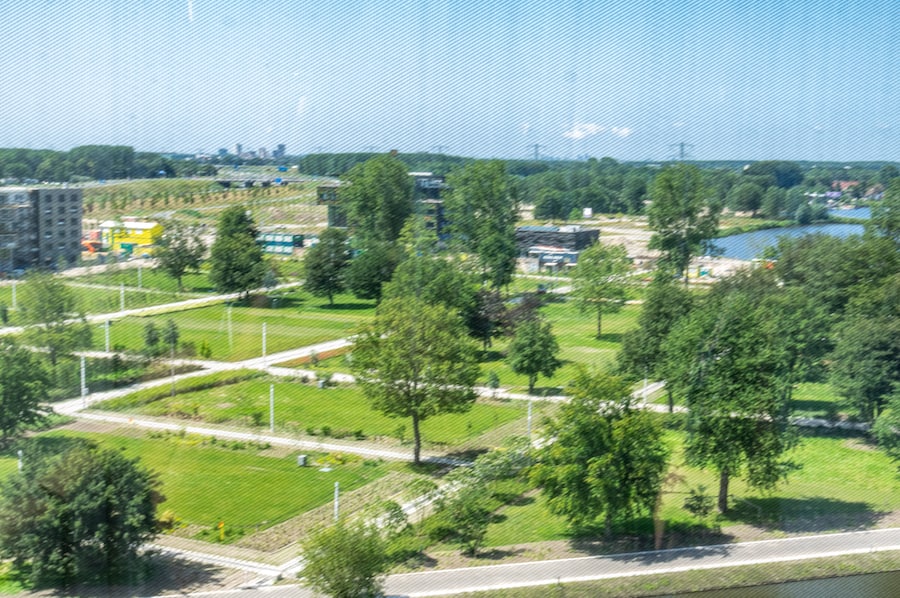 "This is the basic idea behind Floriade, and we are coming at it from the point of view of the horticulture industry. There is no other industry that is more related to nature than the horticulture industry. So, we must take the initiative in research and in exhibition to make the shift to a more sustainable life."
"By 2050, 68% of the global population will live in urban areas. So that's also a major thing that we are aware of."
The International Horticultural Exhibition Floriade Expo 2022 will give an optimistic view of the future. It will demonstrate green solutions to make our cities more liveable, more sustainable and more fun.
New technologies for greener living
With this in mind, Floriade Expo 2022 will also highlight some of the new technologies that will help the increasingly urban population to live greener lives in the city.
"One of the ideas is to bring back the idea of enjoying local food," says Bakker. "What is better than local food you have grown in the city? In Floriade, you can see all kinds of examples. You can have your food grown in the city, with new technology supporting things like urban agriculture, vertical gardens etc."
"The whole food chain will change a lot in the future and will see people getting their food more locally. The nearest location is of course your own city, and there are many new ideas of how to develop that. That's one of the issues you can explore at Floriade."
Floriade prepares to welcome the world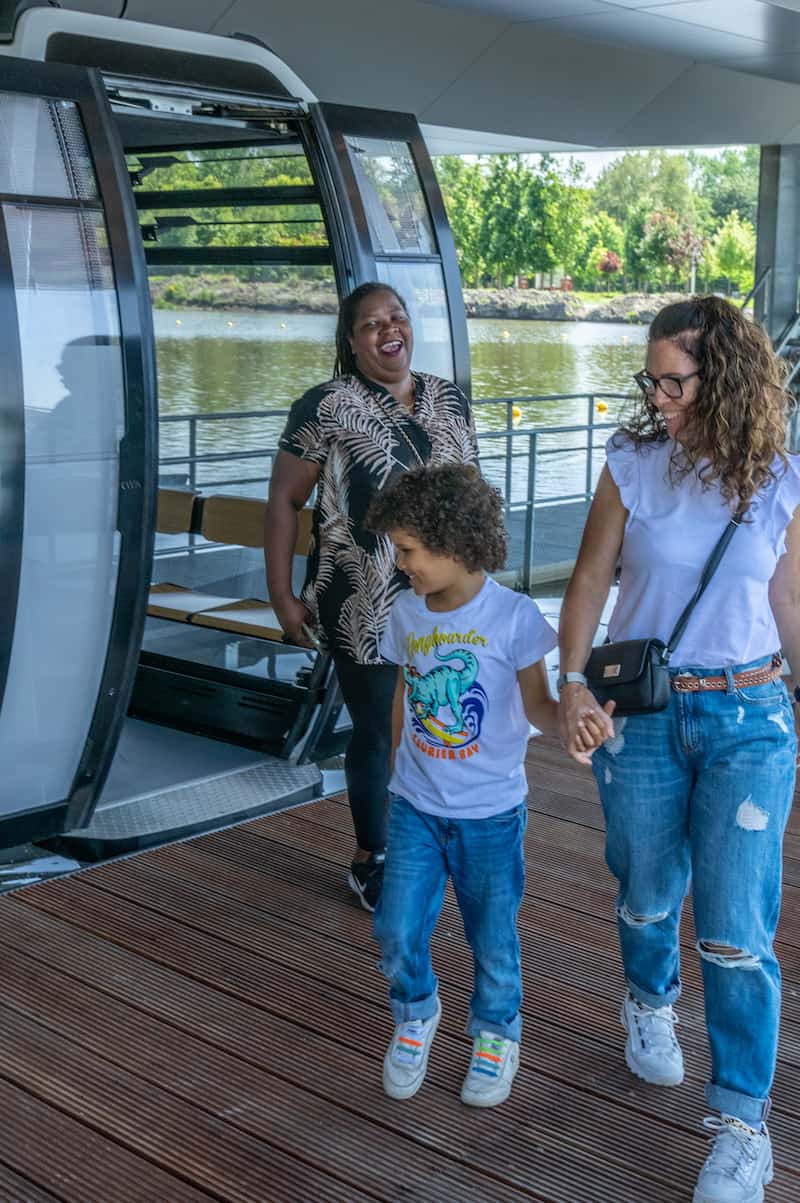 Approximately 2 million visitors are expected to attend Floriade. Around 300,000 of these will be people from the horticulture trade and industry itself.
"For a lot of companies, especially from within the horticulture industry itself, it is an interesting opportunity to show themselves. Both to these 2 million people and specifically to these 300,000 trade visitors. This includes professional people who are participants in the industry as well as people who are working in related industries.
"Right now, we are working on getting sponsors and partners. It's developing pretty well."
Showcasing the Netherlands
The overall goal of Floriade is to give people an opportunity to find inspiration in the horticulture sector. This year, the mission is somewhat wider, says Bakker, with the addition of the arts and culture programme, as well as the future city project in Almere:
"A key goal is to show this new city, Almere, how it has developed so far and its plans for a green future. For a city like that, which is brand new, almost 50 years old, it's a big challenge. It is exciting to see how it will go into the future with these ideas of the city itself, and how it should develop so that the people can live a healthy life.
"It really goes hand in hand with Floriade Expo 2022's theme of Growing Greener Cities, a living example."
Bakker finishes by adding:
"The Netherlands is a rather small country. But when it comes to the horticulture sector, it is about the largest exporter of fresh vegetables in the world and by far the main party in global exports of cut flowers, ornamental plants, flower bulbs, trees and seed potatoes.
"We have a rich history in horticulture and horticultural research. We also partner with universities, and with all kinds of other institutes in the Netherlands. It's a very important industry for our country. And we are proud to have the opportunity to show that every ten years with Floriade".