The Macallan Distillery Experience brings Scotland to NYC. The ground-breaking 4D group VR experience takes guests on a multi-sensorial journey to the new whisky distillery in Scotland
The VR experience has been designed to tie in with the recent opening of the new £150 million Macallan distillery and visitor experience at Craigellachie in Speyside, Scotland. The new centre is part of a £500 million investment in the whisky brand which has been described as the 'Rolls Royce' of Scottish whisky.
Visitors to the Speyside centre can take a 40-minute guided tour. Now it's no longer necessary to actually travel to Scotland to experience the brand. The new VR experience is billed as the first ever interactive 4D group virtual reality experience. Guests enjoy a multi-sensory journey while exploring the distillery's striking architecture, unique collectables and historic stories.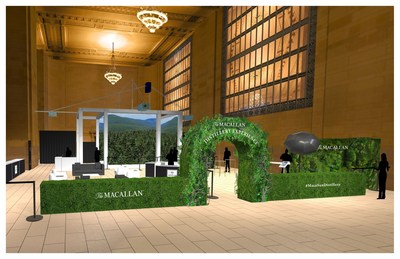 Samantha Leotta is brand director of The Macallan. She said: "We're proud to celebrate the opening of The Macallan's breathtaking new distillery and visitor experience in Scotland and exciting new era of innovation by unveiling this immersive installation in New York City. Participants can explore the new distillery as if they were really there".
They can also "choose their own path to learn more about the iconic estate, history and heritage of The Macallan and its unrivalled whisky-making process. This journey was created so participants can be virtually transported to Speyside. There they can experience the sights, sounds and scents of our new home."
An inclusive 4D group VR experience for guests
The Macallan has created a 360-degree video (using drones and a remote-controlled robot) which transports consumers to Speyside. 360 and VR experiences tend to be solo with the potential to be isolating. However the Macallan's immersive activation lets a small group of people travel to Scotland together. Guests move into a cubic projection structure, with 360-degree videos projected on every side of the structure. Cutting-edge wind and scent diffusion technology adds to the sense of being in the wilds of Scotland. Meanwhile fully interactive leap motion controls let guests guide the experience, while by using hand gestures they can select which parts of the distillery they want to learn more about.
Increased appetite for adult beverage attractions
The New York experience is just another example of the seemingly endless public appetite for 'adult beverage' attractions. As Blooloop recently reported, brand experiences involving alcoholic drinks are increasingly popular. Permission has just been granted for a D'Arcy's whiskey distillery centre in Northern Ireland, which will also become part of Tourism Ireland's Whiskey Trail. Back in Scotland, Diageo has announced it is investing £150 million into Scotch whisky experiences, upgrading 12 distillery visitor centres across Scotland. Meanwhile the Guinness Storehouse retains its position as the number 1 international visitor attraction in Ireland, with over 1 million guests last year.
Viewing Macallan across the globe
The Macallan launch is scheduled to tie in with National Scotch Day. The event is open to the public from July 25th – 27th . It's being held at the Vanderbilt Hall of Grand Central Station.
Whisky enthusiasts globally will be able to experience The Macallan Distillery Experience on mobile phones or desktops. They can also access via social media, or at selected stores, bars and restaurants using a VR headset.