The National Museum of China in Beijing is close to ousting the Louvre in Paris as the world's most visited art institution.
According to The Art Newspaper's annual survey of museum attendance, the Tiananmen Square institution attracted over 8 million visitors in 2017. This gives it the world's second highest attendance. It is surpassed only by the Louvre, which had 8.1 million.  It now therefore ranks above the Metropolitan Museum of Art in New York, the Vatican Museums in Vatican City, and London's British Museum.
The year's most popular single exhibtion was at the Tokyo national Museum.  This was a first major retrospective of the work of 13th-century Japanese artist Unkei. Over 11,300 visitors a day saw the exhibtion.  The second most visted was – with a daily average of 8,926.- Icons of Modern Art: the Shchukin Collection, at Fondation Louis Vuitton in Paris.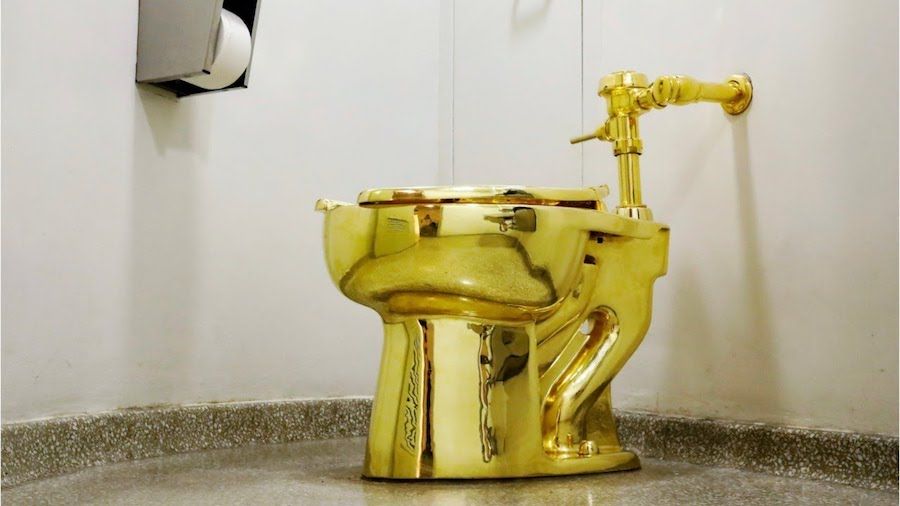 Art movement
Maurizio Cattelan's solid-gold toilet (above) at New York's Solomon R. Guggenheim Museum might arguably the world's most, ahem, interactive work of art. The Guggenheim reckons that over 3,000 people view or use the exhibit each day. Cattelan's America (2016), is located in one of the museum's Frank Lloyd Wright-designed bathrooms. Visitation is especially impressive when one considers it is a single use exhibit.
However, Jose da Silva of The Art Newspaper said, "It is difficult to gauge how many people just go to the toilet or to see the work".
The most attended temporary exhibition by far in New York in 2017 was the Museum of Modern Art's Rauschenberg retrospective. The exhibtion attracted around 5,500 visitors a day. This was four times as many as it did at Tate Modern, where the show first opened.
David Hockney at Tate Britain
The Hirshhorn Museum in Washington, DC, exhibited Kusama's hugely popular Infinity Rooms. The successful exhibit helped boost attendance from 659,000 to 1.1 million visitors. However, the museum's most-visited exhibition was not the Kusama show – which had a strict daily cap. It was Yoko Ono's interactive Wish Tree, which attracted 3,000 people a day.
There was also a first in London as Tate Britain's box office beat that of Tate Modern. Tate Britain's David Hockney retrospective drew around 4,300 visitors a day. As a result it was the group's most popular ticketed exhibition by a living artist.
Meanwhile, neither Tate Modern's Giacometti (1,700 visitors per day) or Rauschenberg (1,460 visitors) exhibtions came close to the success of the Hockney show.
Beijing's National Museum Nearly Ousts the Louvre as the World's Most-Attended Art Institution