by Ellie Griffiths, Tessitura Network
As the pandemic hit and the country closed down, the National Gallery went through the same shock as everyone else. However, as it emerged from that initial crisis, rather than focusing on what it didn't have — an open building — it recognised the assets that it did have: a digitised collection, a respected brand, loyal members, and talented staff.
As cultural institutions in the UK prepare to reopen again, we at Tessitura reflect on the successful innovations The National Gallery applied when coming out of the first lockdown 1.0. This leading museum helped outline the cultural sector's roadmap out of lockdown through six key traits.
We have consistently witnessed one or more of these six traits in organisations that are thriving despite the challenges of COVID. The National Gallery continues to be forward-looking, creative and resourceful as it reopens, serving as an example to us all in the arts and cultural industry. Here are the six traits and how it has achieved them.
1. Engage all audiences
National Gallery, along with many peers, quickly realised that engaging audiences in lockdown meant inviting people to view its online collection. Broadening its footprint beyond normal channels, the National Gallery sought to engage the whole country by placing digital billboards of some of its great works in cities up and down the UK.
This strong brand presence brought joy to essential travel. Plus, it ensured the National Gallery's name and art was remembered and accessible from anywhere. It was an incredibly successful way to engage all audiences and point people to the digital collection.
The museum can also measure success by the increased number of known individuals in its Tessitura system over the course of the pandemic.
2. Continually strengthen relationships
Beyond engaging audiences, the National Gallery quickly realised that strengthening its relationships with members and loyal visitors would be key to recovery before it could reopen.
The Commercial team, led by James Beardsworth-Shaw, Head of Commercial Services, became the crux of many efforts. They worked closely with other departments on new ways to ensure members remained engaged.
In-person, being a member of the National Gallery gives you priority and free access to exhibitions with your membership card. As it moved to an online gallery, the commercial team, along with curators and digital experts, ensured that the benefits of being a member weren't lost in the virtual world.
With Tessitura's virtual experiences, members could easily log in and be recognised. So, they could pick up a virtual exhibit and view it directly from their account, ahead of the general public.
This collaboration continued, as the Gallery team created more and more online events and experiences. The new department alignment allowed it to provide priority and exclusive access for members. This meant it was strengthening relationships by providing virtual experiences and content not available anywhere else.
3. Diversify revenue streams
Whilst strengthening relationships, the team was also able to build different revenue streams.
For some time, the National Gallery has held a popular lecture series in its 300-seat theatre. Unable to continue the series in person, it chose to continue it online, for just £10 per person.
The pivot to digital increased capacity and the Gallery was regularly seeing audiences of far more than 300. Even more significantly, it was also reaching international markets. Because of this greater reach, it is expecting to keep this revenue stream. Even after the in-person lectures resume.
4. Streamline operations
The UK's National Museums and Galleries are incredibly important in keeping art and culture accessible to all with free entry and welcoming spaces. The threat of the pandemic, and the need to keep everyone comfortable and safe, meant that, once reopen, the National Gallery used Tessitura's free timed admission functionality.
This helped it to manage physical distancing and capacity control. It also enabled the Gallery to provide smooth communications with visitors.
The Gallery was also able to gain a level of insight and understanding from survey data that previously was a manual process. Rather than staff standing around with clipboards asking people to take a survey, the Gallery can now automatically send a post-visit email survey to every visitor. Thus, gathering far more feedback than it has ever received. This in turn allows it to segment and provide a more personalised experience.
5. Enable safe gathering
Paramount through reopening is the need to keep visitors safe and feel comfortable. The National Gallery was concerned that with all the precautions, its gallery wouldn't feel like the usual inviting space. With this in mind, it took an intentional approach when enabling safe gathering — always ensuring safety while having a bit of fun too.
The fun begins with the queue dots building anticipation and extends to the tongue-in-cheek notices around the practicalities of toilet access when the traffic flow has become one-way.
Safety is critical. Once reopened, the National Gallery turned it from a constraint into something fun, ensuring all visitors had the true National Gallery experience.
6. Transform traditional experiences
The last 12 months, despite the challenges, have enabled organisations to pause and reimagine. The National Gallery, as it reopens to the public, has managed to transform the visitor experience in a simple yet remarkable way.
A major part of its strategy to enable safe gathering was to reconfigure traffic flows. So, the Gallery established one entrance, one exit, and one-way-only foot traffic. To make it enjoyable, the curators developed three different art routes. Each visitor decides which route to take and then go on their journey.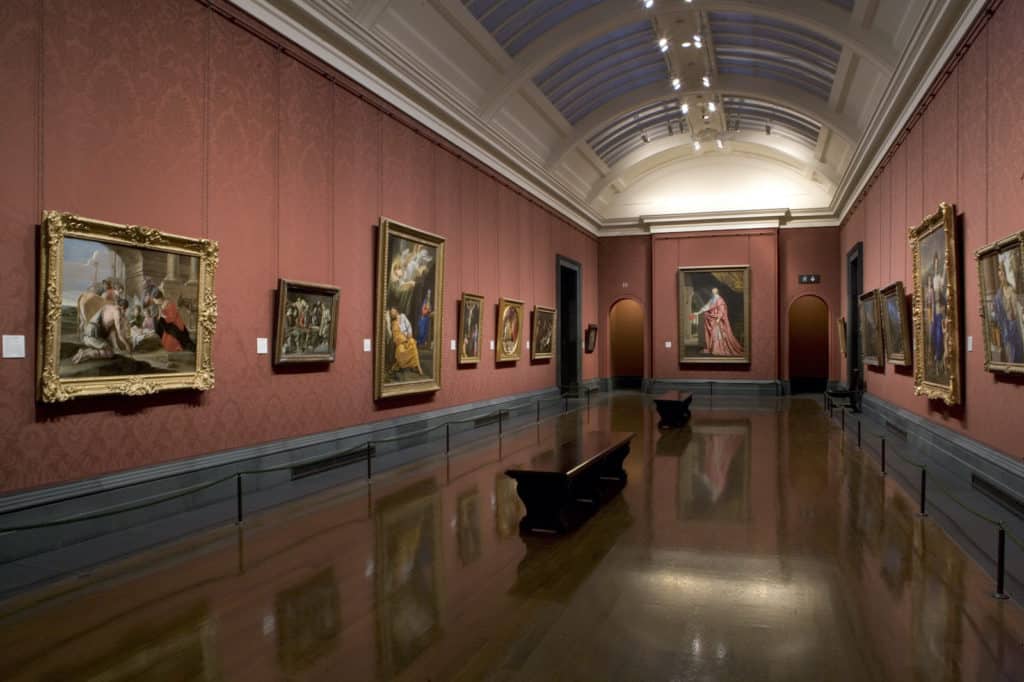 You may think that attempting to condense the Gallery's vast collection and previously unconstrained foot traffic may dampen the experience. Far from it: the reopened National Gallery received high praise in the press and, most importantly, with visitors. Changing the traditional endless choices of ways to visit the gallery allowed people to experience things they'd previously missed. Visitors could now concentrate on the art — not the navigation.
Also, this transformation required no extensive operational changes, no rehanging of work or huge investment. The Gallery simply placed arrows on the floor: a simple, yet transformative change.
Six traits to be aware of
The National Gallery has shown us the six traits needed to look forward and get ahead. Whether in the midst of crisis or as we look toward the future.
Tessitura is pleased to share the six traits framework in a free strategy guide, Six Traits of High-Performing Cultural Organisations. Download a copy to evaluate your own organisation against these success traits and be inspired by other arts and cultural organisations.