Modest investment is a thing of the past at Compagnie des Alpes. Over the next five years, the operator of Walibi, Parc Astérix and Futuroscope is spending hundreds of thousands of euros upgrading its park portfolio. Blooloop talks to François Fassier, the man leading the group's Leisure Destinations division, about the exciting plans.
As its name hints, Compagnie des Alpes is in the business of activities that occur on mountains. Yet the largest operator of ski resorts in the French Alps also derives almost a third of its revenue from amusement parks and attractions. After disposing of a number of smaller parks in recent years, most recently Fort Fun in Germany, the French firm is focusing its efforts on bolstering a handful of key brands. In doing so it hopes to consolidate its position as Europe's fourth largest park operator (behind Disney, Merlin and Parques Reunidos). And that means delivering high levels of guests satisfaction.
"If we want to be one of the key actors in Europe, we need to deliver 4.5 stars on Tripadvisor," says François Fassier (right), Director of Operations for the Leisure Destinations division of Compagnie des Alpes (CdA). "If we want to achieve a higher level of guest satisfaction, we need to develop our product. This is a cap ex intensive business. We need to deliver something new at least every two years if we want our guests to keep coming back."
Adding to Astérix
In line for the biggest investment is Parc Astérix. A five-year, €120 million plan began in 2016 and will carry the park outside Paris through until 2021. Following on the back of earlier investments including the inverted coaster Oz Iris and children's area La forêt d'Idéfix, a nicely-themed Zamperla Disk 'O' Coaster called Discobélix opened in 2016. New for 2017 was the €16m Gerstlauer launch coaster Pégase Express, featuring theming from Jora Vision. A major 5D theatre project is planned for 2019, featuring Astérix animated content.
Two new hotels, la Cite' suspende and Les Quais de Lutéce, will open in 2018 and 2019 respectively. Unlike the existing 3-star l'hôtel des Trois Hiboux, both properties will be themed. They will add a further 350 rooms, bringing the total number on site to 450, but it might not be long before they exceed 500.
"We want to move away from seasonality," says Fassier. "To do this, we need to be less dependent on the weather, increase the catchment area and focus on ways to extend the length of stay."
Not only is this a volume strategy, it's a per caps strategy, he adds. "Because when people stay in your resort they don't come with a sandwich or a picnic, so you develop your retail per caps."

France's top five theme parks
Currently 80 per cent of Astérix guests come from within a 1.5 hour radius of the park. By pulling from further afield, CdA hopes to grow annual attendance in the next five years from around 2 to between 2.5 and 3 million.
That target is significant as it would give the comic book inspired venue a shot again at becoming France's third busiest theme park, or no.1 after Disney. In recent years that title has been taken by the live entertainment park Puy du Fou, which welcomed 2.26m guests in 2017.
Narrowly beating Astérix to the number four position in 2016 (its current season doesn't finish until early January) was Futuroscope, part of the CdA portfolio since 2010.
https://www.youtube.com/watch?v=4UnhVWLCe38
Reclaiming the top spot in Belgium
Starting this winter, more than €100 million will be invested at Walibi Belgium. At least one new attraction will be added every year until 2022/23.
When the facility in Wavre in near Brussels opened Pulsar in 2016, a unique PowerSplash attraction from Mack Rides, it came as a huge relief to park fans. They had previously been starved of a major new ride since the Vertigo suspended coaster/zip line added in 2007, and closed just one year later.
In that time, the plucky Plopsa group began doing rather well for itself over on the Belgian coast. Thanks to a raft of new attractions and themed areas, an indoor waterpark and heavy exploitation of its own intellectual property, Plopsaland De Panne became the nation's busiest park, beating both Walibi and Bobbejaanland.
Walibi Belgium CEO Jean-Christophe Parent is confident his park can reclaim the top spot. "With this plan we have the ambition to confirm Walibi as the biggest and most sensational attraction park for all ages in Belgium," he says.
Fassier concedes "this park suffered from too low investment for too many years." But with fresh investment and TLC, all the ingredients are there for it to prosper once again. "It is a nice asset, a big park that is very well known in the market. The park is close to the capital and less than one hour from France. It is easily accessible by train, by car and bus. Now is the time to invest it we want to attract more visitors. The objective is to become the first park again in Belgium in the next five years."
Remixing Wavre
So what do you get for €100 million? Once Compagnie des Alpes has finished its five-year transformation of Walibi Belgium, as much as 75 per cent of the site in Wavre will have been renewed. Eight themed zones will together be known as the Worlds of Walibi.
Two family coasters, one by Zierer, the other from Gerstlauer, will open this coming season as the area close to Challenge of Tutankhamon is given an exotic new look. Zierer will also supply a Force 190 coaster for 2019. An interactive dark ride, the first to feature ETF/Alterface's Erratic system, is planned together with an interactive water ride. Other upcoming attractions include an unidentified family ride and an experience restaurant.
The adjoining Aqualibi indoor waterpark is in line for a 700 square metre extension, taking its total area to almost 7,000 sq m. Guests will be able to take in new slides and a tropical, Caribbean atmosphere.
The biggest investment is planned for 2021, when a new zone is added. Opening as part of this will be the park's new 10th rollercoaster. At 53m in height, the hyper coaster will be the biggest in the Benelux. The manufacturer has not yet been revealed.
In choosing the new attractions, Fassier says CdA executives and park management considered three things. "First, who is the target group for each year, is it families with young children or teenagers? Then we look at attraction capacity. Third, it's a matter of what looks good in your [marketing] communications."
Rebranding Holland?
One park that had been similarly starved of new investment until recently was Walibi Holland. In 2016 it welcomed its first new rollercoaster for over a decade. Lost Gravity from Mack Rides features a 680m-long layout together with eye-catching 8-seater semi-winged ride vehicles. Prior to this, the park's last big attraction investment was a Splash Battle added in 2005.
Lost Gravity has been a hit with teenagers and hints at the future direction for this park in Flevoland, an hour north of Amsterdam. Its popular Fright Nights (as pictured below) are becoming more elaborate and intense each Halloween. During the course of the year, Walibi Holland also provides the backdrop to several music festivals. A "huge new ride" is planned for 2020.
"Walibi Holland is an interesting park," says Fassier. "Its target market is young adults first, families second. That is why we might take the choice to rebrand it and communicate a little bit differently to the other parks of the group. The risk is that families have more money compared to young adults. So part of our strategy would be to develop other kinds of business, festivals and so on. Over the past five years we have totally developed the campgrounds. Then we are thinking about adding some lodges. I think we could move away from the Walibi theme to a festival theme. When you come into this park, there is always a festival atmosphere."
Refining Walibi
Were the Dutch park to be rebranded, then Fassier says it wouldn't bother him having one less park in the Walibi chain. There's already less outlets than there once was. Before CdA acquired the brand in 2005, former owner Palamon Capital Partners/Star Parks sold Walibi Lorraine in northeast France, close to the German border. It now trades as Parc Walygator under the ownership of Aspro. In 2015, the Spanish group also picked up Walibi Sud-Ouest (formerly Walibi Aquitaine). CdA, which offloaded the park due to its size, now licences the name back to Aspro.
The fourth remaining Walibi park, also in France, is Walibi Rhône-Alpes. Located close to Lyon, it also sits within easy reach of the Swiss cities of Grenoble and Geneva. New themed areas were added the past two seasons, the first incorporating a wooden coaster. Further new areas and attractions will be introduced in 2018/19, before the arrival of major new ride in 2020. What has been built so far has a distinctly different look to some of the theming that started appearing in the Walibi parks a few years ago.
Rebooting the brand
As part of a rebranding exercise, the Walibi (wallaby) mascot was given an 'edgier' look and a bunch of new friends. Together they formed an imaginary rock band. The idea was to make music the overriding theme of the parks and strike a chord with the cool kids. But of course cool kids don't like being told what's cool, and the strategy bombed. Refurbishing a bunch of old rollercoasters was necessary to keep them going. However passing them off as new experiences didn't fool the hardcore park fans.
"We are now trying to reboot the Walibi brand from how you saw it three, four, five years ago," says Fassier. "Now when you go now into Walibi Belgium or Walibi Rhône-Alpes, you will not see that whole family of characters, just Walibi. We made a mistake, it happens."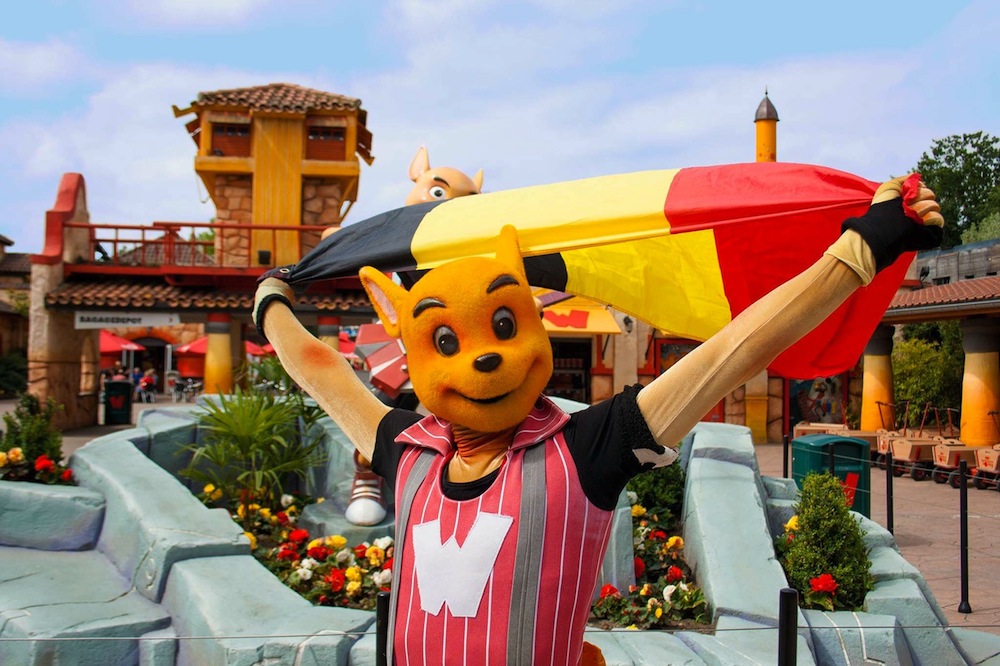 Fresh management and stronger design team
So why all this investment now? "First, we are a new management team," says Fassier. "I would say around 80 oer cent of executives were replaced. In my team the longest-serving general manager has been in place four years. For the first 12 months we were working on our strategy. Now we are beginning to deliver on our plans."
Fresh design talent has been recruited too. "We have seven people working on the plans and layouts. We continue to work with lot of external companies, but now we have internalised some of these competencies because the number of projects is so huge."
Fassier credits project manager Julien Simon, who has been with CdA since 2013, as driving the design effort. His 'signature' can be seen on projects such as the Explorer Adventure area and other new additions at Walibi Rhône-Alpes, or many of the upcoming developments at Walibi Belgium.
Lessons from Futuroscope
Compagnie des Alpes has been in charge of operations at Futuroscope since acquiring a 45 per cent stake in 2010. Its partners are the local authority Départemental de la Vienne and Caisse des Dépôts. CdA's experience at this science and technology focused park has provided the firm with fresh inspiration to feed back into its more 'mainstream' venues.
"The food areas at Futuroscope are interesting because it is a more premium offer than what we have in other parks," says Fassier. "That drives guest satisfaction higher. Also the park has a lot of indoor activities, which is key if you want to open year round."
At the start of 2017, Futuroscope opened L'Extraodinaire Voyage. This flying theatre by Dynamic Attractions is one of many media-based attractions at the park. Though, as already noted, a 5D theatre is part of the plans for Parc Astérix, Fassier is wary not to let technology get in guests faces at other parks, lest it stop them having fun. Specifically, he is not a fan of virtual reality.
"I don't think it is the future," he says. "It can help you to and refurbish old product or communicate a message, but our business it to generate emotions for guests to enjoy together. VR does not offer that."
Building up Bellewaerde
Fassier notes that Futuroscope is "in the middle of nowhere, yet is able to attract almost two million people a year. So a good location is better, but it is not an excuse."
For this reason, he sees potential for the CdA's other Belgian property, Bellewaerde. The animal and amusement park is set amid very green surroundings in West Flanders. In 2019 it will welcome a €17 million indoor waterpark. The planned addition is part of a strategy to develop a resort style offering and increase the emphasis on animals and adventure.
New for 2017 was Dawson Duel, a giant Mountain Coaster installation from Wiegand (as pictured at the top of this page). Compagnie des Alpes already has such an attraction at one of its ski resorts. However erecting a ride like this in the low countries dictated that it had to be built on an extensive support structure in lieu of any hillside. The finished product, which towers over the car park at Bellewaerde, is a sight to see.
"We took a real risk", says Fassier. "No one one has ever done it like this before. But we have created a huge attraction which is open to families with young children. Maybe we could build one again. I think it would be interesting for a park like Walibi Rhône-Alpes. But due to the capacity, it's only 500 guests per hour, you cannot imagine putting one into Parc Astérix."
Refining the portfolio of leisure destinations
As well as Bellewaerde, other standalone parks within the group's Leisure Destinations portfolio include France Miniature in Elancourt. In addition to its replica model buildings, it also has a handful of small rides including several by Heege. New this summer, guests could enjoy a Fort Boyard treasure hunt/escape room experience, inspired by the TV show of the same name.
Previously part of the Compagnie des Alpes stable were attractions such as Bagatelle, Le Mer de Sable and Grand Aquarium de Saint Malo. Outside of France, the group had properties including Hellendoorn in the Netherlands, Aqua Parc in Switzerland and the UK's Pleasurewood Hills. These were sold to the Looping group in 2011. The fellow French operator added Fort Fun earlier this year, following an earlier attempt by CdA to dispose of the German park in 2012.
"Fort Fun was a small park, far from all our other assets. It was in a limited market with strong competition," says Fassier, explaining the company's decision to sell. "We are a big group in terms of management and it is difficult to have small sites."
Grévin, Chaplin & Co
In addition to its outdoor amusement parks, Compagnie des Alpes' leisure assets include the Grévin brand. Indeed Grévin et Compagnie (Grévin & Co) was the name of the division before its sale to CdA back in 2002.
What was once a standalone wax museum in the French capital has expanded to become a chain of four global attractions. However, the newer Grévin outlets in Montreal, Prague and Seoul have performed less well than the Parisian original. The latter two are now for sale.
CdA has enjoyed more success with Chaplin's World in Switzerland, located in Corsier Sur Vevey, home of the famous silent movie star's grave. After getting off to a good start in April 2016, it is cited as one of the star performers in the Leisure Destinations division for 2017 and has already broken even. In development is another indoor attraction, Spirouland in Brussels, based around a Belgian comic book hero. The mini park will be part of the new NEO mall near the Atomium in Brussels and is scheduled to open in 2021. A separate Spirou park opening this year in France has no connection to Compagnie des Apes.
Parks Vs slopes
For the financial year 2016/2017, the company's Leisure Destinations division generated 32 per cent of sales. That's €320.2m versus €426.9m from ski operations. The company sees potential to grow both sides of the business. It has consultancy agreements in place with ski resorts in Russia and China. It also sees more opportunities as the Beijing 2022 Winter Olympics approach.
"Growth and acquisition will be easier in the ski business," says Fassier. "However, in the next four to five years we want to have around 45% cash generation from parks. We have had double digit growth each year since 2014. To continue on this path and be a big actor in this business we will need to add more operations. Our target is parks with 800,000 to 2 or 3 million visitors. Unfortunately there are not a lot of those out there."
Expansion opportunities
When Paris' Jardin d'Acclimatation reopens after a €60m revamp this coming May, Compagnie des Alpes will handle operations. This follows the firm's appointment as a 20% shareholder in the LVMH Foundation. Headed by the luxury goods group Louis Vuitton Möet Hennessey, the Foundation picked up a fresh 25-year lease for the 157-year-old pleasure gardens in 2017.
But would CdA entertain opportunities outside Europe? "Yes, of course," says Fassier. "We would consider Asia; China perhaps. I think we are too late for the Middle East. There are a lot of actors there already and it will be difficult for them all to survive, I imagine."
He cites CdA's management contract with Parc Sindibad in Morocco as a good example of a way it might dip its toes in unfamiliar waters. "This park has for us been a good experience. I consider that we might start with this kind of control in future because we limit the risk."
It's 15 years since Compagnie des Alpes entered the parks and attraction business. Now, having shaken up its management team and park portfolio, it has a fully focused strategy for the development of its Leisure Destinations division. Judging by those projects that have already come to fruition, we can expect some really promising new things to emerge in the coming years. In future the only thing going downhill should be visitors to the company's ski resorts.
All images courtesy of Compagnie des Alpes. Main image: Dawson Duel at Bellewaerde, Belgium