Global indoor climbing attraction, Clip 'n Climb, announces the arrival of Detonator and the Time Traveller.
Detonator (left) is a stunning remake of the Astroball, involving overhanging bomb spheres.  Detonator takes up less floor footprint which makes it useful for filling small areas in Adventure Zones or Adventure Centres. The highly challenging 3D wall tests a climber's courage and agility.  It is likely to attract climbers of all ages – from children, through teens to adults.
The climber has to navigate brightly coloured giant bombs of various sizes on the way to the top.  Each bomb has just one giant spherical handle plus a few small holds for feet.  Detonator calls for maximum suppleness, strength and stretch.  To make it harder, all the handles are positioned at different angles.
Climbers have to reach out and around the spheres to grab the handles. Then they grab or undercling the handholds before swapping hands for feet and going for a big stretch for the next handhold.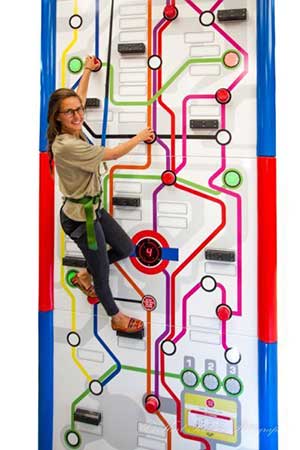 The second new challenge is the Time Traveller (right).  The eye-catching graphics for this challenge were inspired by the iconic London Underground map. Climbers first choose the speed of the countdown clock.  They then have to race the clock before time runs out.  A team-mate on the ground can keep an eye on the clock, calling out encouragement and letting the climber know how much time is left.  It's a classic race against time but with the extra challenge of gaining points on the way.  Climbers capture optical sensors on the interchange symbols.
Clip 'n Climb is an innovative fun climbing concept.  It comprises 30 climbing challenges suitable for the whole family.  The Clip 'n Climb clipper system keeps climbers safe while they stretch themselves with a wide range of challenges.  Clip 'n Climb has been installed in venues right across the world.  Adventure Zones contain less than 15 challenges, while Adventure Centres have more than 15.