The events industry has been severely impacted by the COVID-19 pandemic. However, new Europe-wide research, based on surveys fine-tuned by Professor Steven Taylor, suggests there will be a strong bounce-back for the sector once lockdown restrictions are lifted. He predicts that post-COVID, Europeans will indulge in a wave of enthusiasm for events such as festivals, live entertainment and visitor attractions that will be reminiscent of the Roaring 20s.
Professor Taylor is a clinical psychologist and professor in the Department of Psychiatry at the University of British Columbia and a worldwide authority on the impact of pandemics on human social behaviour. He spoke to blooloop about the research, commissioned by leading global projector manufacturer Epson.
"Throughout most of my career, I've focused on anxiety disorders," he says. "For instance, excessive anxiety about one's health. I have been doing research around the causes of these disorders and their treatments."
Studying the impact of pandemics
Then, in around 2018, the centenary of the Spanish flu, Professor Taylor came across articles by virologists and other disease experts. These were discussing the next pandemic:
"I became interested in the subject, particularly the psychological aspects. I was expecting the health anxiety piece to be there, with people becoming disproportionately worried. But the further I delved into it, the more I realised that psychology is hugely important to the spreading and containment of infection. And, of course, there is a level of societal disruption and distress as well. I realised no one had put it all together into one book, so I did that."
In October 2019 he published a book entitled the Psychology of Pandemics.
"There is a funny story behind this," he says. "In early 2019, I took the book to the publisher who had published my previous books, and he rejected it. He thought it was an interesting idea, but that no one would want to read it.
"I said, 'Come on; it's important. Psychology is hugely important in pandemics.' He said, 'It's just some bug going viral. Go and do something else.' So I found another publisher and it was published in October in a few weeks."
And then COVID-19 happened:
"I was expecting a pandemic, but not quite so soon. And, of course, my previous publisher kicked himself."
COVID-19 strikes
The timely appearance of a global pandemic set Taylor and his team up to start a research programme from the very beginning of 2020. The collaboration with Epson came about, in part, through interviews he had been doing speculating about life in a post-pandemic world.
He explains:
"In the past, the people have criticised the media for sensationalising pandemics. That's true and false. There have been some episodes of sensationalism, but mostly it has been responsible reporting.
There was a consistent bias I noticed in media reporting towards doom and gloom, in terms of predictions about what will happen afterwards…It's really not all doom and gloom. Most people will bounce back.
"This time around, too, reporting has been fairly good. However, there was a consistent bias I noticed in media reporting towards doom and gloom, in terms of predictions about what will happen afterwards. They would selectively quote people. I'd be doing interviews citing research suggesting people would bounce back. But that would be selectively ignored in favour of focusing on the doom and gloom scenarios.
"Of course, that bias influences people. If all we read is that the expected aftermath will be doom and gloom, that's going to influence our moods right now. And it can become self-fulfilling.
"I had been coming out and saying, 'This is not the case. It's really not all doom and gloom. Most people will bounce back.'
Commissioning research
Epson heard about Taylor's efforts to counter the negative reporting and approached him to see if he would be interested in collaborating on some surveys the company was planning about people's interest in attending mass live events post COVID.
"They collected all this data in the UK and Europe. And, most people, regardless of age, were keen on bouncing back," explains Taylor.
Epson commissioned Arlington Research to undertake a study of adults aged 18+ who have been to one or more technologically enhanced events over the past 12 months.
An online survey of 2500 respondents took place across five countries in Europe. This consisted of 500 respondents from the UK, 500 from France, 500 from Germany, 500 from Italy and 500 from Spain. Quotas meant that the research had an even split of men and women. There was also a spread of age and region per country.
Pandemic fatigue
The enthusiasm the data revealed across age-groups for returning to live events such as festivals and concerts post COVID is interesting, Professor Taylor says:
"It was collected in the midst of pandemic fatigue. If you chart the emotions of people throughout the pandemic, it's a broad picture. Initially, many people were anxious. That anxiety has tended to abate to some degree, but what has replaced it is this low- grade depression.
"Many people are feeling sick of the pandemic. They want to go out and socialise.
"Humans are inherently social creatures, and social distancing requires us to inhibit that urge. Even though people are in this gloomy state, people are still anticipating getting back and partying like it's 1920. I thought it was useful for Epson to get that data out there. It counters this bias toward doom and gloom that I kept seeing in the media."
The research shows that many people have spent lockdown missing events. They have also been remembering ones they have attended before. Over half (54%) have spent lockdown sharing memories of past events with friends and family. In addition, 51% have admitted to watching concerts and events online or on TV as a substitute for attending events.
A large majority (78%) say that 'seeing and/or planning events with friends or family' makes them feel happy. Over six in ten (63%) said they felt bored, sad and frustrated by not being able to go to events during pandemic Lockdowns.
'Bored' is the highest scoring emotion for Generation Z (52%), the UK (48%), Millennials (47%), males (44%) and Generation X (44%). 'Sad' is highest in Italy (48%) and Spain (58%) and amongst European Baby Boomers / Silent Generation (45%).
Eagerness to attend events
Some people – perhaps between 10% and 20%, may have enduring severe psychological problems arising from the events of the last year, for which they will require therapy. However, Taylor envisages that at least 80% of people will bounce back post-COVID, and will be attending big live events.
"We have, of course, seen evidence of this already," he says. "We saw the bounce back after the 1918 pandemic and we saw bounce back in Wuhan. There was a big concert in Barcelona; the image was striking: 5000 people in a concert hall all wearing masks. They had all been tested, and they were there to party. It was awesome.
"It just proves the point – the doomsayers were wrong: most people will bounce back."
Analysis of the findings by Professor Steven Taylor also suggests that the bounce-back will be even greater than anticipated. This is because people may have understated their eagerness to attend live events.
Research shows that people are not always accurate when predicting what will make them feel happy. This is something Professor Taylor attributes to 'anchoring bias', which happens when people make predictions about the future through the lens of their current mood and feelings.
"Currently people are in a state of pandemic fatigue. They feel stressed and some are suffering low levels of depression. This introduces a level of negative bias when thinking about their future plans. Accordingly, people are likely to be overestimating their anxiety about attending events."
The majority will bounce back post-COVID
In fact, the initial anxiety some will feel the first few times they go to an event is likely to dissipate quickly, says Taylor:
"The majority of people will bounce back. This is what happened in the past and it will happen again."
Over the last year, people have become accustomed to inhabiting a digital space, attending online events.
"This pandemic has accelerated trends that were already in place – watching Netflix at home, working from home, ordering food from home, making the home a kind of bastion – a pleasure palace, as it were. Those trends will continue, and the pandemic will strengthen them. People will still attend events via the internet.
"That said, most people do want to bounce back to the actual real thing."
This is mostly due to the urge to socialise. But it is also partly due to the importance of being seen – and of Instagramming the experience.
"It becomes, for some people, almost part of their identity," Professor Taylor says. "For many, festivals and mass gatherings are part of their social fabric, and also markers in time. You have, for example, the Saint Patrick's Day Parade in New York, or the first football game of the season. These all become important milestones for people to mark their time together. And, if you take those away, people often feel a sense of loss."
Support needed
Reacting to the research, Peter Heath, Managing Director of PLASA (Professional Lighting and Sound Association) and founding member of the #WeMakeEvents Steering Committee says, "After being separated from doing what we love for over a year, it's no surprise that people are keen to create lasting memories at live events post-COVID.
"It's hugely reassuring that once productions return, the public will be ready to show support. But to realise this potential, we need to ensure there's an industry to even come back to.
"We're excited at the positive signs of the sector being able to reopen later this year. However, there's no guarantee that gigs and tours will definitely happen. In the meantime, we're witnessing a £70bn industry having to sacrifice its position as a supplier of specialist skills, which has made UK events the envy of the world. "
"The 700,000-strong workforce, ranging from sound, lighting and video technicians, to transport, logistics and rigging, has received little to no financial support or recognition from the government in over twelve months.
"It will still be months before we see the capacity for meticulous event planning return. Even operating at low capacity will see a large proportion of the supply chain have to take up more stable work elsewhere. We have to continue working hard to raise charitable funds for those people out of work and their families to ensure there's an industry to return to.
"Without these skilled technicians and other event specialists, the artists who entertain at festivals, tours, theatres and other live events can't perform for us. We're supporting all efforts to help the sector to return as soon as possible. We can't wait to be at a live event again!"
Appreciating the little things
The research indicates that the pandemic has encouraged people to appreciate the little things more and to place a higher value on what has been denied to them. This is likely to result in a period of greater appreciation or post-traumatic growth once restrictions ease.
Overall, six in ten (61%) said they will 'appreciate the people they love more and/or have a renewed appreciation of bonding with friends and family over shared experiences' once the pandemic is over. Well over half (56%) say they will 'take every opportunity to live life to the full and or go out and have fun' after the lockdown ends.
Over half (56%) say they will 'take every opportunity to live life to the full and or go out and have fun' after the lockdown ends
Across the age groups, post-traumatic growth characteristics are more evident in the older generations. For instance, Baby Boomers and the Silent Generation. Females are also more likely than males to exhibit life-affirming optimistic post-traumatic growth characteristics.
"The Roaring Twenties, of course, was caused by lots of things, not just the Spanish flu," says Professor Taylor. "But what we will see post-COVID is a short-lived period of hyper sociability, where people will get out. Many people have saved money during this pandemic, though others suffered financially. For those who will have money to burn, there will be a short-lived period of hyper-sociability. Then it will be back to life as it was before."
Adjusting to the new normal
This doesn't mean all anxieties will vanish:
"People will have to deal with the next uncertainty," he says. "A central stressor in pandemics is abstract stress. This is the intolerance of uncertainty or the degree of uncertainty. People who have a great deal of difficulty tolerating uncertainty tend to worry a lot.
"Pandemics are the perfect situation to worry a lot because there are so many uncertainties. How bad will it be? Who is infected? How will I protect myself? The next uncertainty people are going to be faced with, and are not prepared for, is how pandemics end."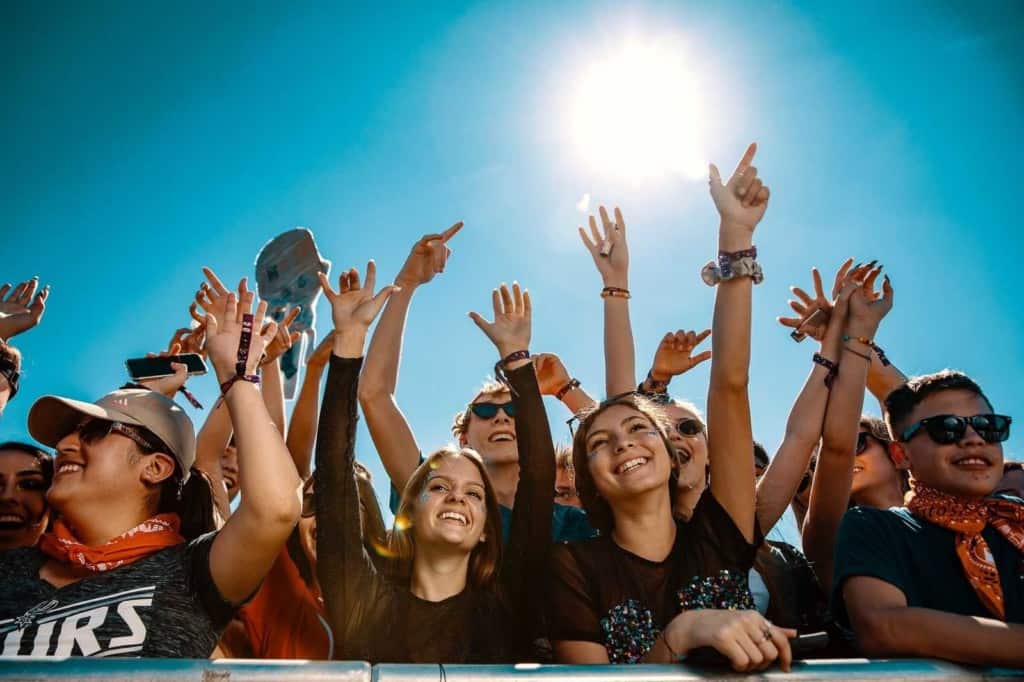 "Most people have the implicit assumption that we all get vaccinated, and it all just goes away. SARS and smallpox disappeared like that. But they are the exceptions. The general trend is that pandemics don't disappear. They just peter out.
"The big challenge in this bounce-back will be adjusting to the idea that the pandemic has been declared over and restrictions have been lifted. But the virus is still endemic, and that is probably what will happen. So people will have to adjust to that."
People are resilient
Pandemics, Taylor contends, bring out extremes.
"There will be some people who continue to worry about getting infected. However, you will also get this extreme of hyper sociability indicated by the survey. The overwhelming majority of people are eager to resume their pre-pandemic social lives. And this includes attending live experiential events."
People are, in short, resilient. This is something that will be evidenced by a majority bouncing back to pre-pandemic levels of socialising and live events post COVID, regardless of how people are feeling now.
To read Epson's report in full, please click here.