Immersive technology is one of the most exciting, and continuously evolving sectors within the attractions industry, as it continues to shape and redefine the guest experience.
by Josh Cohen, Immersive Arts
At visitor attractions around the globe, guests are introduced to many of these immersive technology innovations. Some are visible to the guest, while others are hidden behind the scenes.
It is too lengthy to cover the different types of immersive technologies and the ways that they can be integrated in one article as one needs to draw from wide-ranging knowledge across many fields.  Therefore, in this post, we will provide an abridged planning guide that can be referenced when considering the use of immersive technology in any form.
By answering these questions before beginning a new project, operators can avoid many issues that occur when technology integrations are considered too late in the process.
Immersive technology – an overview
In this article, "immersive technology" will be defined as any piece of integrated technology (whether physical, digital or a combination of both) that directly impacts a guest's experience or allows for a particular technology solution to be possible.
Most integrations of immersive technology have foreground components (what the guest sees or experiences) and background components (what controls the foreground components and/or allows them to work).
Immersive Technology as defined above is quite broad and draws from innovations in many disciplines. This includes audio, visual media, lighting, automation, animatronics, networking systems, show control, computer programming, mechanical engineering, ride systems, sensory effects, and other fields.
A project may utilize pieces of technology from all of these disciplines to achieve a given guest experience, or may only need a few, which leads to our first question.
1. What is the story you are trying to tell with immersive technology and what is the desired guest experience?
Technology is an essential tool to immerse guests within a story, but it's important that the technology is designed and integrated to enhance, rather than distract from the experience as a whole. The most successful applications of immersive technologies are often based on their ability to be truly seamless with the design of the ride, attraction, or visitor destination.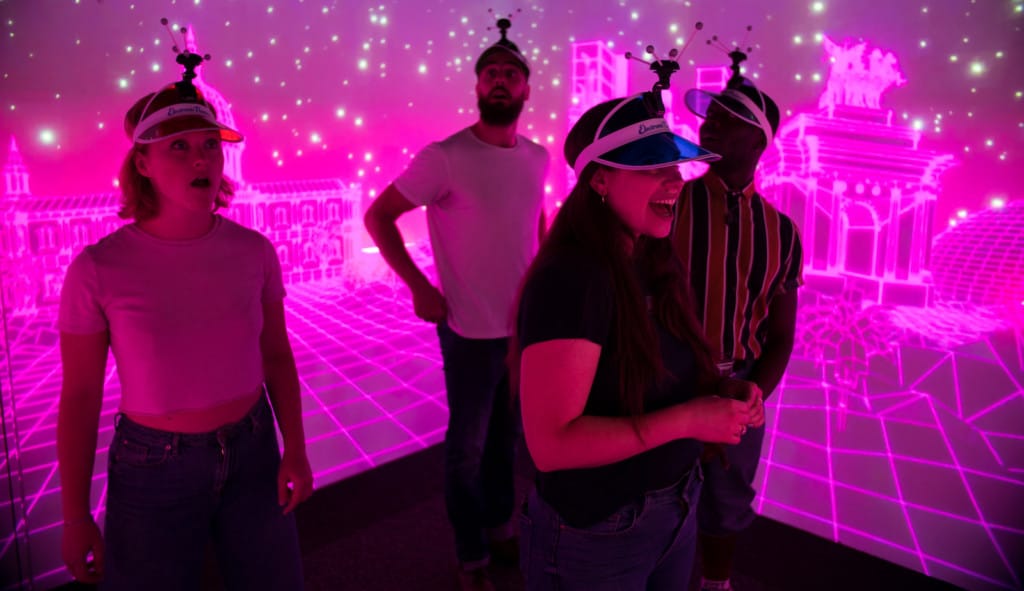 Behind-the-scenes technology integrations such as show control systems can be set up and hidden from guests. However, immersive technology may also be quite apparent to guests. For example, technology may be utilized to allow guests to interact with and generate a response from a physical themed element.
Determining the desired guest experience will allow you to properly plan for the technology integrations required to truly immerse guests in the story you want to tell.
2. Will the guest interact with and/or see the immersive technology or should it be hidden?
Unlike question 1, this focuses more specifically on foreground technology components (defined in the overview section).
Immersive technology may be noticeable, something that guests can interact with and/or see. For instance, an LED video wall that uses a camera to film guests walking by in order to display them creatively. Or it might blend seamlessly with the overall theme design in order to create story-driven illusions for guests.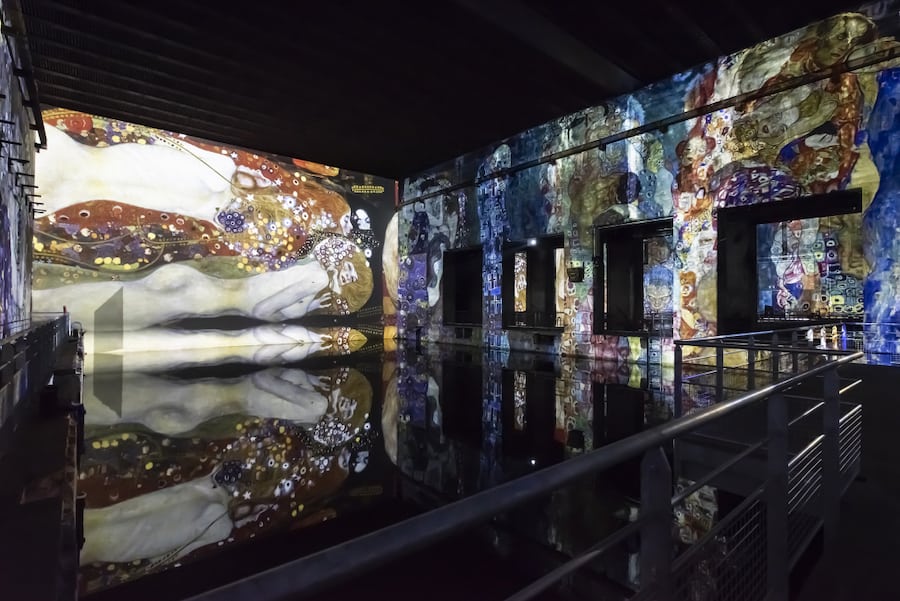 The latter of these two is always my preference when approaching creative projects. But some experiences and destinations may want or need the technology to be integrated in a more apparent, traditional form.
Ultimately, the best approach to choose is that which provides the best guest experience for a particular project.
3. What is the square feet/meter size of the space you are planning?
The amount of space your facility has can greatly impact the immersive technology that can or should be integrated.
Foreground and background components each require their own degree of space for setup and storage. Without proper consideration, foreground components may become overwhelmingly "artificial" to guests and break the organic world of the story. Or, they may not blend seamlessly with the overall design of the ride, experience, or destination.
4. What are the environmental and locational conditions?
Certain environmental conditions will significantly impact which technology to choose for a project. One of the key questions to ask upfront is whether the technology will be primarily utilized indoors or outdoors.
Certain environmental conditions will significantly impact which technology to choose for a project
What lighting, temperature and weather conditions will be present within the environment?
With regards to "locational conditions", if a development has pre-determined behind-the-scenes and guest accessible/viewable spaces, it's important to understand the distance in which signals need to travel for technology integrations to communicate with each other and the back-end system.
5. What is the desired guest throughput of the attraction or experience?
The level of throughput expected for the attraction or experience will impact various aspects of immersive technology integration. This includes required performance (i.e. latency), automation, general setup, and product selection.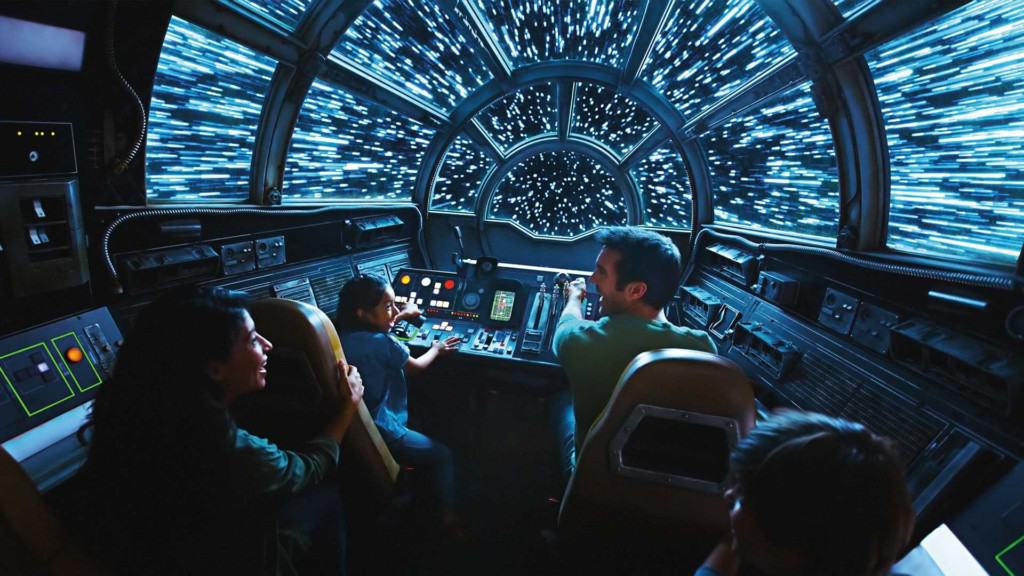 The first of many questions to ask when discussing guest throughput is related to playback. Will the immersive technology perform in a consistent manner for guests on a planned schedule? Will it playback randomly, or will it be triggered by a guest's action? The result may be one specific method or a hybrid of the three.
When discussing throughput, the questions and solutions will vary widely. This depends on the piece of technology or technologies and the overall guest experience desired.
6. How will the facility be operated?
A facility's operational staff will impact how immersive technology needs to be integrated in order for it to efficiently run for guests on a daily basis. Technology integrations must be set up in a manner that requires a minimal level of involvement unless trained, knowledgeable individuals are available on an on-going basis to maintain the immersive technology.
Operational expectations may also have an impact on what technology is sourced. Some physical equipment and software may require less maintenance than others or may have remote troubleshooting capability by a dedicated vendor/specialist.
7. Will the immersive technology's application change over time, or will it be permanent?
A certain ride, show or experience may change. But if it will require the use of the same immersive technology going forward, it's important that the technology is as flexible as possible. This is especially important if your facility is likely to have a restrictive budget on an on-going basis.
8. To source or build the technology?
Depending on the desired guest experience and budget of the project, immersive technology components may be able to be sourced from vendors with quality products, or certain aspects may need to be custom-built.
If a project requires custom immersive technology, there may be a need for extensive research and development. Or, one might be able to adapt an existing product/solution that a vendor has.
If you have any questions on the next steps following the planning guide in this article, visit the Immersive Arts website or chat with us at the Immersive Arts booth during blooloop's upcoming V-Expo.