by Josh Cohen, Immersive Arts
From 4 – 6 October 2021, blooloop hosted the first blooloop Innovation Awards, presented in partnership with AREA15. The awards took place on the final day of blooloop V-Expo, an online event featuring three days of expert speakers from across the attractions industry.
The Innovation Awards ceremony celebrated the latest in innovation within our industry. With over 130 entries, submissions were judged in a variety of categories by a panel of 27 industry executives.
Highlights from blooloop's Innovation Awards
When working with clients, I'm frequently asked questions regarding how new technology, products, and attractions can work for their visitor destinations. Therefore, I wanted to create a reference tool for projects.
Rather than providing a recap of the blooloop Innovation Awards Showcase by their selected judging category, I will be highlighting a selection of the entries based on their product type, and their potential to impact a wide variety of operational sectors within the attractions industry. The following will not include all the notable entries or focus on award rankings.
Summarized technical information and product descriptions were taken from submitted entries on the full blooloop Innovation Awards website.
Operational tools, applications & queuing
Each year, the attractions industry continues to see new advancements and improvements being made to assist attraction operators in creating the most efficient guest experience.
When integrated into a destination, research has shown a significant increase in guest satisfaction, length of stay, and on-site spending. Whether planning a new destination project or working to optimize performance at an existing facility, the following blooloop Innovation awards entries are great tools to help streamline operational efficiency.
accesso: LoQueue Virtual Queuing
accesso has launched a Queue Length Management (QLM) System as part of their LoQueue Virtual Queuing solution. The QLM System uses cameras, artificial intelligence, and machine learning to accurately predict guest wait times based on real-time data.
This innovation will be beneficial to operators. After installation, accesso's QLM system automatically generates wait times and will adjust properly throughout the day based on guest flow.
Attractions.io: Guest Experience Platform
Attractions.io has launched a new guest experience platform that allows operators to drive guest engagement while benefiting from real-time data relating to on-site activity. Attraction managers can use the platform to optimize the guest experience with data-driven insights and communicate with the guests via automated messaging and exclusive in-app offers.
Powered by Yonoton: Dyreparken
Powered by Yonoton's SaaS platform allows a park to operate all sales channels (the branded app, point-of-sale, self-service kiosks, magic wristbands, NFC payments, and virtual queuing) through a unified omnichannel platform.
This is beneficial for streamlining operational efficiency and providing clear insights into a property's highest performing sales channels.
Farah Experiences: Facepass Contactless Technology
Farah Experiences' Facepass Contactless Technology uses facial recognition to allow guests contactless access at points of entry and contactless payments at retail and dining locations. With a focus on guest health and safety, this technology will be increasingly impactful as we look towards the future of optimizing the guest experience at visitor destinations.
TheExperienceTicket.com: the Personal Zero Queue Digital Journey
Experience Ticket's capacity management and guest experience solution allows guests to plan and book their on-site itineraries via timeslots. This allows operators to achieve increased guest satisfaction and in-park spending.
Most notably, the system spreads users out across the property, optimizing the capacity up to 20%. 100% participation by guests results in the total elimination of queues.
Vantage: Vantage
Vantage's technology, including smart wristbands, iOS/android apps and kiosks, allows guests to seamlessly facilitate a wide variety of on and off-site actions after signing up via the park's website or mobile app.
Before entering the property, users can complete many tasks that would distract from the on-site experience and increase queue lines.
For example, guests can make purchases and addons, pre-book meals or experiences, and sign waivers. Of the many excellent features that Vantage offers, while on-site, guests can use their app-linked wristband to collect loyalty points after getting on rides or making purchases. They can then swap these for additional food & beverages, upgrades, or fast passes.
Zamperla: Virtual AR For Customer Care Assistance
Zamperla's Virtual AR for customer care assistance utilizes augmented, mixed, and virtual reality to provide remote support to technicians during ride assembly, testing, and maintenance tasks. This groundbreaking new approach to completing these ride-related tasks could very well become a standard option for many industry suppliers in the future.
Guest engagement through AR, VR, digital displays & interactive devices
With the rise of new and existing technologies, we continue to see a shift in how guests interact with visitor destinations. From enhanced storytelling and gamification to next-gen twists on traditional experiences, visitors will have the opportunity to engage with location-based entertainment on and off the property.
The following list provides an overview of products and tools entered into the blooloop Innovation Awards that can use digital technology to extend the physical world.
Boldmove Nation: AR Hybrid Quest
AR Hybrid Quest is a mixed reality game that allows guests to interact and actively participate with physical environments via augmented reality on their personal devices. This technology offers exciting possibilities for additional storytelling off-site as well as on-site. For example, while waiting in long queue lines or navigating throughout the property.
As a designer, I am most excited about the AR Hybrid Quest's ability to allow for fully virtual, and hybrid, custom IP content. There are numerous different product configurations, further complemented by animatronics, video and projection mapping, lighting, sound, and special effects.
Dapper Labs LTD: Chaperone
Chaperone by Dapper Labs LTD is a highly robust app platform that can serve nearly any location-based entertainment project due to its incredible flexibility and customization potential through the dedicated app builder.
Among the many exciting features that Chaperone offers, the "experience controller" is one of the most impactful. This allows any authorized person (such as a show producer, or a queue line manager) or external indicator (such as an exhibit, a ticket, or weather event) to influence or control the guest experience through the audience-facing app.
From a designer's perspective, the versatility of this technology is endless. Applications range from operational efficiency and helpful guest engagement, to live show production and new forms of interactive, experiential storytelling.
Cooperative Innovations: Curatours – Digital touring platform for museums, etc.
Curatours is a new digital platform. This lets guests tour museums around the world from their desktops, phones, and most notably, VR headsets. It is a free to download app offering self-recorded, pre-recorded, and live-guided tours.
This innovation is highly beneficial for museums, aquariums, zoos, or any facility that features "edutainment" offerings for guests.
Sensape: Personal Visitor Approach by Artificial Intelligence
Developing their own AI, Sensape utilizes a digital display and AR to offer a next-gen improvement to traditional display kiosks. Through persona recognition software, users can get personalized information and rewards such as coupons or vouchers.
For themed entertainment properties and destinations, it also serves as an immersive photo kiosk. This allows users to interact with 3D content based on real-life items in the camera frame (such as a person's hat or glasses) and custom-created IP content/backgrounds.
ATTRAKTION! GMBH & Playoke: PlayNeo
PlayNeo lets guests roam freely, using an interaction device to interact with digital content on a screen/projected environment. There are no boundaries or VR headsets. The product is truly innovative because positional data and tracking come directly from the interactive device, rather than body-tracking sensors.
From a designer's perspective, since positional data and tracking comes directly from the interactive device and no VR goggles are required, it allows for endless creativity in terms of integrating new levels of storytelling and interactivity into real-life physical environments.
Showtime Pictures: Immersive Photo Interaction
Showtime Pictures has created a new product for technology-driven photography concessions, which it entered into the blooloop Innovation Awards. Utilizing 20-30' LED walls, artificial intelligence, facial recognition, and augmented reality, guests can be placed into custom media and storytelling worlds. This is all without employing any photographers.
AI technology captures guest pictures through cameras and removes the background without the use of green screens. It prints orders within 20 seconds, and customers can also access photos on their phones through Showtime Pictures' website.
TEQ4 Limited: ManaKabana
TEQ4 Limited's ManaKabana is a turnkey solution for transforming traditional retail environments and high-tech FEC's into immersive experiential entertainment.
The ManaKabana features a 7 meter across, over 2-meter high 8K screen. Guests can book this for a variety of purposes. For instance, from personalized shopping experiences to important presentations, movie nights, and immersive gaming sessions.
This is powered by the Chaperone app platform. It offers a robust solution ideal for mixed-use developers, malls and retailers that are looking to reinvent their existing spaces and offer a fun footprint-efficient "retailtainment" experience.
Rides & experiences
Since the inception of the attractions industry, rides and experiences have benefited significantly from new technology development. This has allowed for more variety and enhanced immersion at a wide range of pricing.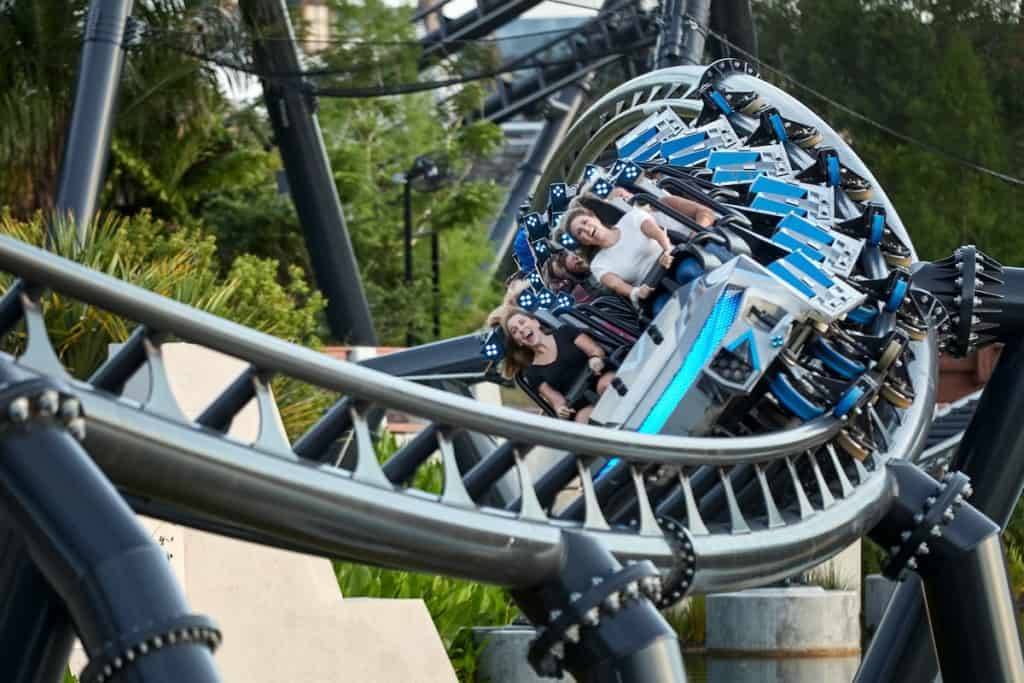 The following list does not feature all the incredible new rides and experiences announced at the blooloop Innovation Awards showcase. I have chosen the ones below because of their potential for media-based storytelling and their potential to exist within a variety of attraction industry sectors outside of large destinations (i.e., major theme parks and water parks).
Hello.io: Hello Park
Hello.io's Hello Park is a turn-key solution that allows for the affordable and efficient creation of mixed reality parks which combine physical real-life objects and digital, interactive projections. Through their actions, and with physical objects, guests can interact with and control the projections in a variety of ways.
As a designer approached with creative tasks like this, I am most excited about how Hello Park can be used in the museum sector, more specifically art museums. Immersive art exhibits continue to be a popular trend in experiential entertainment.
Express Da Vinci: Express Da Vinci
Express Da Vinci is a portable media-based attraction that features a sleek, futuristic exterior design. It utilizes a 6 DOF motion system, a 7.5m by 2.5m internal curved screen and two 8K resolution laser projectors. There is also a sound system to simulate magnetic drone flight for riders.
The estimated price is €3,000,000 and the hourly throughput is 360-720 riders, depending on visitor traffic and flight content. The Express Da Vinci will be beneficial for operators who wish to offer a media-based, simulated-flying attraction without having a dedicated facility available to install a full-scale flying theatre or other media-based rides.
Hologate: Hologate Blitz
The Hologate Blitz is a new VR experience. It synchronizes physical motion and dynamic virtual reality graphics via a nausea-free futuristic vehicle platform.
Hologate Blitz's elevated cockpit can achieve up to 1 meter of vertical lift and 30-degree movement in every direction. Response times are under 16 milliseconds (a first for immersive media entertainment simulators, as reported by Hologate).
Its use of a belt drive system removes noise, the significant need for maintenance, and latent response times typically found in hydraulic or pneumatic systems.
Valo Motion: ValoClimb
Valo Motion's ValoClimb turns traditional climbing walls into interactive games by using a guest's shadow. The company refers to this as "Shadow Interaction". The technology tracks the player's shadow and body movements while climbing. It also assigns points to each player without the need for any wearables.
Foundationally, this technology excites me. This is because shadow interaction tracking allows for interactive storytelling potential at a wide range of experiences that may not be able to use wearables or interactive devices due to throughput/operational requirements.
Valo Motion's ValoJump product is also worthy of mention. This offers a two-player interactive game platform for trampolines that places a mirror image of the player inside a video game.
TEQ4 Limited: ScreenTeq with MotionFlex
TEQ4 Limited's ScreenTeq with MotionFlex is not a ride or experience specifically. However, the innovative product is groundbreaking in unlocking the potential for the future of all media-based attractions.
ScreenTeq allows for the manufacturing of screens that are custom engineered to the project and designed to suit whatever shape is desired for the ride or experience. ScreenTeq with MotionFlex enhances this innovation even further. This is because it allows for dynamic motion of these screens that mirror the displayed content.
This has endless creative potential. I foresee TEQ4 Limited's ScreenTeq with MotionFlex becoming the industry standard for high-end media-based rides, live shows, and nighttime spectacles in years to come.
Immersive Arts: Unharnessed Fall System
For transparency, it is important to note that I am the creator of this patent-pending innovation. The Unharnessed Fall System allows riders to free-fall up to 30+ feet (and potentially higher), utilizing a three-tier safety system, but no guest harness.
Seeing as no harnessing occurs, the Unharnessed Fall System offers operators higher guest throughput and increased operational efficiency when compared to harness-required attractions.
The ride can be used as a component of unique media-based attractions. LED display walls or projection screens can be integrated on the loading platform, providing a multi-sensory storytelling experience before an unexpected free-fall. The Unharnessed Fall System's slim floor plan (+/- 93 sq m, +/- 1000 sq ft) allows it to be installed as a standalone ride. It can also be used alongside other platform-based attractions (such as ropes courses, zip lines, rock walls, and ninja courses).
Industry wellness & growth
In recent years guest wellness has been the focus of innovation for many industry suppliers. Particularly during the height of the COVID pandemic.
Everyone in our industry is reviewing operational approaches for a safer, more inclusive, healthier future. So, these exciting blooloop Innovation Award entries will truly shape the development of visitor destinations.
Christie: Counteract
As Christie mentions, "UVC light has been used effectively for more than a decade to disinfect spaces. What's new is the discovery and application of far-UVC222nm light, a sweet spot on the UV spectrum that doesn't deeply penetrate human eyes and skin, making it safer to use while people are present, while significantly reducing pathogens as well as harmful bacteria."
Christie Counteract commercial UV disinfection fixtures contain patented technology that emits filtered far-UVC222nm light. This neutralizes pathogens with people present while meeting established safety guidelines.
Greener Guest: Marketplace to source green goods for tourism
Of all the blooloop Innovation Award entries, Greener Guest's digital marketplace to source green goods is one of my favourites. This is because of its ability to truly transform all sectors of tourism and hospitality.
I've been following sustainability and green practices within the industry for years, learning from the experience of thought leaders. Green Guest is helping operators eliminate single-use plastic, by finding truly sustainable alternatives. They offer a range of eco products for sale on their digital marketplace and free knowledge/resource centre.
All products come from carefully selected ethical suppliers and include detailed sustainability information.
Zamperla Group: The Luna Farm Experience
Zamperla Group's Luna Farm Experience is an "ultra-accessible" amusement park that features readily accessible attractions for guests with various disabilities. Zamperla's R&D department has worked with engineers, designers, and technicians for years to improve accessibility within our industry. It now offers 7 rides at Luna Farm with facilitated accessibility.
Zamperla's work in creating accessible rides is meaningful to supporting inclusion within our industry. Their knowledge will serve as a guide as we progress into the future.
Attraction design tools & technology
As an attraction designer, I am always excited to learn about new technology and tools that will allow for more efficient development of visitor experiences.
Oasys MassMotion, WorldBuildr Software Suite, and Alterface's Wander
Finally, these products will impact how we develop new rides and attractions in years to come. Unlike other categories on this list, I won't be providing product snapshots for these entries into the blooloop Innovation Awards. This is because I realise the technology may only be interesting to those of us who would use these programs.
From throughput analysis, attraction pre-visualization, show programming, and show control, to technology-driven storytelling, these software applications will allow us to design and develop more efficiently before onsite work begins. Therefore, we will be able to truly stretch the limits of our creativity better than ever before.